7 Anime Like Atelier Escha & Logy: Alchemists of the Dusk Sky [Escha & Logy no Atelier: Tasogare no Sora no Renkinjutsushi] Recommendations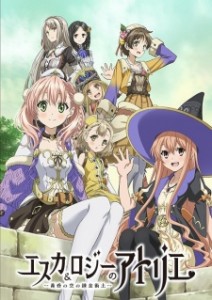 Here are my favorite picks for anime like Atelier Escha & Logy: Alchemists of the Dusk Sky. Keep in my the list is in no particular order. Enjoy the recommendations!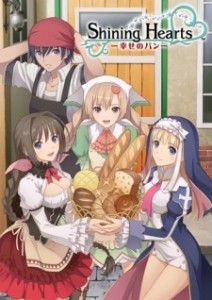 One day, a mysterious girl named Kaguya was washed ashore the island of Wyndaria after a great storm. She encounters Rick, a swordsman who wound up working at the island's bakery. Apparently, Kaguya is suffering from having lost her memories and emotions. In addition, the usually peaceful Wyndaria is now swarming with pirates who came seeking for the special spirit stone that is worn around Kaguya's neck. Knowing the situation, Rick and his co-workers, Nellis, Amyl, and Aerie decided to bring back peace to island and help Kaguya regain her lost memories and emotions. (Source: Wikipedia)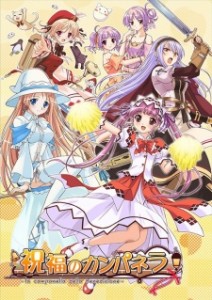 The story takes place in a trading city Ert'Aria. Leicester Maycraft is an item engineer belonging to an adventurer guild "Oasis." One night, he is at a party with his friends to see a meteor stream on the rooftop of a chapel. One meteor grazes them and hits the steeple of the chapel. There he finds a secret room and a sleeping girl. The girl wakes up and says "You must be my father!" The encounter with the mysterious girl brings an unexpected adventure to Leicester.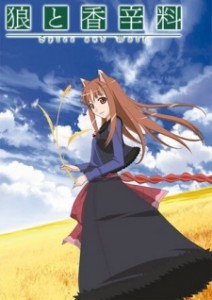 Holo is a powerful wolf deity who is celebrated and revered in the small town of Pasloe for blessing the annual harvest. Yet as years go by and the villagers become more self-sufficient, Holo, who stylizes herself as the "Wise Wolf of Yoitsu," has been reduced to a mere folk tale. When a traveling merchant named Kraft Lawrence stops at Pasloe, Holo offers to become his business partner if he eventually takes her to her northern home of Yoitsu. The savvy trader recognizes Holo's unusual ability to evaluate a person's character and accepts her proposition. Now in the possession of both sharp business skills and a charismatic negotiator, Lawrence inches closer to his goal of opening his own shop. However, as Lawrence travels the countryside with Holo in search of economic opportunities, he begins to realize that his aspirations are slowly morphing into something unexpected.
Based on the popular light novel of the same name, Ookami to Koushinryou, also known as Spice and Wolf, fuses the two polar genres of economics and romance to create an enthralling story abundant with elaborate schemes, sharp humor, and witty dialogue. Ookami to Koushinryou is more than just a story of bartering; it turns into a journey of searching for a lost identity in an ever-changing world.[Written by MAL Rewrite]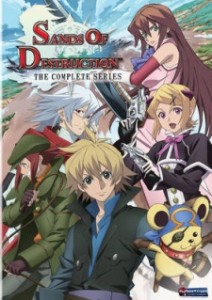 Spinoff based on the Nintendo DS RPG game by SEGA, released in Japan July, 2008.
In a world where humans serve as livestock for the ruling beastman, and where sand fills the roles of water and fire. Kyrie is recruited by the "World Destruction Committee" to assist in putting an end to their world. Kyrie alone holds the power needed to do it. (Source: AniDB)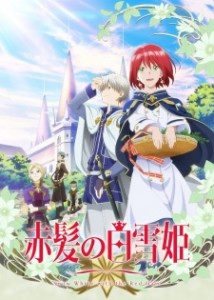 Although her name means "snow white," Shirayuki is a cheerful, red-haired girl living in the country of Tanbarun who works diligently as an apothecary at her herbal shop. Her life changes drastically when she is noticed by the silly prince of Tanbarun, Prince Raji, who then tries to force her to become his concubine. Unwilling to give up her freedom, Shirayuki cuts her long red hair and escapes into the forest, where she is rescued from Raji by Zen Wistalia, the second prince of a neighboring country, and his two aides. Hoping to repay her debt to the trio someday, Shirayuki sets her sights on pursuing a career as the court herbalist in Zen's country, Clarines.
Akagami no Shirayuki-hime depicts Shirayuki's journey toward a new life at the royal palace of Clarines, as well as Zen's endeavor to become a prince worthy of his title. As loyal friendships are forged and deadly enemies formed, Shirayuki and Zen slowly learn to support each other as they walk their own paths.[Written by MAL Rewrite]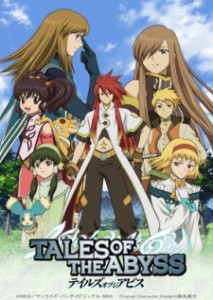 Luke fon Fabre, the spoiled son of a noble from the kingdom of Kimlasca-Lavaldear, has been confined inside his father's mansion ever since he was kidnapped seven years ago by a rival country, the Malkuth Empire. Now Luke's memory of the life he led before is missing, and a strange voice, which only he can hear, has been calling out to him ever since. One day while training with his mentor, Van Grants, a strange woman called Tear breaks into the mansion with the sole intent of taking Van's life. During the struggle Luke is transported far from home, along with Tear, and now that Luke has finally gained the freedom he's been dreaming of, what awaits him in the outside world will shatter everything he's ever known about himself.(Source: ANN)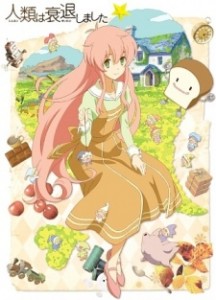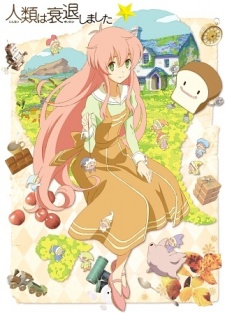 For years, declining birth rates have forced what's left of the human race to cede more and more territory to other beings who have appeared to take advantage of the emptying ecological niche. Now, only a handful of humans remain among the remnants of civilization and Earth is dominated by faeries —tiny, ten-inch tall creatures of surprising intelligence. But humanity's importance isn't over quite yet, as young Watashi learns as she makes the decision to return to her hometown and assume her grandfather's position as an arbitrator between the races. Unfortunately, the job isn't going to be anywhere near as simple as she expected, and it's going to take a wisdom far beyond her years to achieve her most important mission. (Source: Sentai Filmworks)
References: MyAnimeList, Wiki, ANN