8 Anime Like Barakamon [Recommendations]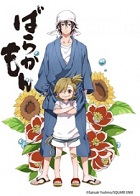 Here are my top picks for anime similar to Barakamon. Slice of life is the main focus here. Keep in mind the list is in no particular order. Enjoy!
Going home from his grandfather's funeral, thirty-year-old Daikichi is floored to discover that the old man had an illegitimate child with a younger lover. The rest of his family is equally shocked and embarrassed by this surprise development, and not one of them wants anything to do with the silent little girl, Rin Kaga. In a fit of anger, Daikichi decides to take her in himself. As Daikichi nurtures Rin, he started to understand the struggle while at the same time the joy of parenting.
Asahioka Branch School, a combined elementary and middle school in an isolated village, has only five students total, four girls and one boy. The girls are best friends, and pass the season with traditional activities like harvesting mountain herbs and fishing.
Chihaya Ayase is a frank and ebullient girl who becomes fascinated by the obscure world of competitive karuta, a card game based on Japanese poetry. Introduced to the aggressive style of the game by a quiet and thoughtful elementary school classmate named Arata Wataya, the two quickly become close friends. They start playing as a group with Taichi Mashima, Chihaya's smart and athletic childhood friend, until they have to part ways during their middle school years due to several circumstances. As their high school life begins, they meet once again.
Yūgo Hachiken decided to escape from the stressful school and home environment in the city by enrolling at Ōezo Agricultural High School. Unlike his peers who'll eventually embark upon an agricultural career, he decides to study there only because he believes it'll be less competitive academically. Unfamiliar with his new surroundings, he tries his best to adapt to the agricultural world he had never thought of living in.
A little girl named Kohina ends up summoning a Kokkuri-san, a lower-ranking ghost in Japanese folklore. The Kokkuri-san she calls ends up being a white-haired handsome, young man. Although he had intended to merely haunt her at first, he becomes worried about her terrible eating habit of cup ramen for every meal, so he decides to haunt her in order to protect her.
Shōyō Hinata began playing volleyball after seeing the "small giants" who played the sport when he was in elementary school. He suffers a crushing defeat in his first and last tournament in middle school at the hands of his rival Tobio Kageyama. So, Hinata joins Kurasuno High School's volleyball team, vowing revenge against Kageyama. However, Kageyama is also on Kurasuno's team. The former rivals form a legendary combo with Hinata's mobility and Kageyama's precision ball-handling. Together, they take on the local tournaments and vow to meet Kurasuno's fated rival school in the nationals.
High school freshman Cocoa Hoto got lost and bumped into a coffee shop called "Rabbit House" while looking for a boarding house for the upcoming semester of her new school. Luckily, Rabbit House is the boarding house she's looking for, and to return the favor Cocoa starts working at the coffee shop alongside quiet and cool Chino, strong and athletic Rize, plus Chiya and Syaro from Japanese-styled coffee shop Amausaan, as well as the shop mascot rabbit Tippy, who sometimes doesn't quite act like a rabbit….
Sakura Chiyo confesses her feelings to her schoolmate Nozaki. Due to a misunderstanding, Nozaki thinks Sakura is just a fan. She then discovers Nozaki's other identity; a shōjo manga artist. As she gets closer to Nozaki, she befriends Nozaki's quirky acquaintances who assist him and serve as inspirations for his manga.
References: ANN, MyAnimeList, Wiki