7 Anime Like Blast of Tempest [Zetsuen no Tempest]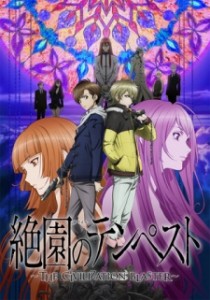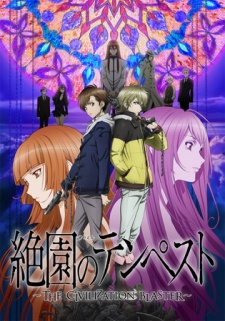 Here are my favorite picks for anime like Zetsuen no Tempest. Keep in my the list is in no particular order. Enjoy the recommendations!

Once you make a decision, does the universe conspire to make it happen? Is destiny a matter of chance, a matter of choice or the complex outcome of thousands of warring strands of fate? All twins Kanba and Shoma know is that when their terminally ill sister Himari collapses at the aquarium, her death is somehow temporarily reversed by the penguin hat that she had asked for. It's a provisional resurrection, however, and it comes at a price: to keep Himari alive they need to find the mysterious Penguin Drum. In order to do that, they must first find the links to a complex interlocking chain of riddles that has wrapped around their entire existence, and unravel the knots that tie them to mystifying diary and a baffling string of strangers and semi-acquaintances who all have their own secrets, agendas and "survival strategies." And in order for Himari to live, someone else's chosen destiny will have to change. It's a story of love, fate, life, death… and Penguins! (Source: Sentai Filmworks)
On August 10th of the year 2010 the Holy Empire of Britannia began a campaign of conquest, its sights set on Japan. Operations were completed in one month thanks to Britannia's deployment of new mobile humanoid armor vehicles dubbed Knightmare Frames. Japan's rights and identity were stripped away, the once proud nation now referred to as Area 11. Its citizens, Elevens, are forced to scratch out a living while the Britannian aristocracy lives comfortably within their settlements. Pockets of resistance appear throughout Area 11, working towards independence for Japan.
Lelouch, an exiled Imperial Prince of Britannia posing as a student, finds himself in the heart of the ongoing conflict for the island nation. Through a chance meeting with a mysterious girl named C.C., Lelouch gains his Geass, the power of the king. Now endowed with absolute dominance over any person, Lelouch may finally realize his goal of bringing down Britannia from within! (Source: Bandai Entertainment)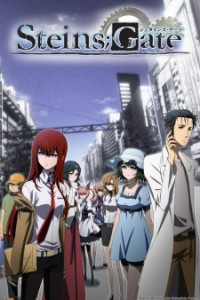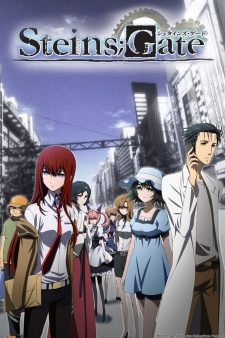 The self-proclaimed mad scientist Rintarou Okabe rents out a room in a rickety old building in Akihabara, where he indulges himself in his hobby of inventing prospective 'future gadgets' with fellow lab members: Mayuri Shiina, his air-headed childhood friend, and Hashida Itaru, a perverted hacker nicknamed "Daru." The three pass the time by tinkering with their most promising contraption yet, a machine dubbed the "Phone Microwave," which performs the strange function of morphing bananas into piles of green gel.
Though miraculous in itself, the phenomenon doesn't provide anything concrete in Okabe's search for a scientific breakthrough; that is, until the lab members are spurred into action by a string of mysterious happenings before stumbling upon an unexpected success—the Phone Microwave can send emails to the past, altering the flow of history.
Adapted from the critically acclaimed visual novel by 5pb. and Nitroplus, Steins;Gate takes Okabe through the depths of scientific theory and practicality. Forced across the diverging threads of past and present, Okabe must shoulder the burdens that come with holding the key to the realm of time. [Written by MAL Rewrite]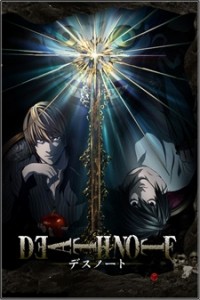 A shinigami, as a god of death, can kill any person—provided they see their victim's face and write their victim's name in a notebook called a Death Note. One day, Ryuk, bored by the shinigami lifestyle and interested in seeing how a human would use a Death Note, drops one into the human realm.
High school student and prodigy Light Yagami stumbles upon the Death Note and—since he deplores the state of the world—tests the deadly notebook by writing a criminal's name in it. When the criminal dies immediately following his experiment with the Death Note, Light is greatly surprised and quickly recognizes how devastating the power that has fallen into his hands could be.
With this divine capability, Light decides to extinguish all criminals in order to build a new world where crime does not exist and people worship him as a god. Police, however, quickly discover that a serial killer is targeting criminals and, consequently, try to apprehend the culprit. To do this, the Japanese investigators count on the assistance of the best detective in the world: a young and eccentric man known only by the name of L. [Written by MAL Rewrite]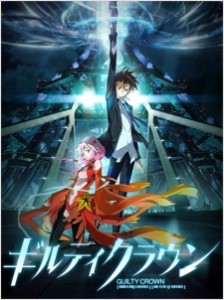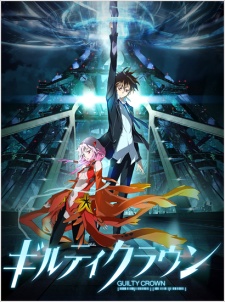 Japan, 2039. Ten years after the outbreak of the "Apocalypse Virus," an event solemnly regarded as "Lost Christmas," the once proud nation has fallen under the rule of the GHQ, an independent military force dedicated to restoring order. Funeral Parlor, a guerilla group led by the infamous Gai Tsutsugami, act as freedom fighters, offering the only resistance to GHQ's cruel despotism.
Inori Yuzuriha, a key member of Funeral Parlor, runs into the weak and unsociable Shuu Ouma during a crucial operation, which results in him obtaining the "Power of Kings"—an ability which allows the wielder to draw out the manifestations of an individual's personality, or "voids." Now an unwilling participant in the struggle against GHQ, Shuu must learn to control his newfound power if he is to help take back Japan once and for all.
Guilty Crown follows the action-packed story of a young high school student who is dragged into a war, possessing an ability that will help him uncover the secrets of the GHQ, Funeral Parlor, and Lost Christmas. However, he will soon learn that the truth comes at a far greater price than he could have ever imagined. [Written by MAL Rewrite]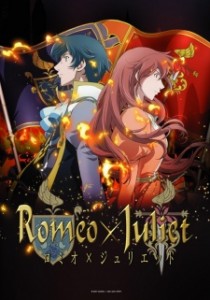 In the floating continent of Neo Verona, the Montague family seized control and murdered every member of the Capulet family with the exception of Capulet's daughter, Juliet Fiammata Asto Capulet. 14 years later, Juliet and the remnants of Capulet's retainers live hidden from the iron fist of the Montague family. Juliet has long forgotten the murder of her family or her identity, and cross dresses as Odin and the town's hero of justice, "Red Whirlwind." A sudden escape in her daily escapades leads her to meet Romeo Candorebanto Montague, the kind son of the tyrannical Montague. Destiny has been set as these two individuals soon to be "star-crossed lovers" are cruelly toyed with by fate in the midst of war. Loosely based on the play by William Shakespeare.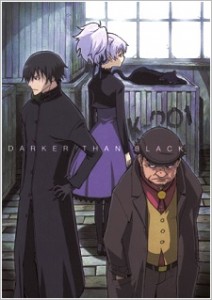 It has been 10 years since Heaven's Gate appeared in South America and Hell's Gate appeared in Japan, veiling the once familiar night sky with an oppressive skyscape. Their purposes unknown, these Gates are spaces in which the very laws of physics are ignored. With the appearance of the Gates emerged Contractors, who, in exchange for their humanity, are granted supernatural abilities.
In the Japanese city surrounding Hell's Gate, Section 4 Chief Misaki Kirihara finds herself at odds with an infamous Contractor codenamed Hei. Called "Black Reaper" in the underground world, Hei, like his associates, undertakes missions for the mysterious and ruthless Syndicate while slowly peeling back the dark layers covering a nefarious plot that threatens the very existence of Contractors.
From the mind of Tensai Okamura comes a sci-fi thriller taking the form of a subtle exposé on a war in which political positions and justice have no sway—a war waged exclusively in the shadows. [Written by MAL Rewrite]
References: MyAnimeList, Wiki, ANN