8 Anime Like Blood-C [Recommendations]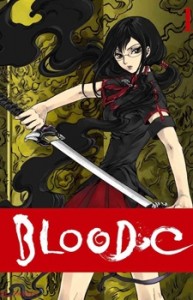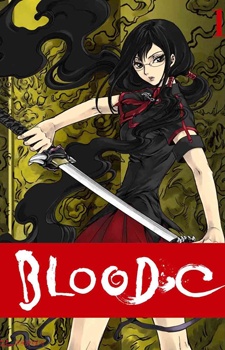 Here are my favorite picks for anime like Blood-C. Keep in mind the list is in no particular order. Enjoy the recommendations!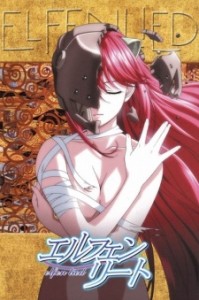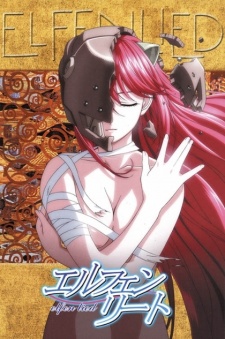 It is said that species are constantly changing and evolving. Humans are no different. Elfen Lied tells the story of the Diclonius, a mutated species of human that possess invisible telekinetic arms called Vectors that basically give them telekinetic abilities, as well as a pair of short horns.
Our story starts with Lucy, a Diclonius who was held against her will and experimented upon by the government. Murderous and vengeful from an eternity in confinement and torment, Lucy escapes her prison only to receive a head injury that causes a second, child-like personality to emerge. The injured Lucy, brain-damaged and only able to say "Nyuu", stumbles upon two humans, Kouta and his cousin Yuka. The two resolve to assist this injured girl, unaware of her hidden murderous personality or the world changing events they will soon find themselves tangled in. (Source: MyAnimeList)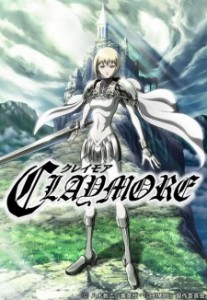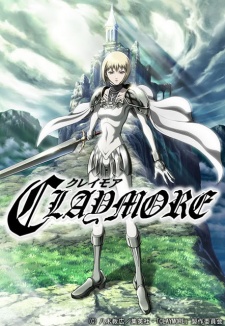 In this world, humans coexist with demonic predators called Yoma. These demonic beasts feast on human innards and can blend into human society by taking on human appearance. As a counter force, a mysterious organization created half-human, half-Yoma warriors known as the "Silver Eyed Witches" or "Claymores," after the huge claymore swords they carry. They are detested by humanity however necessary.
The story begins with a young boy, Raki, who has lost everything in a Yoma attack, and the Claymore, Clare, who is generally detested by society. Throughout the series, Clare and Raki show their deeper qualities, powers and Clare's never ending devotion to the goal she swore to fulfill in her childhood. [Written by MAL Rewrite]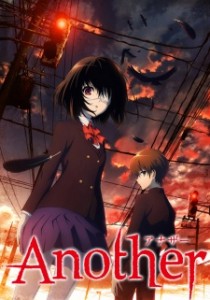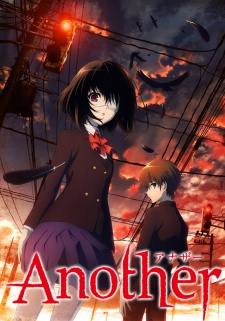 In 1972, a popular student in Yomiyama North Middle School's class 3-3 named Misaki passed away during the school year. Since then, the town of Yomiyama has been shrouded by a fearful atmosphere, from the dark secrets hidden deep within.
Twenty-six years later, 15-year-old Kouichi Sakakibara transfers into class 3-3 of Yomiyama North and soon after discovers that a strange, gloomy mood seems to hang over all the students. He also finds himself drawn to the mysterious, eyepatch-wearing student Mei Misaki; however, the rest of the class and the teachers seem to treat her like she doesn't exist. Paying no heed to warnings from everyone including Mei herself, Kouichi begins to get closer not only to her, but also to the truth behind the gruesome phenomenon plaguing class 3-3 of Yomiyama North.
Another follows Kouichi, Mei, and their classmates as they are pulled into the enigma surrounding a series of inevitable, tragic events—but unraveling the horror of Yomiyama may just cost them the ultimate price. [Written by MAL Rewrite]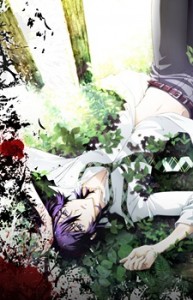 Fifteen-year-old Megumi Shimizu dreamed of a glamorous life in the big city; however, her unexpected death in the quiet village of Sotoba marks the beginning of what appears to be a ferocious epidemic that turns the hot summer into a season of blood and terror. A young doctor named Toshio Ozaki begins to doubt the nature of the disease and comes to understand that to discover the truth, he must abandon his humanity. Meanwhile, Natsuno Yuuki, an antisocial youth from the city, is haunted by the sudden death of Megumi and must realize the pain of friendship in the face of his own tragedy. Toshio and Natsuno form an unlikely pair as they work together to save Sotoba before it transforms into a ghost town of vampires.
Shiki, adapted from the horror novel written by Fuyumi Ono, goes beyond the average vampire story. It tells the tragic tale of survival in a world where one cannot easily distinguish between good and evil. Abandoned by God, the Shiki, as the vampires call themselves, have only their will to live as they clash with the fear of the paranoid/unbelieving villagers. Shiki explores the boundary that separates man from monster. [Written by MAL Rewrite]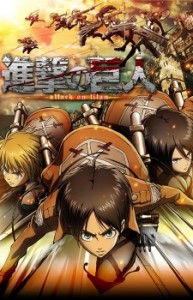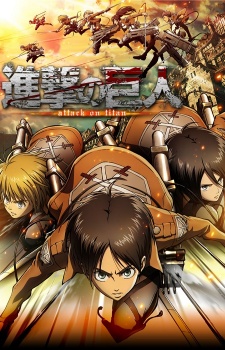 Centuries ago, mankind was slaughtered to near extinction by monstrous humanoid creatures called titans, forcing humans to hide in fear behind enormous concentric walls. What makes these giants truly terrifying is that their taste for human flesh is not born out of hunger but what appears to be out of pleasure. To ensure their survival, the remnants of humanity began living within defensive barriers, resulting in one hundred years without a single titan encounter. However, that fragile calm is soon shattered when a colossal titan manages to breach the supposedly impregnable outer wall, reigniting the fight for survival against the man-eating abominations.
After witnessing a horrific personal loss at the hands of the invading creatures, Eren Yeager dedicates his life to their eradication by enlisting into the Survey Corps, an elite military unit that combats the merciless humanoids outside the protection of the walls. Based on Hajime Isayama's award-winning manga, Shingeki no Kyojin follows Eren, along with his adopted sister Mikasa Ackerman and his childhood friend Armin Arlert, as they join the brutal war against the titans and race to discover a way of defeating them before the last walls are breached. [Written by MAL Rewrite]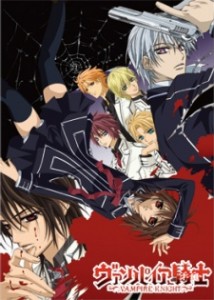 Cross Academy is an elite boarding school with two separate, isolated classes: the Day Class and the Night Class. On the surface, Yuuki Cross and Zero Kiryuu are prefects of the academy, and attempt to keep order between the students as classes rotate in the evenings. As the Night Class is full of utterly gorgeous elites, this can sometimes prove to be a bit difficult. It is completely necessary, however, as those "elites" are actually vampires. Yuuki and Zero act as guardians, protecting the secrets of the Night Class and the safety of their ignorant morning counterparts.
As the adopted daughter of the academy's chairman, Yuuki takes her job with a serious and energetic attitude. It also allows her to interact with her secret crush and savior, the president of the Night students' dorm, Kaname Kuran. Zero, on the other hand, has a deep-rooted hatred against vampires, and at times, does not hesitate to kill.
Can vampires and humans co-exist, even in the strict setup of the Cross Academy? Only time will tell. [Written by MAL Rewrite]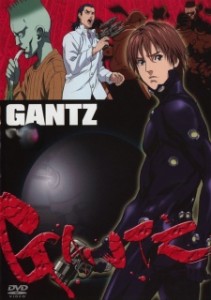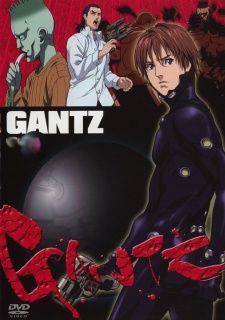 Thought your life was bad? Sometimes, death is worse. There is no salvation, peace, nor god waiting to receive you into their care. But wait, a god? Maybe you are talking about that big black ball stuck in the room with you. Now you are thrown into a game, fighting green aliens and robot monsters for the chance to survive.
When Kei Kurono is killed, he thus finds himself caught in such a game—a test of his skills, morals, and will to survive. His life is not his own; his death is spat and trampled upon over and over again. What happens if he does not listen? God knows.
A word of warning: Gantz is not for the faint-hearted, but neither is it as simple as it looks. Gore, rape, and violence is rampant, as are portrayals of greed, violence, and all the ugliness that one sees in society today. [Written by MAL Rewrite]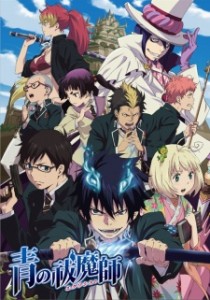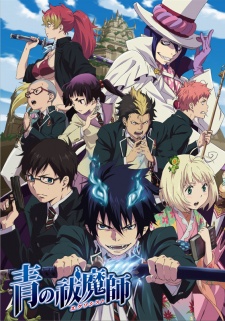 Humans and demons are two sides of the same coin, as are Assiah and Gehenna, their respective worlds. The only way to travel between the realms is by the means of possession, like in ghost stories. However, Satan, the ruler of Gehenna, cannot find a suitable host to possess and therefore, remains imprisoned in his world. In a desperate attempt to conquer Assiah, he sends his son instead, intending for him to eventually grow into a vessel capable of possession by the demon king.
Ao no Exorcist follows Rin Okumura who appears to be an ordinary, somewhat troublesome teenager—that is until one day he is ambushed by demons. His world turns upside down when he discovers that he is in fact the very son of Satan and that his demon father wishes for him to return so they can conquer Assiah together. Not wanting to join the king of Gehenna, Rin decides to begin training to become an exorcist so that he can fight to defend Assiah alongside his brother Yukio. [Written by MAL Rewrite]
References: MyAnimeList, Wiki, ANN