10 Anime Like Ao Haru Ride [Blue Spring Ride]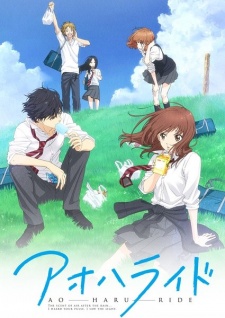 Here are my top picks for anime like Ao Haru Ride(also known as Blue Spring Ride). Keep in mind the list is in no particular order. Enjoy the recommendations!
Friends suck, and trusting someone is just setting yourself up. That's the lesson Mei Tachibana learned after her heart was ripped out and only a shell was left where a girl used to be. But unlike so many, she found an easy solution: she'll never make another friend. Ever.
Okay, maybe that's not as easy as it sounds, but it's worked for Mei – or at least, it did until handsome, charming and annoyingly popular Yamato Kurosawa came along. For some freakish reason, he seems to like Mei. He even gave her his phone number! As if she would ever call him. Except she did. But only because she needed help. Still, he came. He actually came. And now things are getting way too complicated.
Mei's no princess in a tower. She's not waiting for a knight in shining armor to rescue her. So why did he have to kiss her and confuse everything? And why are those three little words so hard to say?  (Source: Sentai Filmworks)
The story centers around Erika Shinohara, a vain 16-year-old girl who tells her friends about her romantic exploits, but she actually has no boyfriend. She claims that a handsome boy in a candid photo is her boyfriend, but it turns out that boy is a schoolmate named Kyouya Sata. She has no choice but to make him her fake boyfriend. Unfortunately, Sata may look like a sweet person, but he is actually an ultra-black-hearted sadist. Sata takes advantage of Erika's weakness and treats her like his dog.
Kuronuma Sawako is completely misunderstood by her classmates. Her timid and sweet demeanor is often mistaken for malicious behavior. This is due to her resemblance to the ghost girl from "The Ring," which has led her peers to give her the nickname Sadako. Longing to make friends and live a normal life, she is naturally drawn to Kazehaya Shouta, the most popular guy in class, whose "100% refreshing" personality earns him great admiration from Sawako. So when Kazehaya starts talking to her, maybe there is hope for the friendships Sawako has always longed for. Maybe… there is even a little hope for some romance in her future. [Written by MAL Rewrite]
Nicknamed "Dry Ice," Shizuku is seen as emotionless and cold by her classmates. When she's tasked with delivering class printouts, she runs into Haru, who immediately decides that they're friends. Shizuku is touched by his innocence and his lack of knowledge towards human relationships.
Though known as a violent and uncontrollable monster, Haru also has a kind and gentle side. He immediately declares his love for Shizuku, but it takes much longer for her to realize and accept her own feelings towards him. Together, the two previously unsocial beings help each other learn how to care for others and make friends. (Source: NIS America)
Nanami Takahashi welcomes the start of her high school life with great expectations of making as many friends as possible. There is much talk among the girls about a popular boy, Motoharu Yano, who has 2/3 of the girls in his middle school liking him. When Nanami asks Yuri Yamamoto, the girl sitting next to her, about Yano, the latter curtly replies that she dislikes him. Nanami is clueless of who Yano is until the day of the class nomination when she made a fool of herself by calling the name of her new friend wrongly. It turns out that she has actually met Yano along the corridors (unaware of his true identity) and he tricked her by providing a random name, resulting in the embarrassing incident in class. Nanami was initially mad at Yano but after a few encounters with him, she begins to find herself liking him.
References: MyAnimeList, ANN, Wiki