7 Anime Like Break Blade [Broken Blade] Recommendations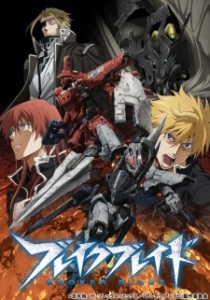 Here are my favorite picks for anime like Break Blade. Keep in my the list is in no particular order. Enjoy the recommendations!
300 years after the Calamity War's end.
The powers which ruled the Earth Sphere have been overthrown, giving way to new rulers of a new world, exhausted of battle. Meanwhile, far away on Mars, the sparks which threaten to ignite a new war have been struck…
Our protagonist Mikazuki Augus, a member of the private security firm Chryse Guard Security (CGS), takes on a mission as bodyguard of Kudelia Aina Bernstein, a young girl who agitates for Chryse's independence from Earth. However, when the elite Gjallarhorn unit, charged with suppressing revolutionaries, raids CGS, its higher-ups deliberately use Mikazuki and the other boys as a decoy to cover their own retreat. Orga Itsuka, leader of the boys' squad, takes this abandonment by the adults as motivation to launch a full-fledged coup d'état. With orders from Orga to hold back Gjallarhorn, Mikazuki sorties in Calamity War-era scrap that CGS had been using as a generator—the Gundam Barbatos…(Source: Gundam.info)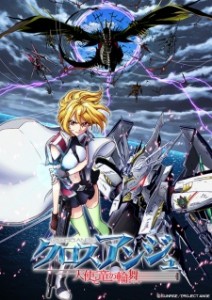 Due to humanity obtaining the data technology that has evolved to a great amount—called "Mana"—the human race is able to subjugate all wars, starvation, pollution, and other problems on Earth by using its power, which is similar to magic. Earth has obtained the utopia of complete peace and no wants.
First princess of the Misurugi Empire, Angelize. As with everyone else, she also had no wants or worries. She was celebrated by the people of the empire, and was supposed to wear the crown. However, she realizes the shocking truth that she is a Norma. "Norma": An irregular existence that cannot use Mana, and are treated as heretics and as "things" rather than people. Having everything stolen from her, she was thrown away on a remote island where she endured living a life in hell .
What was waiting for her there was a fateful meeting with a group of Norma girls who know nothing but battle. The girls spend their days riding humanoid robot weapons called "Paramails" hunting giant dragons that have come from another dimension to invade. Having her name taken from her, what will soldier Ange see at the end of the fight? What can she believe in? What will she obtain? The story of a single girl's fortitude starts now.(Source: ANN, edited)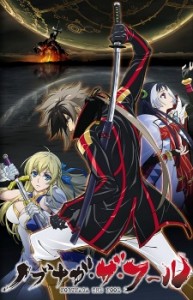 The Western Planet and the Eastern Planet.
Once upon a time, the two sides were bound by the "Dragon Pulse" spanning the heavens.
The civilization that once had prospered has now turned to a tale of dreams, as the inextinguishable flames of war tear the realm asunder. The two planets remain engulfed in endless battles.
The return of the super technology known as "sacred treasures" could revolutionize the world order, but no one knows of them but one person—a "heretical girl."
A girl from the Western Planet, Jeanne Kaguya d'Arc, saw heavenly visions of the birth of a "Star Messiah" who will save the world. She embarks on a journey to the Eastern Planet with Leonardo da Vinci, "the one who observes the world." They come across the heretic of the Eastern Planet and "the greatest fool of the day," Oda Nobunaga.(Source: ANN)
The Kingdom of Arandas Alliance and the Countries Unification of Ingelmia have been at war for many years. The situation has been at a stalemate across the fortress of the Great Wall, which has never been penetrated since the foundation of Arandas. The gate to the fortress has remained firmly closed, but when it creaks open, the complexity of war starts to change dramatically.(Source: Crunchyroll)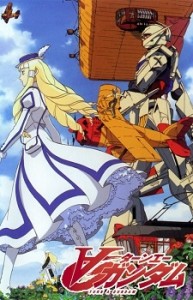 This story is set thousands of years in the future. The people of Earth have forgotten the space wars of the past, reverting back to a pre-industrial existence. But the lunar settlers known as the Moonrace, who have retained their high technology, now plan to seize their mother planet for themselves. As the war of the worlds begins, a young Moonrace citizen named Loran Cehack, pilot of the legendary Turn A Gundam, struggles to bridge the gap between humanity's long-separated branches.(Source: GundamOfficial)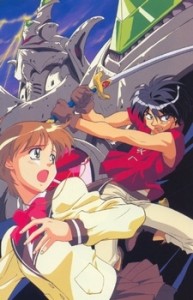 High school student Hitomi is transported from Earth to the magical world of Gaea, where she meets boy prince Van Fanel, and is caught up in his quest to unite the countries of Gaea against the ominous Zaibach empire. On the way, she discovers a hidden ability and strives to unravel layers of mystery surrounding Van, his past, and the giant machine known as Escaflowne.(Source: ANN, edited)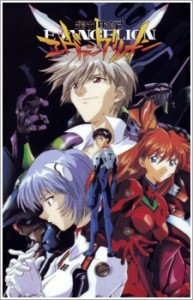 In the year 2015, the Angels, huge, tremendously powerful, alien war machines, appear in Tokyo for the second time. The only hope for Mankind's survival lies in the Evangelion, a humanoid fighting machine developed by NERV, a special United Nations agency. Capable of withstanding anything the Angels can dish out, the Evangelion's one drawback lies in the limited number of people able to pilot them. Only a handful of teenagers, all born fourteen years ago, nine months after the Angels first appeared, are able to interface with the Evangelion. One such teenager is Shinji Ikari, whose father heads the NERV team that developed and maintains the Evangelion. Thrust into a maelstrom of battle and events that he does not understand, Shinji is forced to plumb the depths of his own inner resources for the courage and strength to not only fight, but to survive, or risk losing everything. (Source: AniDB)
References: MyAnimeList, Wiki, ANN