7 Anime Like Comet Lucifer [Recommendations]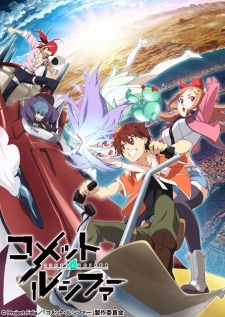 Here are my favorite picks for anime like Comet Lucifer. Keep in mind the list is in no particular order. Enjoy the recommendations!
In a future not too far away, androids that look exactly like humans begin to spread across the world. The android production company SA Corp. produced Giftia, a new kind of android that has the most amount of emotion and human-like qualities out of any other model ever seen. However, due to problems in technology, the androids have a service life, and once they pass that, it gets pretty bad. For this reason, SA Corp. creates a terminal service in order to retrieve Giftia that have gone past their service life. A new employee at the terminal service named Tsukasa Mizugaki forms a team with the Giftia Isla to retrieve the other androids.
Note: Both shows feature an average-looking protagonist who wants to help a curious white-haired girl, in which a love triangle arises from it.  -Fidon
Renton Thurston is a 14-year-old boy who lived with his mechanic grandfather in a backwater town. Every day he dreamed of being with the mercenary "Light Finding Operation (LFO)" aircraft pilot group "Gekkostate" and riding "Trapar" particle waves– a sport called "reffing"– with their charismatic leader Holland, especially when faced with his father's acclaimed past or his grandfather's desire to protect him. When a young girl named Eureka riding the original LFO, the "Nirvash typeZERO", asks his grandfather for a tune-up, she inadvertently brings the attention of the military to the garage; as a result, the garage is destroyed and Renton is forced to deliver a new type of interface– the "Amita Drive"– to the Nirvash. After a heated fight in which the Nirvash destroys the military LFOs by unleashing an immense amount of power, Renton is invited into Gekkostate. However, he quickly realizes that behind the facade of a traveling group of mercenaries is a very bitter reality.
Notes:
Similar atmosphere and world.
Similar young main character who loves discovery, tech and hover boards.
Both shows have a mysterious young girl who seems out of this world and plays a major role in the plot. -HandsomeMan
The Empire of Britannia has invaded Japan using giant robot weapons called Knightmare Frames. Japan is now referred to as Area 11, and its people the 11's. A Britannian who was living in Japan at the time, Lelouch, vowed to his Japanese friend Suzaku that he'd destroy Britannia. Years later, Lelouch is in high school, but regularly skips out of school to go play chess and gamble on himself. One day, he stumbles on terrorists 11's who've stolen a military secret and is caught by a member of the Britannian task force sent after them, who is Suzaku. As the rest of the squad arrives, Suzaku is shot for disobeying orders, while the military secret, a young girl, gives Lelouch the power of Geass, which makes anyone obey any order. While Suzaku is secretly made the pilot of Britannia's brand new prototype Knightmare, Lancelot, Lelouch becomes the masked Zero to lead the rebellion to destroy Britannia once and for all.
Notes: Both are set in a futuristic world with advanced technology. The male, high-school aged MC stumbles upon a girl who changes him in some way. Both also have mecha and a diverse cast.  -Ariak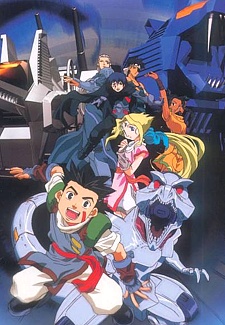 Planet Zi, a world where warrior bio-machine lifeforms called Zoids live. They are controled by human pilots in a war with the Republic and the Guylos Empire. One day a boy named Van being cased by bandits hides in some old ruins, he finds two pods in a hidden room & opens one to find out its an odd dragon-like Zoid called an Organoid which he names Zeke. Zeke then ressurects an old dead blue Shield Liger Zoid for Van to pilot. When Van opens the 2nd pod a very mysterious girl named Fiona comes out of it. They go on the adventure to find more about her past & to find the Zoid Eve, they meet new friends & they get into some serious problems including the war which they try to stop.
Ryūji Kisaragi is a normal high school boy whose peaceful life is turned into an adventure by the return of his second cousin Eriko Nanao. Ryūji and Eriko seize a relic box from a black broker, and in the box they find Rose, a red dragon girl. In order to protect Rose from the black organization, Ryuji decides to fight using his power as a relic handler.
Sentan Island is a small island surrounded by the Yuden Sea. It exists in a state of dreamlike tranquility, cut off from the war between the Northern Government and the Southern Continent Free Zone. Our hero, Akiyuki Takehara, lives on Sentain Island along with his mother Fusa. He is currently separated from his father, the town doctor Ryuzo, but the bond between father and son remains. One day, after taking Ryuzo the lunch that Fusa has made for him as usual, Akiyuki arrives at school, where he is caught up in an explosion along with his friends, Haru and Furuichi. The explosion produces a mysterious light, which enters Akiyuki's arm, causing him excruciating pain. He's given no time to understand it, however, as the white-haired girl who rode on the bus with him guides him to a power unlike anything he's ever known.
In a far distant future, humanity has embraced the Fractale system as the ultimate path towards utopia. Comprised of several trillion networked computers, Fractale was created in the 22nd century to promote a peaceful lifestyle for the entire world in exchange of a periodic recovery of personal data from individuals through terminals located within their bodies. Living in a rocky coast region, Clain is a young boy fascinated by old technology. After helping a girl named Phryne, she gives him a pendant before disappearing by the next morning. Accessing the data from the peculiar gift, Clain ends up summoning a girl-shaped avatar named Nessa. Together they start a journey as they discover the truth behind the Fractale system.
References: Wiki, MyAnimeList, ANN