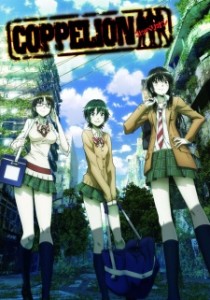 Here are my favorite picks for anime like Coppelion. Keep in my the list is in no particular order. Enjoy the recommendations!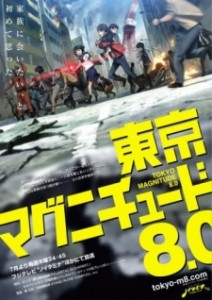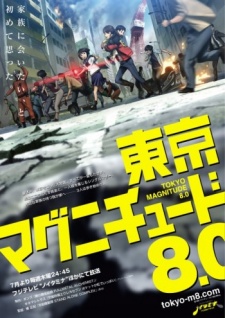 The premise of the project is the 70% possibility that a magnitude 7.0 earthquake will occur in Tokyo in the next 30 years. The anime depicts what would happen if an 8.0 earthquake took place.
The story centers on Mirai, a middle school freshman girl who goes to Tokyo's artificial Odaiba Island for a robot exhibition with her brother Yuuki at the start of summer vacation. A powerful tremor emanates from an ocean trench, the famed Tokyo Tower and Rainbow Bridge crumble and fall, and the landscape of Tokyo changes in an instant. With the help of a motorcycle delivery woman named Mari who they meet on Odaiba, Mirai and Yuuki strive to head back to their Setagaya home in western Tokyo.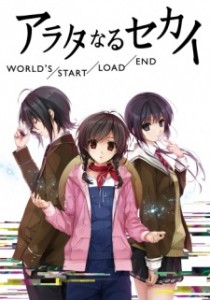 Four high school girls in uniforms walk silently on the barren earth. These girls are time travelers who had been sent 6000 years into the future, from their present in which the same day is endlessly repeated, in order to evade human extinction.
They studied time travel in school, were examined by the aptitude test, and were sent to the future as told. What should they do now? They had no idea. The only thing they could take with them from the present was a light, toy-like cellphone. Of course, it receives no signal here.
As the girls are walking, they see strange birds flying in the sky, and a discolored river in the distance.
Then, one girl finds an abandoned house, and recognizes the name inscribed on the front gates.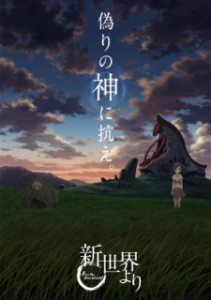 A millennium from now, in Japan, exists a utopia. The protagonist, Saki Watanabe, lives in an idyllic village barred from the outside world. Her world is ruled by the people who possess the "gods' power" of psychokinesis. After finally obtaining her own powers, Saki enters the Zenjin Academy to train along with five other children: Satoru Asahina, Maria Akizuki, Mamoru Itou, Shun Aonuma, and Reiko Amano.
Not all is as it seems, however. In this utopian village, strange rumors about a monstrous cat that abducts children circulate, and students are said to disappear from the academy. The world and its history are much darker than they appear and humanity is on the verge of collapsing. (Source: TV Tropes, edited)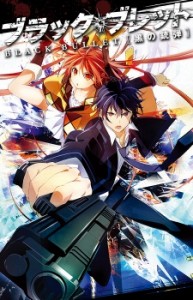 The Gastrea virus spreads like wildfire, causing each infected host to rapidly mutate, gaining new powers and abilities with every stage of development, even while they continue to attack, kill and infect multiple new hosts.
Unable to fight a pandemic enemy that turns defenders into adversaries, the shocked remnants of the human race are forced to retreat into cities surrounded by giant monoliths made of Varanium, one of the few materials that can stop the Gastrea. Now mankind's last hope lies in the Cursed Children: young girls infected with the virus who have managed to retain a hold on their humanity. Paired with a partner, they alone have the strength to take on a Gastrea in one-on-one combat.
But the very thing that gives them power is a ticking time bomb, so even as they protect humanity, they are also feared and shunned. (Source: Sentai Filmworks)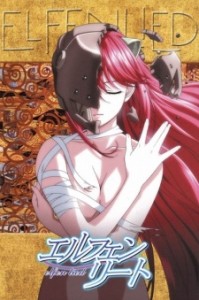 The Diclonius, a mutated homosapien that is said to be selected by God and will eventually become the destruction of mankind, possess two horns on their heads and have a "sixth sense" which gives them telekinetic abilities. Due to this dangerous power, they have been captured and isolated in laboratories by the government. Lucy, a young and psychotic Diclonius, manages to break free of her confines and brutally murders most of the guards in the laboratory where she is being held, only to be shot in the head as she makes her escape. She survives, falling off a cliff into the ocean and manages to drift along to a beach where two teenagers, Kouta and Yuka, discover her. Having lost her memories, she was named after the only thing that she can now say, "Nyuu," and the two allow her to stay at Kouta's home. However, it appears that the psychotic side of Lucy is not dead just yet… (Source: ANN – Revised)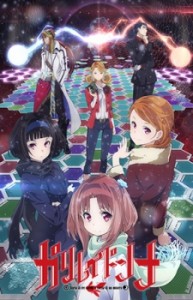 Three sisters, Hozuki, Kazuki, and Hazuki, are descendants of Galileo and have completely different personalities and tastes; they never meet eye-to-eye. One day, the girls are suddenly attacked by a mysterious organization. The organization was after the "Galileo Tesoro" which Galileo Galilei was said to have discovered. Still unaware of what was going on, the sisters escape on the airship they built after the sudden attack. But it won't be so easy for these three sisters to help each other out in a pinch when they're constantly at odds with each other. What is the Tesoro, and what is the organization after? And what about the relationship between the sisters? It's a threesome of cute girls, action, and mystery! (Source: Fuji Creative)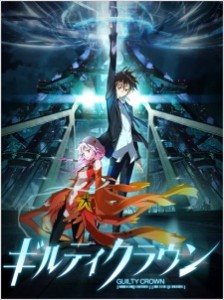 Japan, 2039. Ten years after the outbreak of the "Apocalypse Virus," an event solemnly regarded as "Lost Christmas," the once proud nation has fallen under the rule of the GHQ, an independent military force dedicated to restoring order. Funeral Parlor, a guerilla group led by the infamous Gai Tsutsugami, act as freedom fighters, offering the only resistance to GHQ's cruel despotism.
Inori Yuzuriha, a key member of Funeral Parlor, runs into the weak and unsociable Shuu Ouma during a crucial operation, which results in him obtaining the "Power of Kings"—an ability which allows the wielder to draw out the manifestations of an individual's personality, or "voids." Now an unwilling participant in the struggle against GHQ, Shuu must learn to control his newfound power if he is to help take back Japan once and for all.
Guilty Crown follows the action-packed story of a young high school student who is dragged into a war, possessing an ability that will help him uncover the secrets of the GHQ, Funeral Parlor, and Lost Christmas. However, he will soon learn that the truth comes at a far greater price than he could have ever imagined. [Written by MAL Rewrite]
References: MyAnimeList, Wiki, ANN