7 Anime Like Cross Ange: Rondo of Angels and Dragons [Recommendations]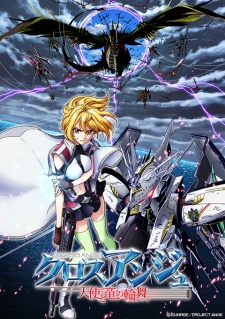 Here are my top picks for anime like Cross Ange: Tenshi to Ryuu no Rondo. Keep in mind the list is in no particular order. Enjoy the recommendations!
Power corrupts, and it when it appears that the once noble Queen Claudette's ways have turned to oppression and heretical persecution, it's up to a new generation of warriors to step up to the plate armor to bear arms and bare their naked fury in open rebellion! The odds may seem unfairly stacked in favor of the Amazonian ranks of the queen, doubly supported by her power of writ and assassins. But the incredible wits and assets of the dazzling array of daring damsels willing to risk their gorgeous skins and put their lithesome bodies on line against her, might just expose a few unexpected weaknesses in the queen's support! (Source: Sentai Filmworks)
On August 10th of the year 2010 the Holy Empire of Britannia began a campaign of conquest, its sights set on Japan. Operations were completed in one month thanks to Britannia's deployment of new mobile humanoid armor vehicles dubbed Knightmare Frames. Japan's rights and identity were stripped away, the once proud nation now referred to as Area 11. Its citizens, Elevens, are forced to scratch out a living while the Britannian aristocracy lives comfortably within their settlements.
Pockets of resistance appear throughout Area 11, working towards independence for Japan. Lelouch, an exiled Imperial Prince of Britannia posing as a student, finds himself in the heart of the ongoing conflict for the island nation. Through a chance meeting with a mysterious girl named C.C., Lelouch gains his Geass, the power of the king. Now endowed with absolute dominance over any person, Lelouch may finally realize his goal of bringing down Britannia from within! (Source: Bandai Entertainment)
True Calendar (T.C.) 71—a new age where 70% of the human population lives in space thanks to the development of "Dyson Sphere", a city in space. The world is divided into two main powers: The Dorssia Military Pact Federation, a power which grew out of a military alliance, and the Atlantic Rim United States (ARUS), which grew in power as it expanded its trade agreements. The minor nation of JIOR has declared neutrality between these two forces and maintains its peace through economic prosperity. Within the JIOR's Sphere, Haruto Tokishima lived an ordinary life as a high school student in the division known as "Module 77″—until the Dorssian military begins their sudden invasion! But the whole world will be shaken when Haruto meets the mysterious humanoid weapon, Valvrave! (Source: Aniplex USA)
Set in a slightly futuristic world where Earth has been invaded and is at war with aliens from another dimension called the Nova, the story follows the adventures of a Japanese boy named Kazuya Aoi who enrolls for training at a special school for genetically modified girls called Pandoras who battle the aliens, and their male partners, called Limiters, who use a special power called "freezing" to limit their opponent's mobility. The protagonist makes the acquaintance of an unusual older girl named Satellizer el Bridget who appears to be the most powerful Pandora in her class, but has not yet chosen a male partner to be her Limiter, and in spite of the warnings of all his friends, he decides to be her Limiter. (Source: Wikipedia)
Night Raid is the covert assassination branch of the Revolutionary Army, an uprising assembled to overthrow Prime Minister Honest, whose avarice and greed for power has lead him to take take advantage of the child emperor's inexperience. Without a strong and benevolent leader, the rest of the nation is left to drown in poverty, strife, and ruin. Though the Night Raid members are all experienced killers, they understand that taking lives is far from commendable and that they will likely face retribution as they mercilessly eliminate anyone who stands in the revolution's way.
This merry band of assassins' newest member is Tatsumi, a naïve boy from a remote village who had embarked on a journey to help his impoverished hometown and was won over by not only Night Raid's ideals, but also their resolve. Akame ga Kill! follows Tatsumi as he fights the Empire and comes face-to-face with powerful weapons, enemy assassins, challenges to his own morals and values, and ultimately, what it truly means to be an assassin with a cause. [Written by MAL Rewrite]
C.E. 71: In the midst of war between the Naturals (OMNI) and Coordinators (ZAFT), a unit from ZAFT is dispatched to hijack the Earth Alliance's newly developed mobile suits on the neutral colony of Heliopolis. Orb Civilian Coordinator Kira Yamato attends the technical college on Heliopolis. After ZAFT hijacks 4 of the 5 mobile suits, Kira stumbles upon the last one, Strike, forced to pilot it to save his and his friend's lives. During this confusion, Kira also reunites with his childhood Coordinator friend, Athrun Zala, who ironically turns out to be a ZAFT soldier and one of the hijackers at Heliopolis. Having control of Strike, Kira joins the Earth Alliance boarding the ship known as Archangel, to protect his friends while despairing over becoming the enemy of his childhood friend and people.
A millennium from now, in Japan, exists a utopia. The protagonist, Saki Watanabe, lives in an idyllic village barred from the outside world. Her world is ruled by the people who possess the "gods' power" of psychokinesis. After finally obtaining her own powers, Saki enters the Zenjin Academy to train along with five other children: Satoru Asahina, Maria Akizuki, Mamoru Itou, Shun Aonuma, and Reiko Amano. Not all is as it seems, however. In this utopian village, strange rumors about a monstrous cat that abducts children circulate, and students are said to disappear from the academy. The world and its history are much darker than they appear and humanity is on the verge of collapsing. (Source: TV Tropes, edited)
References: Wiki, ANN, MyAnimeList