8 Anime Like D-Frag! [D-Fragments!] Recommendations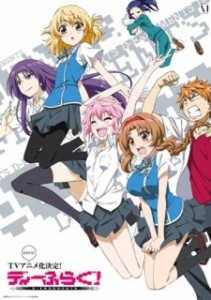 Here are my favorite picks for anime like D-Frag!. Keep in my the list is in no particular order. Enjoy the recommendations!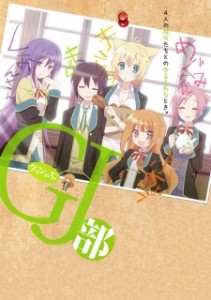 Shinomiya Kyouya is forced to become a new member of the GJ, an unidentified club that dwells in a room of the former building of a certain school. Here he meets the club leader, Mao, a short girl with a big attitude; Mao's younger sister, Megumi, who has the heart of a bipolar angel; the recognized genius with a lack of common sense, Shion; and the always-hungry and mysterious Kirara. Time flies with these unique girls around.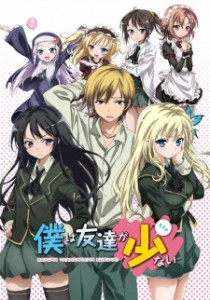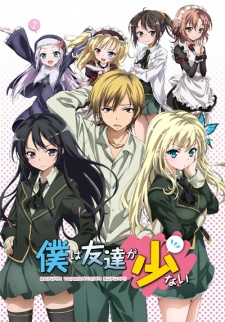 Hasegawa Kodaka has transferred schools, and he's having a hard time making friends. It doesn't help that his blond hair tends to make people think he's a delinquent. One day, he runs into his bad-tempered solitary classmate Yozora while she's talking animatedly to her imaginary friend Tomo. Realizing that neither of them have any actual friends, they decide that the best way to alter this situation is to form a club and start recruiting.
That is how "Rinjinbu", The Neighbours' Club, was formed, a club specifically designed for people who don't have very many friends. As other lonely classmates slowly join their little club, they'll try to learn how to build friendships through cooking together, playing games, and other group activities. But will this group of relationship-challenged misfits really be able to get along? (Source: MU)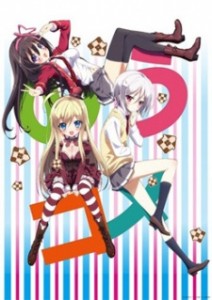 Kanade Amakusa is a high school student who is suffering from a curse called "Absolute Choices." This curse requires him to select an action from a list of two or three options that appear before him at any time, and has no control over what choices appear. Many of them are weird or perverse and as a result, the curse has tainted his reputation with his classmates and other people around him, making his life very difficult. However, one day, a choice he makes on his way home from school causes a mysterious, beautiful young girl to fall from the sky.(Source: Wikipedia)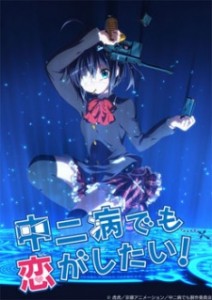 Yuuta Togashi suffered from chuunibyou while he was in middle school. When he graduated, he put that dark history behind him and forgot about it… or he was supposed to. High school was smooth sailing and full of enjoyment—until the unavoidable, sad event occurs. The event that locks Yuuta into a contract with Rikka Takanashi and disrupts his desperately ordinary life.(Source: adapted from the back of the first novel)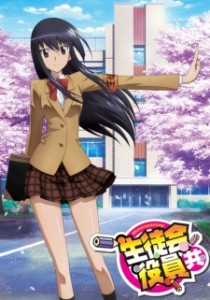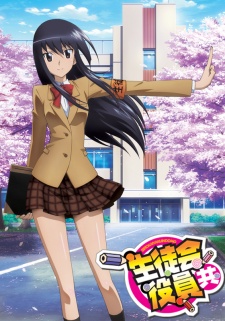 Tsuda Takatoshi is about to begin his first year in Ousai Academy. His decision to enter Ousai was based upon it being close to his home and he paid no heed to the fact he'd be among the first boys to enter the recently gender-integrated school.
On his first trip to school, Takatoshi is surrounded by girls; the train has nothing but girls, the walk to school has nothing but girls and once he finally arrives he is approached by a group of girls and summarily appointed vice-president of the student council and, as expected, he is the only boy there.
Now Takatoshi finds himself surrounded by crazy girls who do nothing but horrify him with their candid conversations about feminine hygiene products and, what's worse, assume he's the worst kind of man, the kind who doesn't clean himself and watches porn all day long.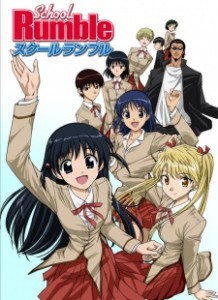 Tsukamoto Tenma is an ordinary 2nd year high school student who has fallen in love with one of her classmates, Karasuma Ooji. However, currently she is unable to confess her feelings to him. To make things worse, she found out that Karasuma is transferring to another school in a year. On the other hand, Tenma's other classmate, Harima Kenji (who is a delinquent) is also in love with Tenma. Not being able to confess his feelings, Harima gets depressed day by day.(Source: ANN)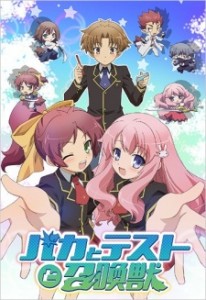 The story centers around Akihisa Yoshii, the "baka" of the title. His academy rigidly divides up the student body into classes based on the results of tests. The prodigies are in the A class with reclining seats complete with air conditioning, but Akihisa is in F class, the lowest rung of the school ladder which is furnished only with low, decrepit tables and worn-out straw tatami mats. A girl named Mizuki Himeji is actually one of the smartest girls in Akihisa's sophomore year, but she had a fever on test day and was pigeonholed into the F class. Besides Mizuki (who Akihisa secretly adores), the F class also has Yuuji Sakamoto, the class president who has been Akihisa's friend and partner-in-crime since the freshman year.
The school happens to have developed experiments to summon fantasy creatures, and Akihisa decides to rally F class to take on the higher-tiered classes and seize their perks. The F class uses the summoned creatures in an all-out battle for school supremacy.
 At Kaimei High School, the Living Assistance Club (aka the Sket Brigade) was organized to help students with problems big or small. Most of the time, though, they hang out in their club room, bored, with only a few trivial problems floating in every once in a while. In spite of this, they still throw all their energy into solving these worries. (Source: Crunchyroll)
References: MyAnimeList, Wiki,
ANN