Top Anime Series Like Death Note[Recommendations]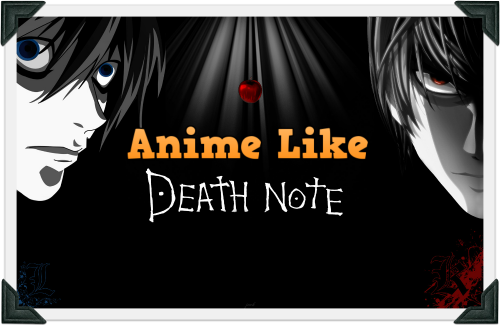 Here are my best picks for animes like Death Note. Keep in mind the list is in no particular order!
Yukiteru Amano (Yuki) is a loner who never really interact with people and prefers writing a diary on his cell phone with his only companion being an imaginary friend named Deus Ex Machina, the God of Time and Space. However, Yuki soon learns that Deus is not a figment of his imagination but real when Deus makes him a participant in a battle royale with eleven others. Within this "Diary Game", the contestants are given special diaries that can predict the future with each diary having unique features that gives them both advantages and disadvantages.
The Empire of Britannia has invaded Japan using giant robot weapons called Knightmare Frames. Japan is now referred to as Area 11, and its people the 11's. A Britannian who was living in Japan at the time, Lelouch, vowed to his Japanese friend Suzaku that he'd destroy Britannia. Years later, Lelouch is in high school, but regularly skips out of school to go play chess and gamble on himself.
One day, he stumbles on terrorists 11's who've stolen a military secret and is caught by a member of the Britannian task force sent after them, who is Suzaku. As the rest of the squad arrives, Suzaku is shot for disobeying orders, while the military secret, a young girl, gives Lelouch the power of Geass, which makes anyone obey any order. While Suzaku is secretly made the pilot of Britannia's brand new prototype Knightmare, Lancelot, Lelouch becomes the masked Zero to lead the rebellion to destroy Britannia once and for all.
Kenzou Tenma, a Japanese brain surgeon in Germany, had it all: incredible skill at his work, a rich and beautiful fiancee, and a promising career at his hospital. However, after becoming disenchanted by hospital politics, he chose to save the life of a young boy who got shot in the head over the life of the mayor. As a result he lost the support of the hospital director, as well as his position in the hospital and his fiance. A short time later, the hospital director and the doctors that replaced him were murdered, and once again he was catapulted back onto the top.
But as the chief suspect of the murders, Tenma did not get a easy life. As a matter of fact, it seems that the boy he saved was much more than he had appeared to be… Now to clear his name and to correct his past mistake, Tenma must get to the bottom of these and other murders, and investigate the truth of the Monster who is behind all of this.
One summer day, a terrorist attack strikes Tokyo. The perpetrators are two boys who call themselves "Sphinx." The attack was just the beginning of the grandiose game they are playing that will envelop all of Japan.
Hiromichi Kojima, the star batter of the Lycaons, heads to Okinawa to train and bring himself out of a slump. There, he meets Toua Tokuchi, a 134 km/h (83 mph) pitcher and the undisputed king of a gambling form of baseball called "One Out". At Kojima's urging, Tokuchi signs up with the Lycaons. His contract differs form the usual, though, in that he gets 5,000,000 yen for every out he pitches, but loses 50,000,000 yen for every point he gives up.
The series takes place in the near future, when it is possible to instantaneously measure and quantify a person's state of mind and personality. This information is recorded and processed, and the term "Psycho-Pass" in the anime's title refers to a standard used to measure an individual's being. The story centers around the "enforcement officer" Shinya Kōgami, who is tasked with managing crime in such a world.
Somewhere in the vast sea of the Internet, there's a website that can only be accessed at the stroke of midnight. Known as the Jigoku Tsushin, rumor has it that if you post a grudge there, the Jigoku Shoujo will appear and drag whoever torments you into the inferno. Very little is known about the girl—all we know for sure is that she lives with her equally enigmatic grandmother, that three magical straw dolls accompany and serve her, and that whenever a posting on the Jigoku Tsushin moves her, she becomes the Jigoku Shoujo.
Ryūgamine Mikado is a boy who longs for the exciting life of the big city. At the invitation of his childhood friend Masaomi, he transfers to a school in Ikebukuro. Masaomi has warned him about people he doesn't want to cross in the city: a champion fighter, an informant, and a mysterious gang called "Dollars." Nervous from Masaomi's stories, Mikado witnesses an urban legend on his first day in the city, the Headless Rider astride a black motorcycle. From then on, the existence of supernatural cases and a gang called the Yellow Scarves will rise to the surface, and Ikebukuro will pushed to the breaking point.
There you have it! Hopefully some of these will peak your interest!
References: