Similar Anime Like Diabolik Lovers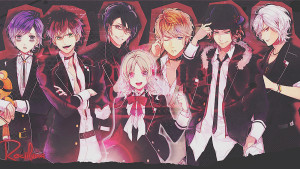 Source: Deviant Art
Here are best picks for animes just like Diabolik lovers. The list is in no particular order.
After her dad remarries, Ema moves into the Asahina Family House and acquires 13 brothers. Ema intended to live peacefully with them as a family, but the sudden appearance of a girl in an all male household causes a uproar . Going on with their lives, the brother's feelings for Ema start change and could be the start of a romance or being close friends.
The heroine wakes up on the morning of August 1 and discovers she has absolutely no memories of the past. A boy appears before her, and he introduces himself as a "spirit" named Orion. The heroine struggles to regain her memories under the guidance of Orion. She then gets a phone call, but she does not recognize the name on her mobile phone screen. She meets her apparent "boyfriend," despite not knowing his face.
Yui Kusanagi is ordered by Zeus, a god and the headmaster of a school he created, to teach the meaning of love to young and handsome gods. The reason he has for doing this is to cancel the negative effects of the weakening bond between the world of the divine and the world of the humans.
Yuki's earliest memory is of a stormy night in winter, wherein she was attacked by a vampire… And then rescued by another. Now 10 years later, Yuki Cross, the adopted daughter of the headmaster of Cross Academy, has grown up and become a guardian of the vampire race, protecting her savior, Kaname, from discovery as he leads a group of vampires at the elite boarding school. But also at her side is Zero Kiryu, a childhood friend who's hatred for the creatures that destroyed everything he held dear, is now determined never to trust them.
This coexisting arrangement seems all well and good, but have the vampires truly renounced their murderous ways, or is there a darker truth behind their actions. Is Kaname's infatuation with Yuki the beginning of a forbidden romance, or is it something in her forgotten past that draws him to her. Because in this world of secrets, nothing is as it seems. And the price of misplaced trust may even be worse than death.
The heroine, Tsukiko, enrolled to a school that was recently changed from all-boys school to co-ed. Since the area where the school is conveniently rural and the rather exclusive curriculums the school has, up until now the heroine is the only one female who enrolled to the school.
Haruhi is a poor tomboyish student at a school for the ultra-wealthy, able to attend because of a scholarship, and unable to even afford a uniform. One day, she stumbles across the decidedly peculiar but very popular Ouran Host Club. She tries to leave, but accidentally breaks a vase, and unable to pay for it, she's told that she'll have to stay and do odd jobs. That is, until they decide she would be more valuable as a club member. Not realizing she's female due to her appearance, they fix her up and give her a male uniform.
She's an instant hit, so they decide to have her keep up the charade even after they find out the truth. Haruhi, being average almost to a fault, doesn't know what to make of the unconventional activities of the Host Club (or of the even more unconventional members), but having little choice, she plays along. Before long, real bonds are formed, friends made, and Haruhi finds herself accepted in a way she could never have been otherwise in this affluent school.
Chizuru Yukimura has come to Kyoto looking for her father, a doctor who has gone missing. While there, she witnesses a fight between an Oni and the Shinsengumi. Taking her into custody, the Shinsengumi debates on what to do with Chizuru, when they discover that she is the daughter of the doctor for whom they are also looking. The Shinsengumi then take Chizuru along on their search after the missing doctor, from adventure to adventure.
There you have it! Go check out some of these animes!
References: