7 Anime Like Dog & Scissors [Inu to Hasami wa Tsukaiyou]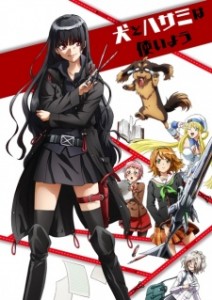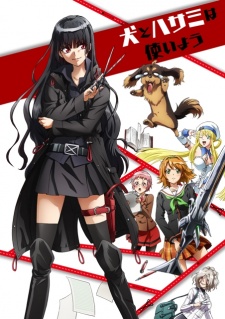 Here are my favorite picks for anime like Inu to Hasami wa Tsukaiyou. Keep in my the list is in no particular order. Enjoy the recommendations!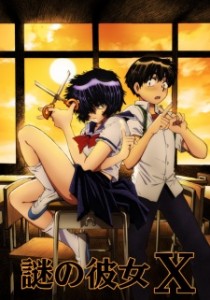 When the oddly peculiar Mikoto Urabe transfers into Akira Tsubaki's class, he finds that life has thrown him the weirdest curve ball ever. Because while Urabe may be an anti-social loner who sleeps on her desk, carries a pair of scissors in her underwear and breaks out in sudden fits of insane laughter, there's something about her that Tsubaki just can't quite put his finger on. Until he accidentally puts his finger in it, and suddenly the phrase "sharing spit with a girl" takes on an entirely new meaning! Before he can wipe her drool off his face, Tsubaki is mysteriously addicted to Urabe, which isn't half as strange as the fact that she not only finds this normal, but already seems to have plans for her new drooling boyfriend. (Source: Sentai Filmworks)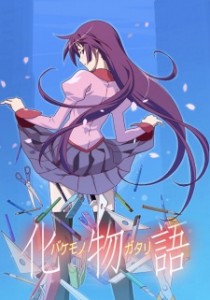 Thanks to Meme Oshino, Koyomi Araragi, a high school student, is able to remain a human after coming across a female vampire. However, since the incident, Koyomi seems to meet girls who have an apparition-related issue. Hitagi Senjougahara doesn't weigh anything. Suruga Kanbaru's left arm resembles that of a monkey's. Nadeko Sengoku was afflicted by curses from her classmates. Mayoi Hachikuji, a young girl who cannot find her way home no matter how many times she tries. Koyomi, a Mr. Nice Guy, ends up helping each and every girl solve her problem with the help of Meme Oshino. (Source: Aniplex)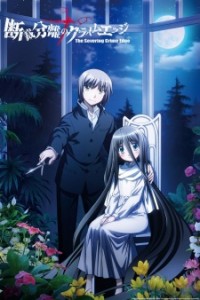 Haimura Kiri is a seemingly ordinary boy with one slight problem: he is obsessed with cutting other people's hair. One day he meets Mushiyanokouji Iwai, the "Hair Queen" who cannot cut her hair because of an inherited curse. Kiri finds out that his scissor, "Dansai Bunri no Crime Edge" is the only thing that can cut them. But little did he know that their meeting sparked the start of an old murder game to kill the "Hair Queen" using the cursed killing tools, the "Killing Goods." Can Kiri protect Iwai from the Killing Goods Owners? Let the game begin! (Source: MU)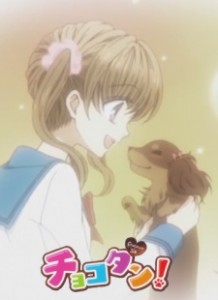 This story is about the dog named Chocotan who has the ability to speak with humans in the human language. Nao, her owner, likes a guy named Arima. Arima has a dog named Hatsupi. On Hatsupi's birthday, Nao makes biscuits that are edible for both dogs and humans. Nao and Chocotan bump into Arima and Hatsupi on the sidewalk and Nao runs away before she can summon the courage to give the biscuits to Arima. Chocotan encourages Nao and she makes up her mind to go back and give the biscuits to Arima. Now then, will she be able to approach Arima while she's not even able to talk casually to him? And how about Chocotan's secret? – The Story about the talking dog and her Owner's clumsy-love-story! (Source: Huffy Parfait Scans)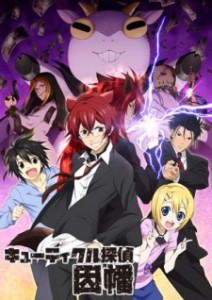 In a world where half-human, half-animal chimeras live and work alongside normal people, there are sure to be a few bad apples in the bunch. Unfortunately, half-human criminals means non-human clues that often leave the police stumped. That's where lone wolf detectives like Hiroshi Inaba come in. He's literally part wolf and has the amazing ability to extract critical information just by examining or tasting a sample of someone's hair! Of course, that ability has also resulted in Inaba having a little bit of a hair fetish, but that doesn't seem to be a problem for his two assistants. (Well, at least the cross-dressing one isn't complaining much.) And it's nothing compared to the strange tastes of Inaba's nemesis, the omnivorous (and half goat) crime boss Don Valentino, who has an appetite for green legal tender instead of tender young greens! Inaba's sworn to cut Valentino out of the criminal flock before the Don can wolf down more ill-gotten dough, but he's going to have to chew his way through a lot of evidence to get his goat. Can sheer dogged detective work put the baaaaad guys behind bars? (Source: Sentai Filmworks)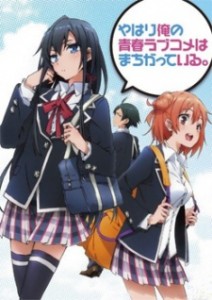 Hachiman Hikigaya is an apathetic high school student with narcissistic and semi-nihilistic tendencies. He firmly believes that joyful youth is nothing but a farce, and everyone who says otherwise is just lying to themselves.
In a novel punishment for writing an essay mocking modern social relationships, Hachiman's teacher forces him to join the Volunteer Service Club, a club that aims to extend a helping hand to any student who seeks their support in achieving their goals. With the only other club member being the beautiful ice queen Yukino Yukinoshita, Hachiman finds himself on the front line of other people's problems—a place he never dreamed he would be. As Hachiman and Yukino use their wits to solve many students' problems, will Hachiman's rotten view of society prove to be a hindrance or a tool he can use to his advantage? [Written by MAL Rewrite]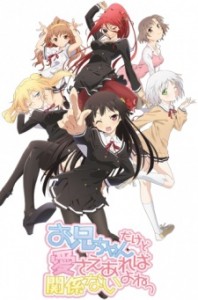 Himenokouji twins Akito and Akiko have finally reunited with each other after separation due to the death of their parents. After six years of living apart they suddenly began to live under the same roof due to Akito's desire to live as a family unit once more. Things were fine at first until Akiko began to express her incestuous love for her older brother, who only sees her as a little sister. (Source: Wikipedia)
References: MyAnimeList, Wiki, ANN