7 Anime Like Is It Wrong to Try to Pick Up Girls in a Dungeon?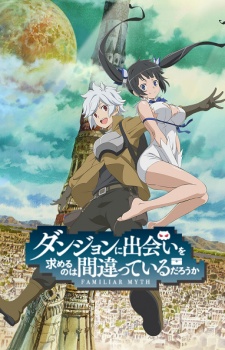 Here are my top picks for anime like Is It Wrong to Try to Pick Up Girls in a Dungeon? How long can a title get for an anime? Keep in mind the list is in no particular order. Enjoy the recommendations!
The story follows the travels of a boy named Aladdin around a strange land in which mysterious ruins called dungeons are said to house priceless treasures. Aladdin meets a friend, Alibaba, who strives to conquer a dungeon and obtain its treasures. Through all the meetings and partings he experiences along the way, Aladdin will also learn of his own fate…
By its eleventh expansion pack, the massively multiplayer online role-playing game Elder Tale has become a global success, having a following of millions of players. However, during the release of its twelfth expansion pack: Novasphere Pioneers, thirty thousand Japanese gamers who are all logged on at the time of the update, suddenly find themselves transported inside the game world and donning their in-game avatars. In the midst of the event, a socially awkward gamer called Shiroe along with his friends Naotsugu and Akatsuki decide to team up so that they may face this world which has now become their reality along with the challenges which lie ahead.
In the blink of the mind's eye, Ryouta Sakamoto suddenly finds himself transported from playing the hit Btooom! video game to being stranded on a mysterious island, equipped with a day's worth of provisions, a bag of bombs, a strange crystal embedded in his left hand and a huge gaping hole in his memory. But it doesn't take long to figure out what's going on, especially after the first person Ryouta meets tries to kill him. Someone is attempting to recreate the ultra-violent Btooom! game in real life, and the island has been filled with an army of other unwilling players, each armed with one of the multiple variants of explosive weapons called BIM. Fortunately, Ryouta's an ace Btooom! player, but this insane version of the game has no reset switch or second lives, and there's only one way off the island: kill seven other people before they can kill you! Can Ryouta repurpose his game based skills fast enough to survive?
It is said that every few years, there is what's known as the "Summer of Anu." During that summer, thanks to the divine protection of the sky-god Anu, all of the demons in the tower lose their power. The country of Uruk has begun an invasion of the tower in order to suppress the demons. They've built up positions inside the tower, with their sights set on getting to the upper levels. The Uruk army knows that this is the third Summer of Anu-a perfect time to launch a mission to suppress the monster Druaga once and for all. The army soldiers aren't the only ones in the tower, though. An enitre city called Meskia has formed inside the tower's first floor. It plays host not just to soldiers, but also to adventurers who have heard rumors about a legendary treasure called the Blue Crystal Rod, which is said to rest at the very top of the tower. With all these different groups in the mix, each with its own agenda, one can only guess how things will play out during this unusual summer.  (Source: Newtype Magazine)
Having a light novel author father and an eroge illustrator mother, Kanou Shinichi is a thoroughbred otaku. However he does not have any special power except for his broad knowledge, sharp insight, and impeccable instinct about "MOE" and its products, from manga to anime to games to light novel to figures. One day he found himself transported to a fantasy world where elves live and dragons fly. And he is given a task—not to fight monster or embark on a quest, but to enhance cultural exchange by becoming a "moe missionary" in this fantasy world! He meets a palace guard who has a bit of fujoshi taste, a half-elf maid, and the empress who is a little girl. He comes up with the idea of building a school. At first it runs as a comedy but later there are serious matters that Shinichi needs to face: ethnic discrimination, social problems, conflict with neighboring countries, sabotage by opposition elements including Japanese government, etc. Can he overcome the obstacles, successfully bring "moe" culture to the fantasy world, and help the people there as well?
In the year 2022, virtual reality has progressed by leaps and bounds, and a massive online role-playing game called Sword Art Online (SAO) is launched. With the aid of "NerveGear" technology, players can control their avatars within the game using nothing but their own thoughts.
Kazuto Kirigaya, nicknamed "Kirito," is among the lucky few enthusiasts who get their hands on the first shipment of the game. He logs in to find himself, with ten-thousand others, in the scenic and elaborate world of Aincrad, one full of fantastic medieval weapons and gruesome monsters. However, in a cruel turn of events, the players soon realize they cannot log out; the game's creator has trapped them in his new world until they complete all one hundred levels of the game.
No Game No Life is a surreal comedy that follows Sora and Shiro, shut-in NEET siblings and the online gamer duo behind the legendary username "Kuuhaku." They view the real world as just another lousy game; however, a strange e-mail challenging them to a chess match changes everything—the brother and sister are plunged into an otherworldly realm where they meet Tet, the God of Games.
The mysterious god welcomes Sora and Shiro to Disboard, a world where all forms of conflict—from petty squabbles to the fate of whole countries—are settled not through war, but by way of high-stake games. This system works thanks to a fundamental rule wherein each party must wager something they deem to be of equal value to the other party's wager. In this strange land where the very idea of humanity is reduced to child's play, the indifferent genius gamer duo of Sora and Shiro have finally found a real reason to keep playing games: to unite the sixteen races of Disboard, defeat Tet, and become the gods of this new, gaming-is-everything world.
References: MyAnimeList, Wiki