7 Anime Like Fate/kaleid liner Prisma☆Illya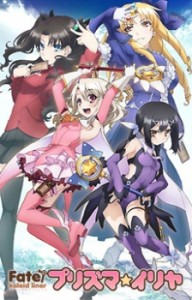 Here are my favorite picks for anime like Fate/kaleid liner Prisma☆Illya. Keep in my the list is in no particular order. Enjoy the recommendations!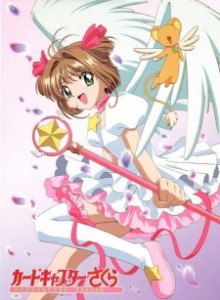 Sakura Kinomoto is your garden-variety ten-year-old fourth grader, until one day, she stumbles upon a mysterious book containing a set of cards. Unfortunately, she has little time to divine what the cards mean because she accidentally stirs up a magical gust of wind and unintentionally scatters the cards all over the world. Suddenly awakened from the book, the Beast of the Seal, Keroberos (nicknamed Kero-chan), tells Sakura that she has released the mystical Clow Cards created by the sorcerer Clow Reed. The Cards are no ordinary playthings. Each of them possesses incredible powers, and because they like acting independently, Clow sealed all the Cards within a book. Now that the Cards are set free, they pose a grave danger upon the world, and it is up to Sakura to prevent the Cards from causing a catastrophe!
Appointing Sakura the title of "the Cardcaptor" and granting her the Sealed Key, Keroberos tasks her with finding and recapturing all the Cards. Alongside her best friend Tomoyo Daidouji, and with Kero-chan's guidance, Sakura must learn to balance her new secret duty with the everyday troubles of a young girl involving love, family, and school, all while she takes flight on her magical adventures as Sakura the Cardcaptor. [Written by MAL Rewrite]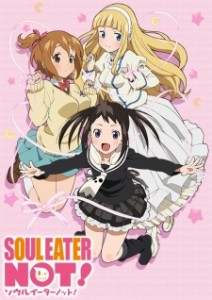 Soul Eater NOT! is a side-story to the main series, focusing on a freshman halberd named Tsugumi Harudori, who befriends two other meisters, Meme Tatane and Anya Hepburn. All three take part in the NOT (Normally Overcome Target) class at DWMA and learn to control their powers in order to overcome their difficulties to have a normal life, as opposed to the battle-oriented EAT (Especially Advanced Talent) class taken by Maka, Soul, and their companions. (Source: Wikipedia)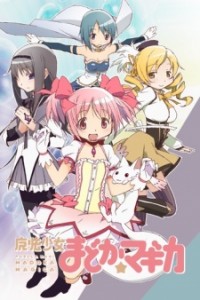 Madoka Kaname and Sayaka Miki are regular high school girls with regular lives, but all that changes when they encounter Kyuubey, a cat-like magical familiar, and Homura Akemi, the new transfer student.
Kyuubey offers them a proposition: he will grant one of their wishes and in exchange, they will each become a magical girl, gaining enough power to fulfill their dreams. However Homura, a magical girl herself, urges them not to accept the offer since everything is not what it seems.
A story of hope, despair, and friendship, Mahou Shoujo Madoka★Magica deals with the difficulties of being a magical girl and the price one has to pay to make a dream come true. [Written by MAL Rewrite]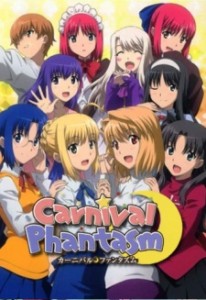 Carnival Phantasm is an adaption of the manga "Take Moon" by Type-Moon's Eri Takenashi, to celebrate Type-Moon's 10th Anniversary.
Carnival Phantasm shows parodies and new stories loosely based on Type-Moon's original works like Melty Blood, Fate/Stay Night, Tsukihime, and more.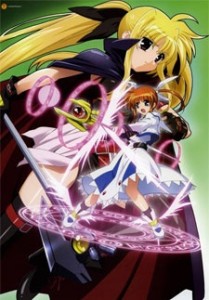 Third grader Takamachi Nanoha stumbled upon an injured talking ferret after hearing his telepathic cries for help. The ferret turned out to be Yuuno, an archeologist and mage from another world who had accidentally scattered the dangerous Jewel Seeds throughout Earth. Without the strength to collect the Jewel Seeds, Yuuno had resumed a ferret form and needed someone else to take on the task for him. He gave a red jewel to Nanoha explaining to her with this she could transform and use magic to combat the monsters that threatened them due to the Jewel Seeds. But the monsters are the least of their worries, as Yuuno and Nanoha are not the only ones out to collect the Jewel Seeds.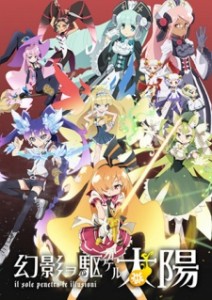 Since ancient times long past, this world has been ruled by two tarot cards.
Diablos Tarot—The tarot of the devil that feasts on the souls of living humans and uses that nourishment to bring countless pain and suffering.
Elemental Tarot—The tarot that draws its energy from the power of nature in order to oppose the Diablos Tarot.
Girls chosen from 22 different bloodlines become the wielders of the Elemental Tarot, plunging themselves into this secret battle. To maintain the balance of this world, while carrying unbearable guilt…
Are they executioners? Or saviors? This is the story of the long, long battle fought by girls who cannot escape the fate they bear. (Source: ANN)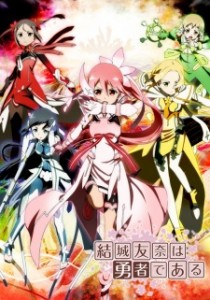 The story takes place in the era of the gods, year 300. Yuuna Yuuki lives an ordinary life as a second year middle school student, but she's also a member of the "Hero Club," where club activities involve dealing with a mysterious being called "Vertex." (Source: ANN)
References: MyAnimeList, Wiki, ANN