8 Similar Anime Like Free! Eternal Summer [Recommendations]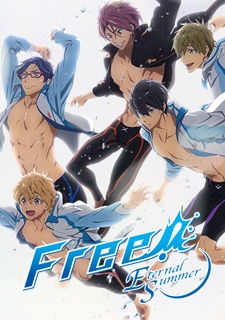 Here are my favorite picks for anime just like Free! Eternal Summer. This is the sequel to the first one Free! – Iwatobi Swim Club. Keep in mind the list is in no particular order.
In Enoshima, Yuki is a high school student who's never been good at making real friends thanks to his abnormally poor communication skills. Haru is the self-styled alien who decides to teach Yuki to fish. Natsuki is an irritable born-and-raised local. Akira is the mysterious Indian who watches them all from a distance. These four meet, fish, and find big adventures on their little island.
Chihaya Ayase is a frank and ebullient girl who becomes fascinated by the obscure world of competitive karuta, a card game based on Japanese poetry. Introduced to the aggressive style of the game by a quiet and thoughtful elementary school classmate named Arata Wataya, the two quickly become close friends. They start playing as a group with Taichi Mashima, Chihaya's smart and athletic childhood friend, until they have to part ways during their middle school years due to several circumstances. As their high school life begins, they meet once again.
It's Yui Hirasawa's first year in high school, and she's eagerly searching for a club to join. At the same time, Ritsu Tainaka, a drummer, and her friend Mio Akiyama, a bassist, are desperately trying to save the school's light music club, which is about to be disbanded due to lack of members. They manage to recruit Tsumugi Kotobuki to play the keyboard, meaning they only need one more member to get the club running again. Yui joins, thinking it will be an easy experience for her to play the castanets, the only instrument she knows. However, the other members think their new addition is actually a guitar prodigy…
Shōyō Hinata began playing volleyball after seeing the "small giants" who played the sport when he was in elementary school. He suffers a crushing defeat in his first and last tournament in middle school at the hands of his rival Tobio Kageyama. So, Hinata joins Kurasuno High School's volleyball team, vowing revenge against Kageyama. However, Kageyama is also on Kurasuno's team. The former rivals form a legendary combo with Hinata's mobility and Kageyama's precision ball-handling. Together, they take on the local tournaments and vow to meet Kurasuno's fated rival school in the nationals.
About 4 friends, twins Yuta and Yuki Asaba, the cute and girly Shun Matsuoka, and the class head Kaname Tsukahara, who have known each other since kindergarden. When a half-Japanese transfer student named Chizuru Tachibana joins their group, he brings a new dynamic to their friendship.
Tetsuya Kuroko is a former member from the legendary middle school basketball team known as "The Generation of Miracles". Upon meeting Taiga Kagami he decides upon becoming his shadow to help him become Japan's greatest basketball player.
Haruhi is a poor tomboyish student at a school for the ultra-wealthy, able to attend because of a scholarship, and unable to even afford a uniform. One day, she stumbles across the decidedly peculiar but very popular Ouran Host Club. She tries to leave, but accidentally breaks a vase, and unable to pay for it, she's told that she'll have to stay and do odd jobs. That is, until they decide she would be more valuable as a club member.
Not realizing she's female due to her appearance, they fix her up and give her a male uniform. She's an instant hit, so they decide to have her keep up the charade even after they find out the truth. Haruhi, being average almost to a fault, doesn't know what to make of the unconventional activities of the Host Club (or of the even more unconventional members), but having little choice, she plays along. Before long, real bonds are formed, friends made, and Haruhi finds herself accepted in a way she could never have been otherwise in this affluent school.
Echizen Ryoma is a young tennis prodigy who has won 4 consecutive tennis championships but who constantly lies in the shadow of his father, a former pro tennis player. He joins the Seishun Gakuen junior highschool, one of the best tennis schools in Japan, and there along with his teamates he learns to find his own type of tennis in an attempt to defeat his biggest obstacle of all: his father as well as himself.
References: MyAnimeList, ANN, Wiki