7 Anime Like Gargantia on the Verdurous Planet
Here are my favorite picks for anime like Suisei no Gargantia. Keep in my the list is in no particular order. Enjoy the recommendations!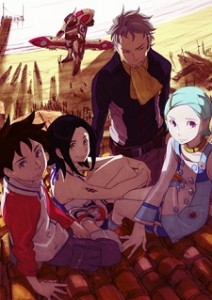 Renton Thurston is a 14-year-old boy who lived with his mechanic grandfather in a backwater town. Every day he dreamed of being with the mercenary "Light Finding Operation (LFO)" aircraft pilot group "Gekkostate" and riding "Trapar" particle waves—a sport called "reffing"—with their charismatic leader Holland, especially when faced with his father's acclaimed past or his grandfather's desire to protect him. When a young girl named Eureka riding the original LFO, the "Nirvash typeZERO," asks his grandfather for a tune-up, she inadvertently brings the attention of the military to the garage; as a result, the garage is destroyed and Renton is forced to deliver a new type of interface—the "Amita Drive"—to the Nirvash. After a heated fight in which the Nirvash destroys the military LFOs by unleashing an immense amount of power, Renton is invited into Gekkostate. However, he quickly realizes that behind the facade of a traveling group of mercenaries is a very bitter reality. (Source: ANN)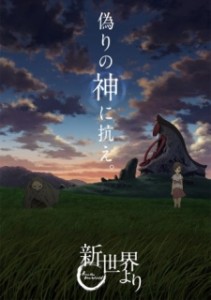 A millennium from now, in Japan, exists a utopia. The protagonist, Saki Watanabe, lives in an idyllic village barred from the outside world. Her world is ruled by the people who possess the "gods' power" of psychokinesis. After finally obtaining her own powers, Saki enters the Zenjin Academy to train along with five other children: Satoru Asahina, Maria Akizuki, Mamoru Itou, Shun Aonuma, and Reiko Amano.
Not all is as it seems, however. In this utopian village, strange rumors about a monstrous cat that abducts children circulate, and students are said to disappear from the academy. The world and its history are much darker than they appear and humanity is on the verge of collapsing. (Source: TV Tropes, edited)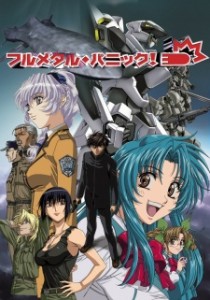 Equipped with cutting-edge weaponry and specialized troops, a private military organization named Mithril strives to extinguish the world's terrorism and all threats to peace on earth. The organization is powered by the "Whispered," individuals who possess intuitive knowledge and the remarkable ability to create powerful devices and machinery.
Seventeen-year-old Sousuke Sagara, a sergeant working for Mithril, has been assigned to protect Kaname Chidori, a Whispered candidate. He is ordered to join her high school class and be as close to her as possible to prevent her from falling into enemy hands—that is, if he can safely blend in with their fellow classmates without revealing his true identity.
Sousuke, who was raised on a battlefield and has very little knowledge of an average high school student's lifestyle, must adapt to a normal school life to safeguard Kaname. However, enemy forces have already begun making their move, and Sousuke is about to find out that the adversary coming for the Whispered girl may be a lot more familiar than he expects. [Written by MAL Rewrite]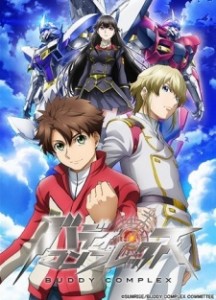 On the first day back after summer break, high-school student Aoba is attacked by a giant robot that appears out of the sky. As he's pursued through the city, his classmate Hina appears in a robot of her own. She rescues him, and tells him cryptically that "Dio is waiting for you", before she disappears. This begins Aoba's new life as the pilot of the Free Treaty Alliance against the Great Zogiria Republic. (Source: ANN)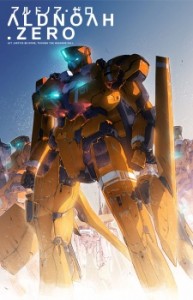 In 1972, the Apollo 17 mission found a hypergate to Mars on the surface of the moon. Upon landing, astronauts discovered an enchanted utility later referred to as "Aldnoah," giving the astronauts a status of superiority. Soon, many humans have relocated to Mars, and have adapted to the name "Martians." After Princess Asseylum, a royal Martian princess, descends onto Earth in an attempt to create a treaty between both planets, a war breaks out between Earth and Mars, and Martian soldiers begin to descend from the sky, riding steel giants, intent on exterminating humanity.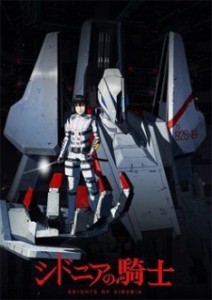 It's been a thousand years since the Gauna, a strange alien race with no known method of communication, destroyed the solar system. A portion of humanity managed to escape using enormous "seed ships" like the Sidonia, which have allowed them to maintain the population while drifting through space. Nagate Tanikaze is a young man who has been raised deep in the bowels of the ship. When he goes into training to pilot the huge robotic weapons known as Gardes, Nagate is entrusted with piloting the legendary unit known as Tsugumori. Nagate and his fellow pilots put their lives on the line against the Gauna, in the ultimate battle for the survival of humanity! (Source: Polygon Pictures)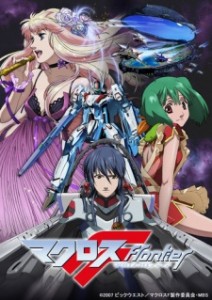 After being threatened by extinction at the hands of alien invaders called the Zentradi, humanity undertook the task of guaranteeing itself a future by launching fleets of colony ships into space. On Macross Frontier, one such fleet, high school student Saotome Alto's life is changed forever: the fleet is suddenly attacked by unidentified creatures while he is performing aerial stunts for a concert by the wildly popular idol Sheryl.
Alto quickly finds himself in the cockpit of a new-model fighter struggling to protect Ranka Lee, a young girl he met only hours earlier, from the invaders' swath of destruction. Noting his performance during this incident, the S.M.S. Skull Squadron private military company invites Alto to join their organization, where he continues protecting his friends and Macross Frontier. (Source: Anime-Planet)
References: MyAnimeList, Wiki, ANN