6 Anime Like Gin no Saji [Silver Spoon]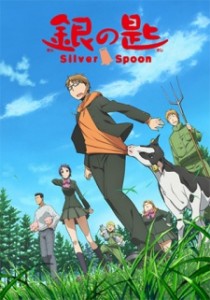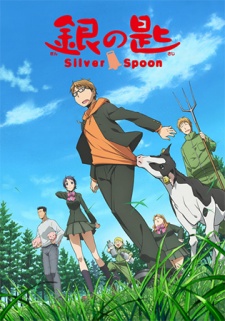 Here are my favorite picks for anime like Gin no Saji. Keep in my the list is in no particular order. Enjoy the recommendations!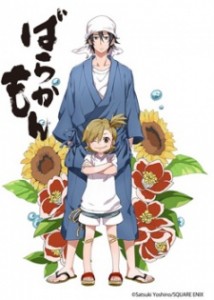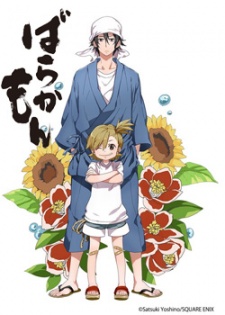 Seishuu Handa is an up-and-coming calligrapher: young, handsome, talented, and unfortunately, a narcissist to boot. When a veteran labels his award-winning piece as "unoriginal," Seishuu quickly loses his cool with severe repercussions.
As punishment, and also in order to aid him in self-reflection, Seishuu's father exiles him to the Goto Islands, far from the comfortable Tokyo lifestyle the temperamental artist is used to. Now thrown into a rural setting, Seishuu must attempt to find new inspiration and develop his own unique art style—that is, if boisterous children (headed by the frisky Naru Kotoishi), fujoshi middle schoolers, and energetic old men stop barging into his house! The newest addition to the intimate and quirky Goto community only wants to get some work done, but the islands are far from the peaceful countryside he signed up for. Thanks to his wacky neighbors who are entirely incapable of minding their own business, the arrogant calligrapher learns so much more than he ever hoped to. [Written by MAL Rewrite]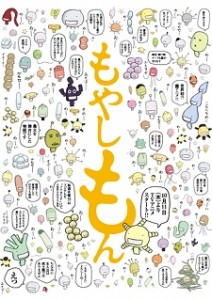 Enter Tadayasu, a freshmen college student who can see and talk to cute, chibi bacteria and other microscopic organisms. It's not all fun and games like it sounds though, because it gets him into all sorts of trouble. Join Tadayasu as he enters his first year at the Agriculture University, what crazy events await him?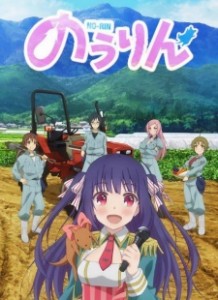 When the national idol Kusakabe Yuka suddenly retired from the entertainment business, it shocked the world and it devastated teenager Hata Kosaku. Kosaku was Yuka's biggest fan and her departure left him depressed. His classmates at the Tamo Agriculture School finally are able to get him to leave his room and attend his class, but to everyone's amazement, Kusakabe Yuka (her stage name) comes into the class under the name Kinoshita Ringo as a transfer student. Kosaku realizes he has the once in a lifetime opportunity to get to personally know his dream girl and, together with his group of friends, try to find out why she is here and become closer than just classmates. (Source: MangaHelpers)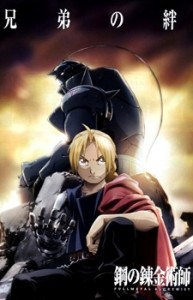 In this world there exist alchemists, people who study and perform the art of alchemical transmutation—to manipulate objects and transform one object into another. They are bounded by the basic law of alchemy: in order to gain something you have to sacrifice something of the same value.
The main character is the famous alchemist Edward Elric—also known as the Fullmetal Alchemist—who almost lost his little brother, Alphonse, in an alchemical accident. Edward managed to attach his brother's soul to a large suit of armor. While he did manage to save his brother's life, he paid the terrible price of his limbs.
To get back what they've lost, the brothers embark on a journey to find the Philosopher's Stone that is said to amplify the powers of an alchemist enormously; however, on the way, they start uncovering a conspiracy that could endanger the entire nation, and they realize the misfortunes brought upon by the Philosopher's Stone.
Fullmetal Alchemist: Brotherhood is a re-telling of the story from the manga's point of view.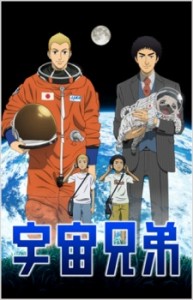 Mutta's life has hit rock bottom. He's been fired, blackballed from his profession and now he's had to move back in with his parents. Meanwhile, his kid brother Hibito has been literally riding a rocket and training to be an astronaut. The same career Mutta once dreamed of. So, is it ever too late to go after your dreams? Through a little coercing and a bit of covert activity, Mutta's family and friends can get his resume on the right desk, but from that point on it will be up to Mutta himself. Does he have what it takes to turn his life around and put his footprint on the moon? The first step on the highway to the stars is always the hardest, and in a job where crash and burn isn't just a euphemism, it will be the biggest risk Mutta's ever taken. But with the best support team ever, maybe he'll find what he needs to rekindle the spark inside him and light the biggest candle of them all! (Source: Sentai Filmworks)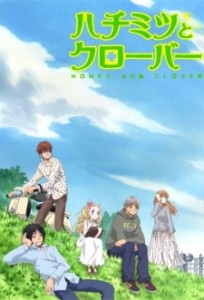 Takemoto Yuuta, Mayama Takumi, and Morita Shinobu are college students who share the small apartment. Even though they live in poverty, the three of them are able to obtain pleasure through small things in life. The story follows these characters' life stories as poor college students, as well as their love lives when a short but talented 18 year old girl called Hanamoto Hagumi appears. (Source: ANN)
References: MyAnimeList, Wiki, ANN