8 Anime Like Girls & Panzer [Recommendations]
What's this? Have my eyes betrayal me? Could it be?
Why yes dear readers, we are going to do another list of girls being awesome, Merry Christmas to all! The list ranges from girls doing everyday things to ladies who are space pirates. To give you a better idea of what you getting yourself into here's Girls & Panzer.
A high school student by the name of Miho Nishizumi comes from a long line of famous tankery practitioners in her family, but something very traumatic that drove her to abandon the sport. To make sure she doesn't play the sport she transfers to Oarai High School, where it has no tankery team. Although, as Miho joins the student body, she learns that they are going to bring back the sport and wants her to join the team since Miho has the most experience.
Will Miho be able to overcome of what happened to her, all those years ago?
It has been a long time since I written this series and it still a good show to watch. With that in mind, I do have more of these good anime shows for you cool cats to watch. Here's 8 Anime Like Girls & Panzer
Stella Women's Academy, High School Division Class C³ (Stella Jogakuin Koutou-ka C³-bu)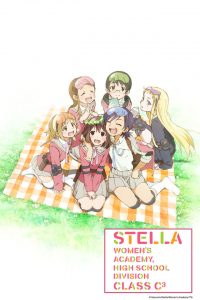 About to kick things off with guns!
Just arrived at the high school division of Stella Women's Academy, Yura Yamato has been invited to join a club called "C³". Yura doesn't think much of it and went to the first meeting where things get pretty interesting.
This show was a blast to watch. It was fun and made me laugh.
Kantai Collection: KanColle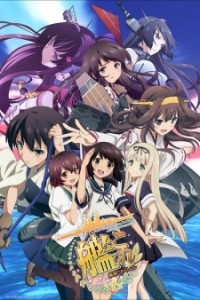 The ocean is under threat by a mysterious enemy and the only way to stop them is with the "Kanmusu"—girls who harbor the spirits of Japanese warships and have the ability to weaponized any gear that allows them to harness the powerful souls within them. A new recruit named Fubuki, a young Destroyer-type Kanmusu, joins them in the never ending battle of the sea
I recommend people to give KanColle a chance since it takes a common idea and makes it something unique and interesting for people to come and watch.
Is the order a rabbit? (Gochuumon wa Usagi Desu ka?)
Now, this is more of a down to earth show with some silly stuff infect into it.
The only way to attend high school away from her home, Kokoa Hoto, a positive and energetic girl, work as a waitress at the Rabbit House cafe and in return, she's able to stay at the Rabbit House. It's there, Kokoa befriends a lot of people and gets into some small shenanigans.
This is a very good slice of life comedy that I recommend to fans of the genre.
Upotte!!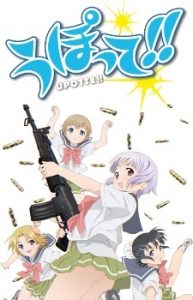 At Seishou Academy every girl is literally a lethal weapon, and are aiming to be the best. Genkoku is the newly recruited human instructor and it might be difficult for him to work with a living arsenal of high caliber beauties.
It's an enjoyable light-hearted show, that's very funny.
Love Live! School Idol Project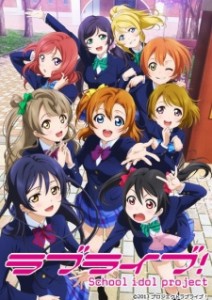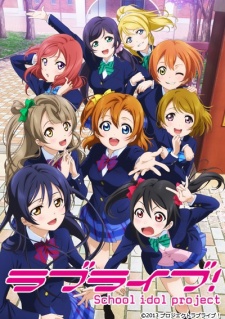 We're about to have some musical girl group, up in here.
It seems that Otonokizaka High School is in deep trouble, with the number of students dropping lower and lower each year. The school is set to shut down however, Honoka Kousaka refuses to let it go without a fight. Yet, the only way to get the school back to popularity is, strangely enough, forming a girls singing group
Will they be able to save the school?
I really liked this anime and if you haven't watched this, I highly recommend it.
Sky Girls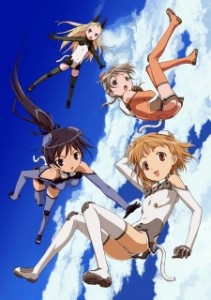 In the near future, Earth is at war with aliens, that left the population of Earth decimated, with young men being the casualties. The only hope left is a mecha unit called the Sonic Divers, piloted by 3 young girls to counter this threat.
I endorse watching this series if you enjoy shows where the characters are the stars and their equipment trimmings on the cake.
Bodacious Space Pirates (Mouretsu Pirates)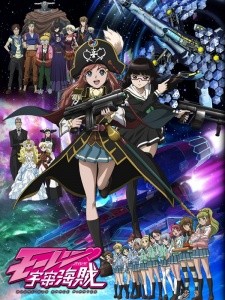 We finally have Pirates, in space!
Marika, a strong spirited high school girl, keeps herself busy with the space yacht club and her part-time job at a high-class retro café. One day, she found out that her father is dead and she is needed to assume command of the space pirate ship Bentenmaru.  Marika finds herself embarking on a new life as a space pirate.
Mouretsu Pirates is a good show to watch.
A Certain Scientific Railgun (Toaru Kagaku no Railgun)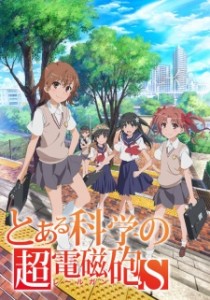 At the Academy City, a scientific development program, which in this program there are seven "Level 5" espers, who are the most powerful beings in the city. Ranked third among them is middle schooler Mikoto Misaka, where he and the other seven must investigate the strange incidents begin occurring throughout the city.
Railgun is an anime that starts with a cast of memorable characters and tells a very entertaining story.