7 Anime Like Glasslip [Recommendations]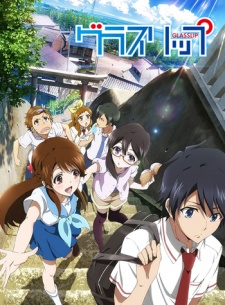 Here are my top picks for anime like Glasslip. Keep in mind the list is in no particular order. Enjoy the recommendations!
Long ago, humanity lived in the sea. But the humans who longed for the land left the sea behind. They cast aside the special raiment they'd been given by the sea god that let them live in the ocean. The thinking of the sea humans and the land humans became as separate as the places they lived, and as countless time passed, they forgot they were once one people. This will change as the land-dwelling human Tsumugu Kihara befriends four students who live in a village at the bottom of the sea.
Konatsu Miyamoto was rejected to sing with the other members of her chorus club by the teacher because she was missing "something special." Being her last year in high school, she felt like doing something crazy: She quit. In the place of her former club, Konatsu comes up with the idea to make a new chorus club, inviting the people around her to join. With dreams in each of the member's hearts, they live out their high school lives.
Kokoro Connect revolves around the daily, not so normal lives of Taichi, Iori, Himeko, Yoshifumi and Yui and their encounters in the Cultural Research Club. Up until recently they thought that they and their friends lived normal happy lives, but now the Heartseed is pulling their lives apart and exposing their inner secrets through body switching, urges and age regression.
Shinichiro is a student living in what would be a dream come true for most high school boys, but for him is mostly a frustration. A well liked girl in school named Hiromi has lived in his house for a year along with his family. Her father was a close friend of the family, and when he died they immediately took her in. She is popular and well liked, always smiles, is talented in sports- but Shinichiro knows there must be tears inside her.
Having an artistic tendency, he makes watercolours of her and thinks about wishing to ease her tears. Yet he cannot bring up the nerve to talk to her even in his own home. She, too, is quiet and withdrawn in their house, quite unlike at school. Shinichiro is also distracted by teasing from his friend Nobuse for watching Hiromi from afar, a curse of bad luck from a strange girl named Noe, and being forced to perform Muhiga dancing. By helping Noe he hopes to ease his own problems, yet he seems to have difficulty helping himself.
It's been seven years since an unusual saucer mysteriously appeared in the sky above Kiriya Lake. With no one knowing what this strange object was or where it came from, concern and panic spread amongst the people. But as time went on this occurrence went from oddity to tourist attraction. Before long, the world lost interest entirely, and the saucer remained nearly forgotten in the sky. Now, former resident Nonoka Komiya returns to the small town after seven years in Tokyo. With only vague memories of her time in the town, the appearance of a spritely girl named Noel causes Nonoka to slowly remember wishes she and four of her friends made in an old observatory. (Source: Sentai Filmworks)
After her single mother decides to run off with a boyfriend to dodge debt collectors, the young and energetic Ohana is sent to live with her grandmother. However, her grandmother is the strict owner of a hot springs inn and requires her to work at the inn to pay for her living expenses. Although Ohana is unhappy about this situation at first, she decides to make the best of her situation and work hard. Ohana's life is suddenly filled with fun, mischief, and drama! [Written by MAL Rewrite]
Nicknamed "Dry Ice," Shizuku is seen as emotionless and cold by her classmates. When she's tasked with delivering class printouts, she runs into Haru, who immediately decides that they're friends. Shizuku is touched by his innocence and his lack of knowledge towards human relationships.
Though known as a violent and uncontrollable monster, Haru also has a kind and gentle side. He immediately declares his love for Shizuku, but it takes much longer for her to realize and accept her own feelings towards him. Together, the two previously unsocial beings help each other learn how to care for others and make friends. (Source: NIS America)
References: ANN, MyAnimeList, Wiki