8 Anime Like God Eater [Recommendations]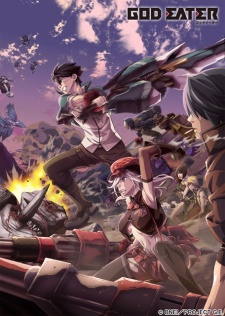 This anime has been very exciting for me. Here are my top picks for anime similar to God Eater. Keep in mind the list is in no particular order. Enjoy!
After an unknown virus wiped out all adults on earth, vampires appeared and ruled over the surviving children, treating them like livestock. Yuichiro Hyakuya survived along with other orphans by giving their blood to vampires, until Yuichiro escaped four years ago. Now he is a member of the Moon Demon Company, a unit in the Japanese army dedicated to hunting down the vampires he blames for the death of his family.
In a world rife with deadly creatures called "youma", a young silver eyed woman, Clare, works on behalf of an organisation that trains female youma halfbreeds into warriors with the ability to destroy these creatures. Considered a rogue for picking up a stray child & almost losing herself to her youma side by "Awakening", she is constantly assigned rather dangerous missions…
Twenty years ago, Shokichi Komachi was part of the Bugs 2 mission to Mars that discovered Terra Formars, human-cockroach hybrids that resulted from a terraforming accident. Shokichi was one of only two survivors. Now, the AE virus that came from Mars is raging wildly on earth. Shokichi boards the spacecraft Annex 1 to go back to Mars to find a sample in order to create a vaccine. They will face an unanticipated accident, a multinational conspiracy, and even more advanced Terra Formars.
In the year 2021, mankind was defeated by Gastrea, a parasitical virus, and is forced to live within a wall made of Varanium Monoliths, a metal that is able to subdue Gastrea. Soon, the "Cursed Children", children born with the Gastrea virus who are able to control it—which gives them superhuman abilities—were discovered.
Due to the Gastrea virus' intervention, the Cursed Children could only be female. Civil Securities are formed to specialize in fighting against Gastrea, operating with the pair of an Initiator, who are cursed children, and a Promoter, serving to lead the cursed children. Ten years after the war, Rentarō Satomi, a high school student who is also a Promoter in his childhood friend Kisara Tendō's Tendō Civil Security, along with his Initator Enju Aihara, receives a secret mission to prevent the Tokyo Area's destruction.
At the age of 14 Shinji Ikari is summoned by his father to the city of Neo Tokyo-3 after several years of separation. There he unwillingly accepts the task of becoming the pilot of a giant robot by the name EVA01 and protect the world from the enigmatic invaders known as "angels." Even though he repeatedly questions why he has accepted this mission from his estranged and cold father, his doing so helps him to gradually accept himself. However, why exactly are the angels attacking and what are his father's true intentions are yet to be unraveled.
Shio Ogura is a Japanese high school student, who is visiting Taiwan on a school trip when she is suddenly attacked by monsters. Agents known as "E-Gene Holders" from the government agency DOGOO also arrive, who wield weapons infused with the spirits of historical figures. Shio is revealed to also be an E-Gene Holder when the soul of Oda Nobunaga awakens after she tries to rescue a friend.
Several hundred years ago, humans were nearly exterminated by giants. Giants are typically several stories tall, seem to have no intelligence, devour human beings and, worst of all, seem to do it for the pleasure rather than as a food source. A small percentage of humanity survived by enclosing themselves in a city protected by extremely high walls, even taller than the biggest of giants.
Flash forward to the present and the city has not seen a giant in over 100 years. Teenage boy Eren and his foster sister Mikasa witness something horrific as the city walls are destroyed by a super giant that appears out of thin air. As the smaller giants flood the city, the two kids watch in horror as their mother is eaten alive. Eren vows that he will murder every single giant and take revenge for all of mankind.
Shu's entire world was shattered after a meteorite crashed into Japan, unleashing the lethal Apocalypse Virus. The chaos and anarchy born of the outbreak cost Shu his family and reduced him to a timid, fearful shell of the boy he'd once been. His life took another unexpected turn after a chance encounter with the stunning pop star, Inori.
This mysterious beauty introduced Shu to the King's Right Hand: a genetic mutation that allows him to reach into hearts of mortals and turn them into weapons.Shu finds himself caught in the crossfire between those who desperately seek his newfound strength. On one side lurks a clandestine government agency, and on the other, Inori and the spirited band of rebels known as Funeral Parlour. The choice is Shu's to make – and the world is his to change.
References: ANN, MyAnimeList, Wiki