7 Anime Like Golden Time [Recommendations]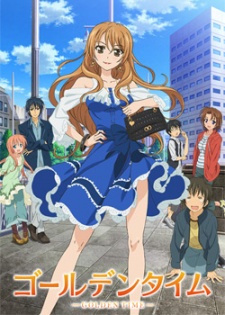 This was a great anime and here are my top picks for anime like Golden Time. Keep in mind the list is in no particular order. Enjoy!!
Despite Ryuuji Takasu's gentle personality, his eyes make him look like an intimidating delinquent. Class rearrangements on his second high school year put him together with his best friend, Yusaku Kitamura, and his hidden crush, Minori Kushieda. Along with these two comes Kushieda's best friend, Taiga Aisaka. Her delicate appearance contrasts with her brutal personality. Secretly in love with Kitamura, Taiga agrees to help Ryuuji with his love interest as long as he helps her get closer to hers.
When abandoned kittens and his good conscience force second year Sorata Kanda to move into Suimei High School's infamous Sakura Hall, the satellite dorm and its eccentric, misfit residents turn his life upside down. The decidedly average Sorata finds it difficult to fit in with the bizarre collection of dorm residents like Misaki, an energetic animator; Jin, a playwright playboy; Ryuunosuke, a reclusive programmer; and Chihiro, the dorm manager, art teacher, and party girl.
Sorata's friend Nanami, a second year student and aspiring voice actress, pushes him to find new owners for the many cats so that he can quickly move back into the regular dorms. However, his desire to escape Sakura Hall wavers when the pet-like and infantile second year Mashiro Shiina, a world-class artistic savant looking to become a mangaka, transfers in during the spring trimester and quickly latches onto him.
Supported by each other's quirks, Sorata and Mashiro come out of their shells and trigger change in the lives of those around them. Based on the light novel series of the same name, Sakurasou no Pet na Kanojo explores the fine threads connecting talent, hard work, romance, and friendship with its ensemble cast. [Written by MAL Rewrite]
Long ago, all humans lived beneath the sea. However, some people preferred the surface and abandoned living underwater permanently. As a consequence, they were stripped of their god-given protection called "Ena" which allowed them to breathe underwater. Over time, the rift between the denizens of the sea and of the surface widened, although contact between the two peoples still existed.
Nagi no Asukara follows the story of Hikari Sakishima and Manaka Mukaido, along with their childhood friends Chisaki Hiradaira and Kaname Isaki, who are forced to leave the sea and attend a school on the surface. There, the group also meets Tsumugu Kihara, a fellow student and fisherman who loves the sea.
Hikari and his friends' lives are bound to change as they have to deal with the deep-seated hatred and discrimination between the people of sea and of the surface, the storms in their personal lives, as well as an impending tempest which may spell doom for all who dwell on the surface. [Written by MAL Rewrite]
Piano prodigy Arima Kousei dominated the competition and all child musicians knew his name. But after his mother, who was also his instructor, passed away, he had a mental breakdown while performing at a recital that resulted in him no longer being able to hear the sound of his piano even though his hearing was perfectly fine. Even two years later, Kousei hasn't touched the piano and views the world in monotone, and without any flair or color. He was content at living out his life with his good friends Tsubaki and Watari until, one day, a girl changed everything. Miyazono Kaori is a pretty, free spirited violinist whose playing style reflects her personality. Kaori helps Kousei return to the music world and show that it should be free and mold breaking unlike the structured and rigid style Kousei was used to. (Source: MangaHelpers)
Raku Ichijou, a first-year student at Bonyari High School, is the sole heir to an intimidating yakuza family. Ten years ago, Raku promised his childhood friend that they would get married when they reunite as teenagers. To seal the deal, the girl had given Raku a closed locket, the key to which she took with her when she left him.
Now, years later, Raku has grown into a typical teenager, and all he wants is to remain as uninvolved in his yakuza background as possible while spending his school days alongside his middle school crush Kosaki Onodera. However, when the American Bee Hive Gang invades his family's turf, Raku's idyllic romantic dreams are sent for a toss as he is dragged into a frustrating conflict: Raku is to pretend that he is in a romantic relationship with Chitoge Kirisaki, the beautiful daughter of the Bee Hive's chief, so as to reduce the friction between the two groups. Unfortunately, reality could not be farther from this whopping lie—Raku and Chitoge fall in hate at first sight, as the girl is convinced he is a pathetic pushover, and in Raku's eyes, Chitoge is about as attractive as a savage gorilla.  [Written by MAL Rewrite]
Hasegawa Kodaka has transferred schools, and he's having a hard time making friends. It doesn't help that his blond hair tends to make people think he's a delinquent. One day, he runs into his bad-tempered solitary classmate Yozora while she's talking animatedly to her imaginary friend Tomo. Realizing that neither of them have any actual friends, they decide that the best way to alter this situation is to form a club and start recruiting.
That is how "Rinjinbu", The Neighbours' Club, was formed, a club specifically designed for people who don't have very many friends. As other lonely classmates slowly join their little club, they'll try to learn how to build friendships through cooking together, playing games, and other group activities. But will this group of relationship-challenged misfits really be able to get along?  (Source: MU)
Takemoto Yuuta, Mayama Takumi, and Morita Shinobu are college students who share the small apartment. Even though they live in poverty, the three of them are able to obtain pleasure through small things in life. The story follows these characters' life stories as poor college students, as well as their love lives when a short but talented 18 year old girl called Hanamoto Hagumi appears.
References: Wiki, ANN, MyAnimeList