9 Anime Like Gonna be the Twin-Tails!! [Ore, Twintails ni Narimasu.]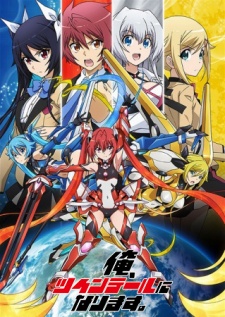 Here are my favorite picks for anime like Gonna be the Twin-Tails!!. Keep in mind the list is in no particular order. Enjoy the recommendations!
Waking up transformed into a beautiful girl might be the stuff of some guys' fantasies, but when the suddenly effeminatized Natsuru is informed by a stuffed tiger that he's now a Kampfer, a mystical fighter who has to fight other Kampfers in female form, his life becomes a living nightmare! Putting aside the obvious "plumbing" issues, Natsuru's best childhood friend turns out to swing the other way and SHE has a crush on his new female body. Not complex enough?
Natsuru's school has separate sections for boys and girls, so he and she are now double enrolled. The rumor-mill has it that he's dating herself. And there are other Kampfers attending the school who want to take her out, and he's not sure which ones mean "on a date" and which ones mean "permanently." Oh, and did we mention that some Kampfers use swords and guns?! Hormones, fists, and other body parts will fly as the daring, new gender-blender defender must become a contender or die! (Source: Sentai Filmworks)
The comedy centers around a high school boy named Madanbashi Kouichi who has Hi-ERo particles, the power source to operate the robotic weapon Daimidaler. With the help of Sonan Kyouko from the mysterious Prince Beauty Parlor organization, he stands up against the Penguin Empire that troubles humanity. (Source: ANN)
"I'm Nyarlathotep, the creeping chaos always smiling beside you." But you can call her Nyaruko for short. One by one, the Great Ones from the Cthulhu mythos are coming to earth to target Nyaruko and her human friend Mahiro. He's utterly clueless about the true nature of his cosmic conflict and just wants to live in peace. (Source: ANN)
This is the tale of five unlikely heroes who unite under the name of the "Earth Defense Club" alongside a pink wombat-like alien to defend their world and restore love to all; however, does a sinister organization lurk behind the scenes of Binan High school?
Youto Yokodera is always thinking about his carnal desires, but no one acknowledges him as a pervert. He learns about a cat statue that supposedly grants wishes. The boy goes to pray that he will be able to express his lustful thoughts whenever and wherever he wants. At the statue, Youto encounters Tsukiko Tsutsukakushi, a girl from his high school with her own wish—that she would not display her real intentions so readily. (Source: ANN)
Aikawa Ayumu is a normal high school boy. One day he is killed by a serial killer and revived as a zombie by a necromancer named Eucliwood Hellscythe. He starts to serve Eu as her guard but he happens to deprive the masou-shoujo Haruna of her magic power. Haruna orders Ayumu to fight against the anti-masou-shoujo system "Megalo" in her place.
Itsuka Shido is a high school boy. On the last day of the spring holidays, an explosion destroys the town and a girl in armor appears in front of him. Shido's step-sister, Kotori, tells him that the girl is called "Special Disasterous Designated Creature: Spirit", which causes a timespace quake. Kotori disclosed that she is the commander of the anti-spirit organization Ratatosk and orders him to go out on a date with the spirit girl. Kotori says, "I don't ask you to beat the spirit. Just let her fall in love with you and save the world." (Source: MAL News)
Ink Nijihara is a girl in high school. Unfortunately her crush Nao Tezuka barely recognizes her. To make matters worse, she is very short. Now Ink meets a duck and becomes a "mahou shoujo" and teaches Nao english in disguise. (Source: ANN)
Friendship is the key to protecting the world. That is everyone's wish. Here in a world where science has solved all questions. This story is set in Oshima. The happy, carefree 14 year old Akane Isshiki lived a poor, but well loved life together with her reliable little sister, Momo, who does all the housework, and her grandfather, Kenjirou, a genius inventor who only created useless devices.
When the weather is clear, they can see the artificial island, Blue Island, across the sea. In the center of that island rises the revolutionary Manifestation Engine, a discovery that solved the world's energy problems. It is a peaceful future, just like everyone dreamed of. One where everyone can smile and be happy… But suddenly, the world is visited by danger. An unknown enemy, the Alone, appear, targeting the Manifestation Engine. As none of their weapons worked and they fell into despair, a lone girl takes a stand wearing a red "Palette Suit" which wields a great, hidden power. Before long, allies gather around her to fight. And their friendship becomes the only hope for saving the world! (Source: ANN)
References: Wiki, MyAnimeList, ANN