8 Anime Like Gosick [Recommendations]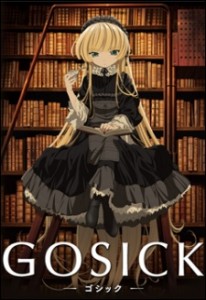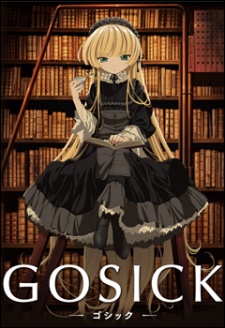 Here are my favorite picks for anime like Gosick. Keep in mind the list is in no particular order. Enjoy the recommendations!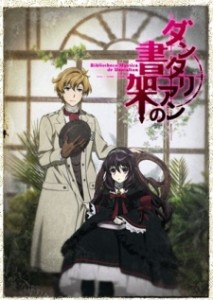 Hugh Anthony Disward inherits an old mansion and a personal library from his grandfather. In the basement of the mansion, he meets a mysterious girl, Dalian. She is a Dantalian and a gateway to "Dantalian's bookshelf," which stores the prohibited books of the demons.
"Gensho (Illusory Books)," the prohibited books, endanger the balance of the world, but people are fascinated by the taboo. Hugh and Dalian solve the cases involving Gensho with their ability to access the Dantalian bookshelf. (Source: MyAnimeList)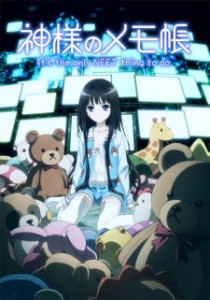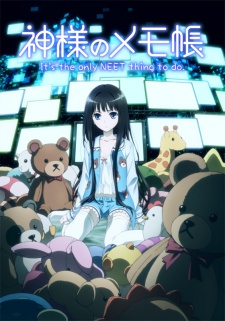 Narumi Fujishima isn't your typical high school student. He's never really fit in and has become increasingly more isolated from his fellow classmates. But he's not alone, and when Ayaka, the sole member of the Gardening Club, introduces him to the reclusive girl who lives above the ramen shop, Narumi enters a whole new secret world. Alice is a NEET, someone who is Not Employed, being Educated or in Training, but as Narumi quickly discovers, that doesn't mean that she does nothing all day.
In between tending to her small army of stuffed bears, Alice is an expert hacker and a very exclusive private detective. To his surprise, Narumi finds himself drafted as one of the strange-but-elite team of associates that Alice has assembled from her NEET acquaintances. Together they'll battle gangs, thieves, murderers, and drug lords. And in the middle of it all, Narumi will find his life changing forever! (Source: Sentai Filmworks)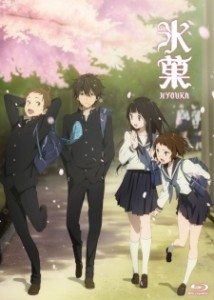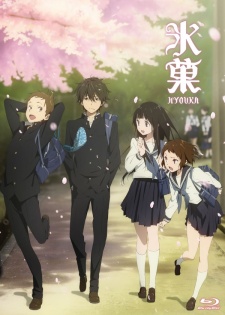 Energy-conservative high school student Houtarou Oreki ends up with more than he bargained for when he signs up for the Classics Club at his sister's behest—especially when he realizes how deep-rooted the club's history really is. Begrudgingly, Oreki is dragged into an investigation concerning the 45-year-old mystery that surrounds the club room.
Accompanied by his fellow club members, the knowledgeable Satoshi Fukube, the stern but benign Mayaka Ibara, and the ever-curious Eru Chitanda, Oreki must combat deadlines and lack of information with resourcefulness and hidden talent, in order to not only find the truth buried beneath the dust of works created years before them, but of other small side cases as well.
Based on the award-winning Koten-bu light novel series, and directed by Yasuhiro Takemoto of Suzumiya Haruhi no Shoushitsu, Hyoukashows that normal life can be full of small mysteries, be it family history, a student film, or even the withered flowers that make up a ghost story. [Written by MAL Rewrite]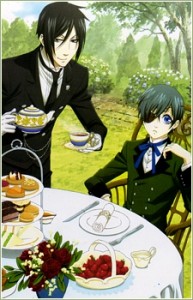 Young Ciel Phantomhive is known as "the Queen's Guard Dog," taking care of the many unsettling events that occur in Victorian England for Her Majesty. Aided by Sebastian Michaelis, his loyal butler with seemingly inhuman abilities, Ciel uses whatever means necessary to get the job done. But is there more to this black-clad butler than meets the eye?
In Ciel's past lies a secret tragedy that enveloped him in perennial darkness—during one of his bleakest moments, he formed a contract with Sebastian, a demon, bargaining his soul in exchange for vengeance upon those who wronged him. Today, not only is Sebastian one hell of a butler, but he is also the perfect servant to carry out his master's orders—all the while anticipating the delicious meal he will eventually make of Ciel's soul. As the two work to unravel the mystery behind Ciel's chain of misfortunes, a bond forms between them that neither heaven nor hell can tear apart. [Written by MAL Rewrite]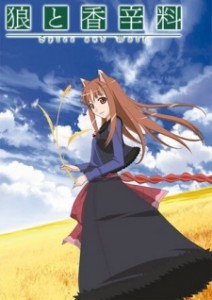 Holo is a powerful wolf deity who is celebrated and revered in the small town of Pasloe for blessing the annual harvest. Yet as years go by and the villagers become more self-sufficient, Holo, who stylizes herself as the "Wise Wolf of Yoitsu," has been reduced to a mere folk tale. When a traveling merchant named Kraft Lawrence stops at Pasloe, Holo offers to become his business partner if he eventually takes her to her northern home of Yoitsu. The savvy trader recognizes Holo's unusual ability to evaluate a person's character and accepts her proposition. Now in the possession of both sharp business skills and a charismatic negotiator, Lawrence inches closer to his goal of opening his own shop. However, as Lawrence travels the countryside with Holo in search of economic opportunities, he begins to realize that his aspirations are slowly morphing into something unexpected.
Based on the popular light novel of the same name, Ookami to Koushinryou, also known as Spice and Wolf, fuses the two polar genres of economics and romance to create an enthralling story abundant with elaborate schemes, sharp humor, and witty dialogue. Ookami to Koushinryou is more than just a story of bartering; it turns into a journey of searching for a lost identity in an ever-changing world. [Written by MAL Rewrite]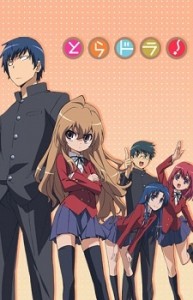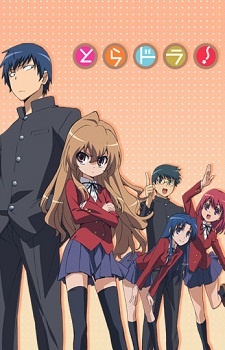 Ryuuji Takasu is a gentle high school student with a love for housework; but in contrast to his kind nature, he has an intimidating face that often gets him labeled as a delinquent. On the other hand is Taiga Aisaka, a small, doll-like student, who is anything but a cute and fragile girl. Equipped with a wooden katana and feisty personality, Taiga is known throughout the school as the "Palmtop Tiger."
One day, an embarrassing mistake causes the two students to cross paths. Ryuuji discovers that Taiga actually has a sweet side: she has a crush on the popular vice president, Yuusaku Kitamura, who happens to be his best friend. But things only get crazier when Ryuuji reveals that he has a crush on Minori Kushieda—Taiga's best friend!
Toradora! is a romantic comedy that follows this odd duo as they embark on a quest to help each other with their respective crushes, forming an unlikely alliance in the process. [Written by MAL Rewrite]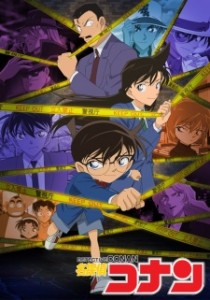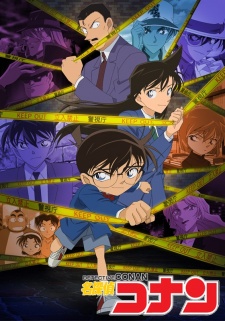 Shinichi Kudou, a great mystery expert at only seventeen, is already well known for having solved several challenging cases. One day, when Shinichi sees two suspicious men and decides to follow them, he inadvertently becomes witness to a disturbing illegal activity. When the men catch Shinichi, they dose him with an experimental drug formulated by their criminal organization and abandon him to die. However, to his own astonishment, Shinichi is still alive and soon wakes up, but now, he has the body of a seven-year-old, perfectly preserving his original intelligence. He hides his real identity from everyone, including his childhood friend Ran Mouri and her father, private detective Kogorou Mouri, and takes on the alias of Conan Edogawa (inspired by the mystery writers Arthur Conan Doyle and Ranpo Edogawa).
Animated by TMS and adapted from the manga by Gosho Aoyama, Detective Conan follows Shinichi who, as Conan, starts secretly solving the senior Mouri's cases from behind the scenes with his still exceptional sleuthing skills, while covertly investigating the organization responsible for his current state, hoping to reverse the drug's effects someday.[Written by MAL Rewrite]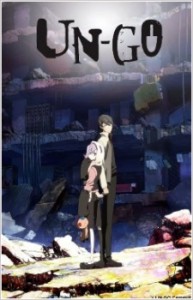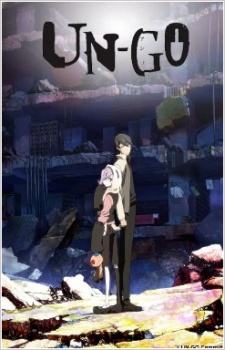 He pursues his job as the "Last Great Detective". Others call him the "Defeated Detective". What's certain is that he's Shinjurou Yuuki, a young man with a passion for mysteries and a talent for solving them that has made him the target of dark forces now stirring within the sinister underworld of a near future Tokyo. That could prove lethal, given that not even the other "good guys", including the police, are exactly on Shinjouro's side. Fortunately Yuuki's not completely on his own, and with the aid of his uniquely talented associate Inga, he's ready to cut a swath through the veils of secrecy that have been laid before him. Get ready for mind against matter and a lot of cloak and dagger as the ultimate battle of clue and deduction begins in UN-GO! (Source: Sentai Filmworks)
References: MyAnimeList, Wiki, ANN