7 Anime Like Gugure! Kokkuri-san [Recommendations]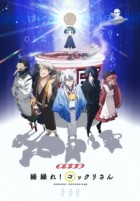 Here are my favorite picks for anime like Gugure! Kokkuri-san. Keep in mind the list is in no particular order. Enjoy the recommendations!
Seishuu Handa is an up-and-coming calligrapher: young, handsome, talented, and unfortunately, a narcissist to boot. When a veteran labels his award-winning piece as "unoriginal," Seishuu quickly loses his cool with severe repercussions. As punishment, and also in order to aid him in self-reflection, Seishuu's father exiles him to the Goto Islands, far from the comfortable Tokyo lifestyle the temperamental artist is used to.
Now thrown into a rural setting, Seishuu must attempt to find new inspiration and develop his own unique art style—that is, if boisterous children (headed by the frisky Naru Kotoishi), fujoshi middle schoolers, and energetic old men stop barging into his house! The newest addition to the intimate and quirky Goto community only wants to get some work done, but the islands are far from the peaceful countryside he signed up for. Thanks to his wacky neighbors who are entirely incapable of minding their own business, the arrogant calligrapher learns so much more than he ever hoped to. [Written by MAL Rewrite]
Nanami Momozono is alone and homeless after her dad skips town to evade his gambling debts and the debt collectors kick her out of her apartment. So when a man she's just saved from a dog offers her his home, she jumps at the opportunity. But it turns out that his place is a shrine, and Nanami has unwittingly taken over his job as a local deity! Nanami has all kinds of new responsibilities she doesn't understand, dangers she's unaware of, and a cranky ex-familiar who's… actually pretty hot. What's a new-fledged godling to do?  (Source: Viz Media)
The dark comedy revolves around the fierce god aide to the Great King Yama, Hoozuki. Calm and super-sadistic, he tries to resolve problems that often occur in Hell. (Source: ANN)
Umaru is a renowned beautiful 16-year-old girl in town, living with her elder brother Taihei. She acts a perfect sister with a kind heart, intelligence and popularity, who everybody admires. So who would believe how true Umaru is at home? Sleeping, gaming, watching TV, eating junk food, drinking cola… that's almost all she does at home, leaving all the housework to her brother. Her camouflage is so perfect that when one of her classmates visits her home by surprise and witnesses "true Umaru," she pretends as if she is Umaru's younger sister. Taihei is always swayed by Umaru's gap between ostensible face and spoiled life, but he cannot hate his comical and somehow lovable cute little sister! (Source: Crunchyroll)
Kill Me Baby is the touching story of Yasuna, a normal (?) high school girl, and Sonya, her best friend who happens to be an assassin. Unfortunately, little Sonya's trained assassin instincts often work against her and others in her daily high school life, as Yasuna's often-broken wrist can attest to. She just wanted a hug, but she ended up with a broken neck. Isn't it sad? No, it's hilarious. Not even Yasuna's intense ninja training can prepare her for the exciting adventures in this explosive 4-panel manga adaptation.
In a world where half-human, half-animal chimeras live and work alongside normal people, there are sure to be a few bad apples in the bunch. Unfortunately, half-human criminals means non-human clues that often leave the police stumped. That's where lone wolf detectives like Hiroshi Inaba come in. He's literally part wolf and has the amazing ability to extract critical information just by examining or tasting a sample of someone's hair! Of course, that ability has also resulted in Inaba having a little bit of a hair fetish, but that doesn't seem to be a problem for his two assistants. (Well, at least the cross-dressing one isn't complaining much.)
And it's nothing compared to the strange tastes of Inaba's nemesis, the omnivorous (and half goat) crime boss Don Valentino, who has an appetite for green legal tender instead of tender young greens! Inaba's sworn to cut Valentino out of the criminal flock before the Don can wolf down more ill-gotten dough, but he's going to have to chew his way through a lot of evidence to get his goat. Can sheer dogged detective work put the baaaaad guys behind bars? (Source: Sentai Filmworks)
Takano Kyohei, Oda Takenaga, Toyama Yukinojo, and Morii Ranmaru are going to rent a house to go to school for free on the condition that they make the girl of the house a "lady". However, Nakahara Sunako, the girl living there, is gloomy, weird, and horror movie maniac. She has a trauma of when she was told she was ugly by the boy whom she loved when she was in junior high school. She doesn't like beautiful things and gets a nosebleed when she looks at something beautiful. (Source: AnimeNfo)
References: Wiki, MyAnimeList, ANN