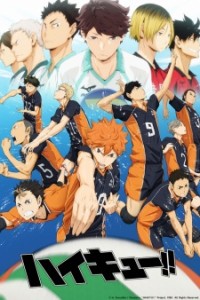 With Haikyuu!! second season going on, let's take a look at some anime like Haikyuu. Keep in mind that most of these anime will be sports oriented recommendations. The list is also in no particular order.
Tetsuya Kuroko is a former member from the legendary middle school basketball team known as "The Generation of Miracles". Upon meeting Taiga Kagami he decides upon becoming his shadow to help him become Japan's greatest basketball player.
Eijun Sawamura is a pitcher who joins an elite school with a brilliant catcher named Kazuya Miyuki. Together with the rest of the team, they strive for Japan's storied Koushien championships through hard work and determination.
The series, set in Saitama, follows Ren Mihashi, who had previously excelled as his middle school baseball team's ace pitcher, due to his grandfather's connections as its manager. As he graduates to high school, whose baseball team his grandfather does not manage, he initially does not believe he is good enough to succeed at baseball, however, but assisted by his friends, he grows in stature, confidence and skill, helping his team excel with his own ability.
Eiichirō Maruo (nicknamed "Ei-chan" for his grades being straight "A") is an honor student, bookworm, and is not interested in anything other than studying. In order to solve his problem of lacking physical strength, he enrolled a tennis school and soon found the fascinating side of tennis. Being a tennis newbie lacking physical strength, he supplement his shortcomings with his excellent observing and analyzing skills.
Sakamichi Onada is a wimpy high school freshman who loves anime. He initially wants to enter the anime club, but winds up joining the cycling club after meeting two classmates who are already famous cyclists. He undertakes the grueling training to compete in races, and discovers his own hidden talent in cycling.
Sakuragi Hanamichi is a junior high punk used to getting into fights and being rejected by girls but upon entering high school he meets the girl of his dreams, Haruko Akagi. He will do anything in order to win her heart including joining the school basketball team that is aiming to conquer the nation lead by Haruko's brother. The problem is that Sakuragi has never played basketball before and a freshman sensation is stealing the spotlight and Haruko's affection from him.
Four boys named Haruka, Makoto, Nagisa and Rin all participated in a swimming tournament shortly before graduating elementary school and later parted ways. Years later, they reunite when Rin challenges Haruka to a race and wins. Not wanting to be defeated so easily, Haruka gathers Makoto and Nagisa and a new recruit named Rei to form the Iwatobi High School Swimming Club.
Echizen Ryoma is a young tennis prodigy who has won 4 consecutive tennis championships but who constantly lies in the shadow of his father, a former pro tennis player. He joins the Seishun Gakuen junior highschool, one of the best tennis schools in Japan, and there along with his teamates he learns to find his own type of tennis in an attempt to defeat his biggest obstacle of all: his father as well as himself.
Chihaya Ayase is a frank and ebullient girl who becomes fascinated by the obscure world of competitive karuta, a card game based on Japanese poetry. Introduced to the aggressive style of the game by a quiet and thoughtful elementary school classmate named Arata Wataya, the two quickly become close friends. They start playing as a group with Taichi Mashima, Chihaya's smart and athletic childhood friend, until they have to part ways during their middle school years due to several circumstances. As their high school life begins, they meet once again.
References: ANN, Wiki, MyAnimeList