6 Anime Like Hanayamata [Recommendations]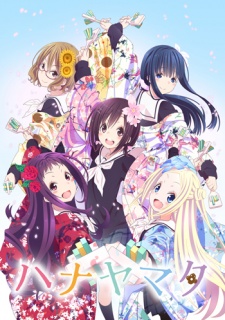 Here are my favorite picks for anime like Hanayamata. Keep in mind the list is in no particular order. Enjoy!
Otonokizaka High School stands on the border of three cities: Akihabara—a pop culture mecca that's evolving by the minute; Kanda—a conservative, cultured city where history and tradition reign supreme; and Jinbo—a quiet area reserved for a more mature, sophisticated population. Amidst this culture clash, the school now faces closure due to the enrollment of fewer and fewer students.
With the school planning to close within three years, nine female students come together with one thing in mind—form a pop idol group to revive the school's popularity and keep it from shutting down. "In order to protect our beloved school, there's only one thing we can do… become pop stars!"
Their goal is simple: Become an overnight sensation and use their nationwide media exposure to promote their school and bring in a wave of new students to the ailing area. A simple but solid plan, they figure. Naturally, they're nervous and wonder if this plan can really succeed, but for better or worse their new journey has begun…
"All we can ask for is just a tiny bit of support from you. We truly believe that with your help, we can change the world around us. We will make our dreams come true!"  (Source: NIS America)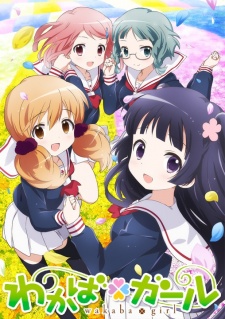 The story centers around the activities of Wakaba Kohashi, "a slightly out-of-tune super" daughter of a well-to-do family, and her friends. Wakaba (literally, "young leaves") looks like an elegant rich daughter, but she admires the trendy gyaru fashion subculture. There is also the pure, innocent, fairy-tale-like Moeko. Mao is capricious and behaves in her own way. Nao used to be an athletic type of girl, but now loves the boys-love genre.
The story begins with Oomiya Shinobu, a 15-year-old, seemingly pure Japanese girl who actually did a homestay in Great Britain. Even after coming back to Japan, she still misses her time overseas. One day, an airmail letter arrives from Alice, the girl in Shinobu's host family in Great Britain. The letter reads: Shinobu, I'm coming to Japan! The Japanese/British girls' mixed comedy follows the lives of Shinobu, Alice, and other girls from both Japan and Great Britain.
Hirasawa Yui, a young, carefree girl entering high school, has her imagination instantly captured when she sees a poster advertising the "Light Music Club." Being the carefree girl that she is, she quickly signs up; however, Yui has a problem, she is unable to play an instrument.
When Yui goes to the clubroom to explain, she's greeted by the other members: Ritsu, Mio, and Tsumugi. Although disheartened at Yui's lack of musical know-how, they still try to convince her to stay to prevent the club's disbandment. After playing Yui a short piece which re-ignites her imagination, they succeed in keeping their new member and guitarist.
Along with the tasks of school and homework, Yui begins to learn the guitar with the help of the other band members, experiencing many mishaps along the way. However, with the school festival drawing near and Yui getting stuck with her practice, will the Light Music Club be ready in time for their debut?  [Written by MAL Rewrite]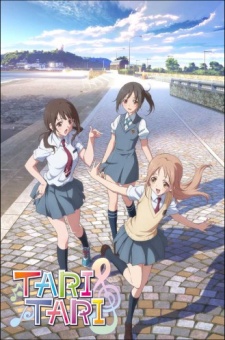 The last year of high school is always a time of both looking forward and looking back. Before you lies the future, alternately bright and scary. Behind you lie memories, both happy and sad. And somehow, in the course of one year, you have to reconcile those two and decide where your life is going to go.
For Wakana Sakai, who had started studying music, it's time to face the tragedy that made her abandon that path. For Sawa Okita, it's about her dreams of riding professionally. And for Konatsu Miyamoto, it's about bringing her friends together through the magic of a song. Can something as simple as the formation of a choir club really help solve the hurts and pangs that come with growing up? Can music bring people together despite their differences? (Source: Sentai Filmworks)
Green Leaves Entertainment is a tiny production company on the verge of going out of business in Sendai, the biggest city in Japan's northeastern Tohoku region. The agency once managed the careers of magicians, photo idols, fortune-tellers, and other entertainers, but its last remaining client finally quit. In danger of having zero talent (literally), the president Tange hatches an idea of producing an idol group. On the brash president's orders, the dissatisfied manager Matsuda heads out to scout raw talent. Matsuda makes a fateful encounter with a certain girl…
References: ANN, MyAnimeList, Wiki