10 Anime Like High School DxD BorN [Recommendations]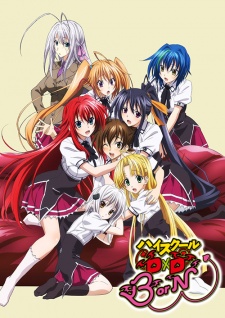 Here are my favorite picks for anime like High School DxD BorN! Keep in mind the list is in no particular order. Enjoy the recommendations!
A mysterious, lethal disease is on the loose worldwide, resulting in a catastrophic death rate of humanity, and the increasing rise of attacks, caused by the living dead. In Japan, several high school students and a school nurse have banded together to escape Fujimi High School shortly after it was attacked by zombies. The group now attempts to figure who or what was responsible for this plague, and in the meantime, attempt to survive the present apocalypse.
NEVER make a deal with a wet goddess you've only just met. That's a lesson Ryosuke Kaga learns the hard way when he foolishly agrees to let Lisara Restole use some of his "essence" to stay in this world. Because despite her smoking hot appearance, Lisara's actually a Shinigami, a Goddess of Death. However, she DOESN'T steal years off his life like any decent Shinigami would do. Oh no, instead she sucks him dry of something much more perverse by leeching off his lecherous spirit and draining his ability to enjoy… er… the things that teenage boys normally spend most of their time thinking about!
And now that he's been de-debased and de-debauched by her un-dirty trick, the poor regenerated degenerate's only hope of getting his licentiousness renewed is to join the queen of mental-clean on her quest, since when she leaves our mortal plane he regains his normal immorality! But the termination of the probation of his reprobation isn't guaranteed, because Goddesses of Death can be really harsh mistresses and it's going to be anything but easy to go back to being sleazy!  (Source: Sentai Filmworks)
Only a pure maiden can have the privilege to contract with a spirit. In here, Areishia Spirit Academy, trained maidens of noble families are gathered and given an elite's education to become spirit contractors. A boy, Kamito, peeped by accident at a girl, Claire, while she was taking a bath and he ended up making a contract with the spirit she wanted. Yes, Kamito is an irregular boy spirit contractor whose existence was thought impossible until now. "You stole…my spirit…you have to take responsibility for it!" "Huh?" "You have to become my contracted spirit!" What will Kamito's destiny lead to?
"Hey, you said you wanted a little sister, right?" First-year high school student, Toujo Basara, was suddenly asked by his father and fell into a state of panic. On top of that, the eccentric father told him he will be getting remarried. He then departed overseas after bringing Basara two beautiful step-sisters. But Mio and Maria's true forms are actually the newbie Demon Lord and a succubus!? (Source: MU)
Minato Sahashi is extremely intelligent, yet due to his inability to cope under pressure has failed the college entrance exam twice. As a result he has been branded an idiot and loser by many. One day after talking to his yet again disappointed mother he comes into contact with a girl named Musubi who was under attack. The girl runs but takes him with her and soon finds that Minato, while unknown to him, is an Ashikabi, one of the mysterious set of masters that have the genetic trait that can become partners with some of the 108 cute girls, buxom women, and bishōnen called "Sekirei." The reason for the partnership allows the Sekirei to use all their power to win in the competition held by the mysterious MBI corporation. (Source: ANN)
References: ANN, MyAnimeList, Wiki