10 Anime Like Humanity Has Declined [Jinrui wa Suitai Shimashita] Recommendations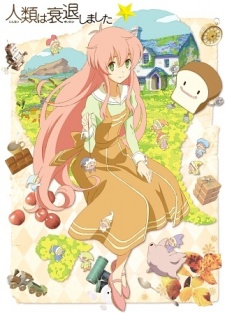 Here are my favorite picks for anime like Humanity Has Declined. Keep in mind the list is in no particular order. Enjoy the recommendations!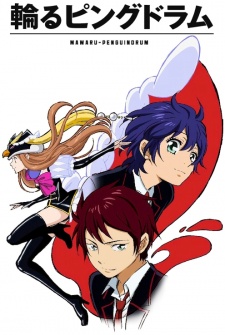 Once you make a decision, does the universe conspire to make it happen? Is destiny a matter of chance, a matter of choice or the complex outcome of thousands of warring strands of fate? All twins Kanba and Shoma know is that when their terminally ill sister Himari collapses at the aquarium, her death is somehow temporarily reversed by the penguin hat that she had asked for. It's a provisional resurrection, however, and it comes at a price: to keep Himari alive they need to find the mysterious Penguin Drum. In order to do that, they must first find the links to a complex interlocking chain of riddles that has wrapped around their entire existence, and unravel the knots that tie them to mystifying diary and a baffling string of strangers and semi-acquaintances who all have their own secrets, agendas and "survival strategies." And in order for Himari to live, someone else's chosen destiny will have to change. It's a story of love, fate, life, death… and Penguins! (Source: Sentai Filmworks)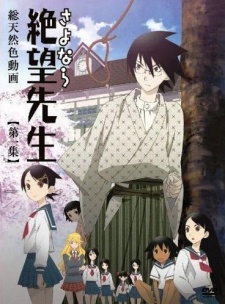 Itoshiki Nozomu is always in despair! Even simple things like paying for the toll on the subway can send him to a despair so deep only attempted suicide is the answer. How Strange is it then, that he should be the teacher of a High School Class filled with students with even more emotional problems than his. This great Comedy will leave you in anything but 'Despair' as you meet each of his students and watch their wacky adventures. (Sources: MyAnimeList)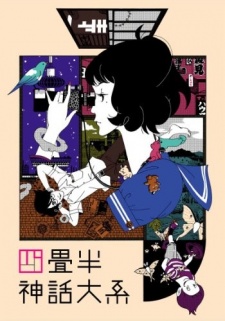 One autumn evening at a mysterious ramen stand behind the Shimogamo Shrine, a lonely third-year college student bumps into a man with an eggplant-shaped head who calls himself a god of matrimony. Meeting this man causes the student to reflect upon his past two years at college—two years bitterly spent trying to break up couples on campus with his only friend Ozu, a ghoulish-looking man seemingly set on making his life as miserable as possible. Resolving to make the most out of the rest of his college life, the student attempts to ask out the unsociable but kind-hearted underclassman Akashi, yet fails to follow through, prompting him to regret not living out his college life differently. As soon as this thought passes through his head, however, he is hurtled through time and space to the beginning of his years at college and given another chance to live his life.
Surreal, artistic, and mind-bending, Yojouhan Shinwa Taikei chronicles the misadventures of a young man on a journey to make friends, find love, and experience the rose-colored campus life he always dreamed of. [Written by MAL Rewrite]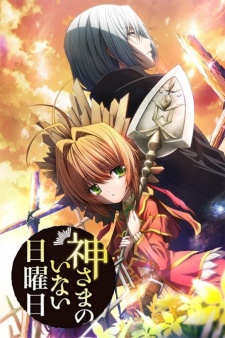 God abandoned the world on Sunday. As a result, nobody in the world can die or reproduce. A little girl, Ai, is the gravekeeper for a village. She has prepared 47 graves for the eventual deaths of every member of the village. Later, a man who identifies himself as "Hampnie Hambart, the 'Man-eating Toy'," which is coincidentally the name that Ai's mother left behind as the name of her father, arrives in the village and slaughters everybody. Just what is going on?(Source: MU)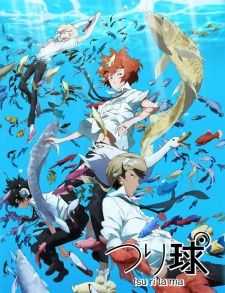 You can't catch fish if you don't go fishing, and you can't make friends if you don't at least try.
Which is how relationship-challenged student Yuki finds himself on a fishing trip to a tiny island with three other boys he barely knows. Well, two other boys and Haru, who claims that he's an alien. Not that constantly stewing Natsuki or mysterious Akira are any more likely as prospects for good companionship.
But there's something about fishing that makes it unlike any other pastime, and maybe that quiet sense of companionship and hopeful expectation is just what Yuki needs to start charting the unfamiliar waters of personal connections. Or maybe it will turn out that Haru's right and they're going to have to save the entire planet.
There are lots of different kinds of fish stories, from the "ones that got away" to the "best catches ever," but whichever way the currents of life take them, for four young men, this trip may turn out to be the biggest whopper ever! (Source: Sentai Filmworks)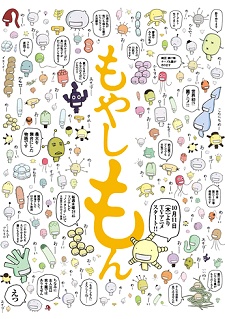 Enter Tadayasu, a freshmen college student who can see and talk to cute, chibi bacteria and other microscopic organisms. It's not all fun and games like it sounds though, because it gets him into all sorts of trouble. Join Tadayasu as he enters his first year at the Agriculture University, what crazy events await him? (Source: MyAnimeList)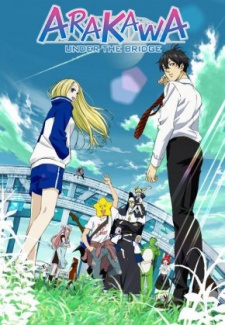 Kou Ichinomiya has always lived according to the creed of his wealthy, successful family: never be in debt to anyone. But one day, under the Arakawa Bridge, his life is saved by a homeless girl named Nino. In order to pay her back, Kou promises to be her boyfriend; and thus begins his new life under the bridge. (Source: ANN)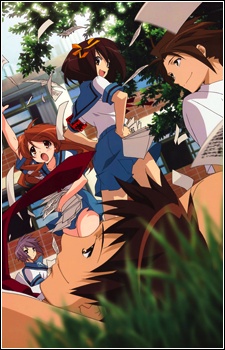 Kyon, your typical high school student, has long given up his belief in the supernatural. However, upon meeting Haruhi Suzumiya, he quickly finds out that it is the supernatural that she is interested in—aliens, time travelers, and espers among other things. When Haruhi laments about the lack of intriguing clubs around school, Kyon inspires Haruhi to form her own club. As a result, the SOS Brigade is formed, a club which specializes in all that is the supernatural.
Much to his chagrin, Kyon, along with the silent bookworm, Yuki Nagato, the shy and timid Mikuru Asahina, and the perpetually smiling Itsuki Koizumi, are recruited as members. The story follows the crazy adventures that these four endure under their whimsical leader, Haruhi. The story is based on the light novels by Nagaru Tanigawa.[Written by MAL Rewrite]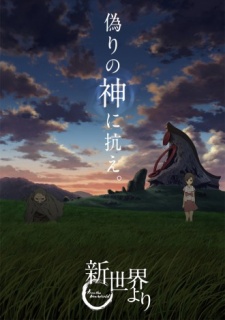 Following a sudden outbreak of psychokinesis in 0.1% of the population, a rapid transformation swept the world. The godlike ability to manipulate matter remotely turned many power wielders to violence, inciting a long period of upheaval. Finally, after a chaotic era shaped by the rise and fall of oppressive regimes, the psychic humans were able to achieve a fragile peace by isolating their society, creating a new world bound by complex rules.
In the town of Kamisu 66, 12-year-old Saki Watanabe has just awakened to her powers and is relieved to rejoin her friends—the mischievous Satoru Asahina, the shy Mamoru Itou, the cheerful Maria Akizuki, and Shun Aonuma, a mysterious boy whom Saki admires—at Sage Academy, a special school for psychics. However, unease looms as Saki begins to question the fate of those unable to awaken to their powers, and the children begin to get involved with secretive matters such as the rumored Tainted Cats said to abduct children.
Shinsekai yori tells the unique coming-of-age story of Saki and her friends as they journey to grow into their roles in the supposed utopia. Accepting these roles, however, might not come easy when faced with the dark and shocking truths of society, and the impending havoc born from the new world. [Written by MAL Rewrite]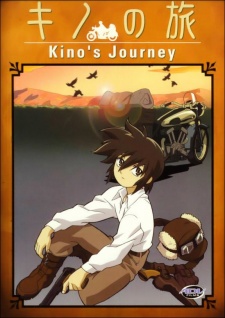 Based on a hit light novel series by Keiichi Sigsawa, the philosophical Kino's Journey employs the time-honored motif of the road trip as a vehicle for self-discovery and universal truth. Deeply meditative and cooler than zero, the series follows the existential adventures of the apt marksman Kino along with talking motorcycle Hermes as they travel the world and learn much about themselves in the process. Imaginative, thought-provoking, and sometimes disturbing, Kino's journey is documented in an episodic style with an emphasis on atmosphere rather than action or plot, though still prevalent. (Source: MyAnimeList)
References: MyAnimeList, Wiki, ANN