10 Anime Like Hunter x Hunter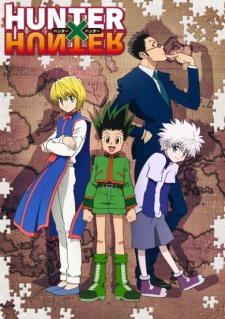 This anime is full of adventures and fun. Here are my favorite picks for anime just like Hunter x Hunter. The list is in no particular order. Enjoy!
Two brothers lose their mother to an incurable disease. With the power of "alchemy", they use taboo knowledge to resurrect her. The process fails, and as a toll for using this type of alchemy, the older brother, Edward Elric loses his left leg while the younger brother, Alphonse Elric loses his entire body. To save his brother, Edward sacrifices his right arm and is able to affix his brother's soul to a suit of armor.
With the help of a family friend, Edward receives metal limbs – "automail" – to replace his lost ones. With that, Edward vows to search for the Philosopher's Stone to return the brothers to their original bodies, even if it means becoming a "State Alchemist", one who uses his/her alchemy for the military.
Before he was executed, the legendary Pirate King Gold Roger revealed that he had hidden the treasure One Piece somewhere in the Grand Line. Now, many pirates are off looking for this legendary treasure to claim the title Pirate King. One pirate, Monkey D. Luffy, is a boy who had eaten the Devil's Fruit and gained rubber powers. Now he and his crew are off to find One Piece, while battling enemies and making new friends along the way.
One day, 14-year-old Yusuke Urameshi suddenly finds himself dead, having died pushing a child out of the way of oncoming traffic. Since he has such a bad personality, even the Spirit World was caught by surpise that he would sacrifice himself. Yusuke soon finds out he wasn't supposed to die and has a chance for resurrection and bringing his body back to life. After being resurrected, Yusuke becomes a Spirit Detective, along with his comrades, and one adventure after another happens, whether it be an investigation or a fighting tournament.
In a fantastic middle-age world where slavery is very common, there are mysterious tall towers named "Dungeon" which mysteriously appeared out of nowhere fourteen years before the story line. Someone who conquers a Dungeon becomes very powerful and wealthy. Our hero Ali Baba is a teenager who works for merchants to support himself. He dreams for conquering a lot of Dungeons and becoming a very rich person. One day, he comes across with a strange young boy named Aladdin who carries a mystical flute with supernatural powers in it. Ali Baba and Aladdin agree to travel their first Dungeon together.
Naruto closely follows the life of a boy who is feared and detested by the villagers of the hidden leaf village of Konoha. The distrust of the boy has little to do with the boy himself, but it's what's inside him that causes anxiety. Long before Naruto came to be, a Kyuubi (demon fox) with great fury and power waged war taking many lives. The battle ensued for a long time until a man known as the Fourth Hokage, Yondaime, the strongest ninja in Konoha, fiercely fought the Kyuubi. The fight was soon won by Yondaime as he sealed the evil demon in a human body.
Thus the boy, Naruto, was born. As Naruto grows he decides to become the strongest ninja in Konoha in an effort to show everyone that he is not as they perceive him to be, but is a human being worthy of love and admiration. But the road to becoming Hokage, the title for the strongest ninja in Konoha, is a long and arduous one. It is a path filled with betrayal, pain, and loss; but with hard work, Naruto may achieve Hokage.
Bulma is a girl in search of the mystical dragonballs that when brought together grant any wish. In her search she bumps into the owner of one of these balls, a strange boy named Goku. The two then set off together, Bulma in search of the dragonballs and Goku on a quest to become stronger.
Ichigo Kurosaki is a 15-year-old-boy who has an ability to see ghosts/spirits. Because of his ability, he is able to meet a female death god (AKA Shinigami) named Rukia Kuchiki. To save his family and friends from unwanted soul-eating spirits (Hollows), Rukia transfers her Shinigami powers to Ichigo. As Rukia takes on a human shell, together they solve mysteries involving spirits and Hollows until from the spirit world come two other Shinigami, who explain that it is illegal to transfer Shinigami powers to humans and that Rukia exceeded the time limit to stay in the human world. After they sentence her death for breaking the law, Ichigo snaps and swears to everyone he will retrieve Rukia by breaking into the spirit world.
Lucy is a 17-year-old girl, who wants to be a full-fledged mage. One day when visiting Harujion Town, she meets Natsu, a young man who gets sick easily by any type of transportation. But Natsu isn't just any ordinary kid, he's a member of one of the world's most infamous mage guilds: Fairy Tail.
The year is 1987 and 17-year-old Jotaro Kujo finds himself suddenly plagued by a ghost-like entity. Jotaro's grandfather Joseph Joestar, a veteran of a fight to save humanity fifty years prior, arrives with his own supernatural aura and explains that this power, known as a "Stand," physically manifests its user's spirit and can be controlled by its user at will.
The sudden emergence of these Stands is revealed to be caused by the revival of the megalomaniacal vampire DIO (the Joestar's longtime enemy) whose awakening from his century-long slumber has triggered Stands to awaken down the Joestar family line, including in Jotaro's mother whose uncontrollable Stand will ultimately kill her in a few weeks' time. Jotaro, Joseph, and their allies have fifty days to locate DIO (using their Stands to thwart DIO's network of devoted Stand-user minions along the way) and eliminate DIO himself in order to save Jotaro's mother and prevent DIO's ambitions of world domination.
Tsuna is a hapless youth with low test scores and lower self esteem. His mother hires a tutor to help Tsuna out, but it comes as a surprise to the both of them when the tutor is a baby named Reborn, claiming to be from the Mafia. Reborn informs Tsuna that he's the next heir to the Vongola family mafia family and tries to help Tsuna reach the goal. Reborn possesses the Dying Will bullet, which kills a person and brings them back to life to fulfill the last regret they had, and even works to get Tsuna some henchmen to make him a true mafia boss-in-training.
References: ANN, MyAnimeList, Wiki