8 Anime Like In Search of the Lost Future [Ushinawareta Mirai wo Motomete] Recommendations
Here are my favorite picks for anime like In Search of the Lost Future. Keep in my the list is in no particular order. Enjoy the recommendations!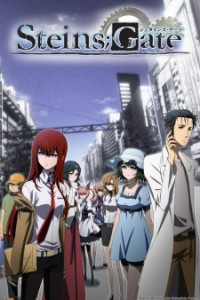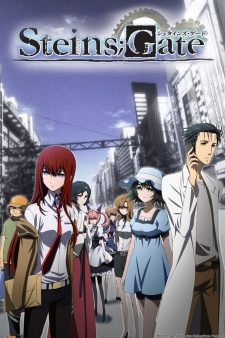 The eccentric mad scientist Okabe, his childhood friend Mayuri, and the otaku hacker Daru have banded together to form the "Future Gadget Research Laboratory," and spend their days in a ramshackle laboratory hanging out and occasionally attempting to invent incredible futuristic gadgets. However, their claymore is a hydrator and their hair dryer flips breakers, and the only invention that's even remotely interesting is their Phone Microwave, which transforms bananas into oozing green gel. But when an experiment goes awry, the gang discovers that the Phone Microwave can also send text messages to the past. And what's more, the words they send can affect the flow of time and have unforeseen, far-reaching consequences—consequences that Okabe may not be able to handle…(Source: Anime Planet)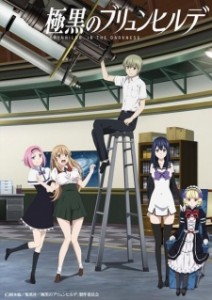 When he was a child, Murakami was infatuated with a girl he called Kuroneko. She insisted on knowing about aliens and having met them, but no one believed her, even young Murakami was skeptical. One day, she decides to show him the aliens, but an accident occurs and Kuroneko dies while Murakami is left seriously wounded in the hospital.
Years go by and Murakami obsesses on finding proof of the existence of aliens because of a promise he had made with Kuroneko. Then, one day, a new transfer student comes to his class, who not only looks a lot like Kuroneko, but is named Kurohaneko!(Source: Crunchyroll)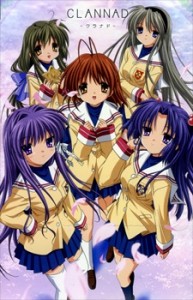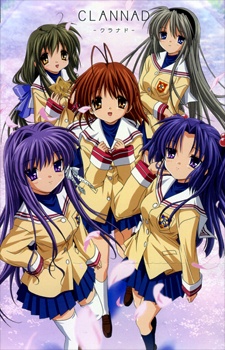 Okazaki Tomoya is a delinquent who finds life dull and believes he'll never amount to anything. Along with his friend Sunohara, he skips school and plans to waste his high school days away.
One day while walking to school, Tomoya passes a young girl muttering quietly to herself. Without warning she exclaims "Anpan!" (a popular Japanese food) which catches Tomoya's attention. He soon discovers the girl's name is Furukawa Nagisa and that she exclaims things she likes in order to motivate herself. Nagisa claims they are now friends, but Tomoya walks away passing the encounter off as nothing.
However, Tomoya finds he is noticing Nagisa more and more around school. Eventually he concedes and befriends her. Tomoya learns Nagisa has been held back a year due to a severe illness and that her dream is to revive the school's drama club. Claiming he has nothing better to do, he decides to help her achieve this goal along with the help of four other girls.
As Tomoya spends more time with the girls, he learns more about them and their problems. As he attempts to help each girl overcome her respective obstacle, he begins to realise life isn't as dull as he once thought.[Written by MAL Rewrite]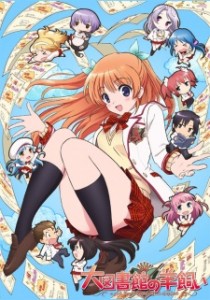 The story is set at Shiomi Academy, a vast, prestigious academy with a Daitoshokan (literally, "great library") that rivals Japan's national library. As a member of the Library Club, Kyoutarou Kakei goes to Daitoshokan to enjoy reading by himself. He then meets a second-year girl named Tsugumi Shirasaki through the efforts of a so-called "shepherd" who fulfills people's wishes. Eventually, more people join the club thanks to the "shepherd."(Source: ANN)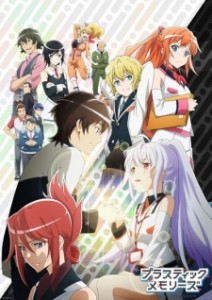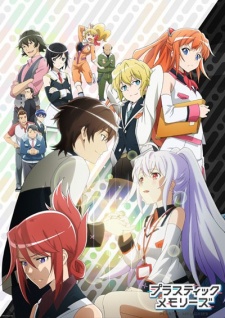 After failing his college entrance exams, 18-year-old Tsukasa Mizugaki is offered a position at the renowned SAI Corporation due to his father's connections. SAI Corporation is known for its production and management of androids that possess human emotions called "Giftia." Tsukasa's position is in the Terminal Service Department where their main job is to recover Giftias that are close to their expiration—it is a graveyard department in every sense. To make matters worse, Tsukasa is ordered to work with Isla, a female Giftia who was never given any responsibility other than serving tea to her co-workers.(Source: Aniplex USA)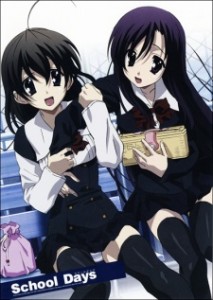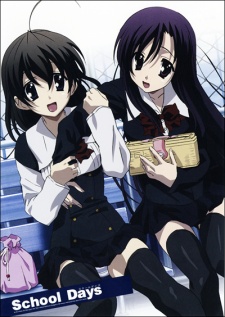 Makoto Itou is a young Japanese high school student beginning his second term at the fictional Sakakino Academy. During his daily train rides to and from school, he becomes infatuated with fellow student Kotonoha Katsura; a girl that also commutes. When a new classmate acquaintance of his, Sekai Saionji, discovers his secret crush on Kotonoha, she helps introduce both of them to each other and over time they grow closer and agree to date; however in spite of her proud and triumphant matchmaking efforts, Sekai inadvertently becomes jealous of the new couple, having also developed feelings toward Makoto.
The following afternoon on her way home at the nearby train station in front of the school, Sekai finds Makoto waiting for Kotonoha to rendezvous for a date. He sits with her and reiterates his appreciation for her help, and feeling heavily indebted, offers repayment anyway he can. Though she believes he is overreacting, Sekai decides to redeem her obligation by placing a kiss on his lips as her train pulls in; quickly rushing into an open passenger car and happily bidding a dumbstruck Makoto luck on his date.(Source: Wikipedia)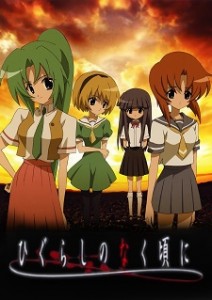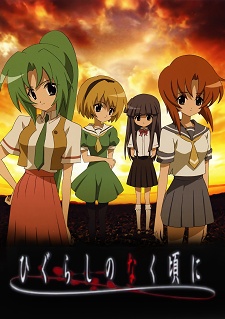 After moving into the quiet town of Hinamizawa, Maebara Keiichi spends his days blissfully in school often playing games with his local friends. However, appearances can be deceiving. One fateful day, Keiichi stumbles upon news of a murder that had occurred in Hinamizawa. From this point on, horrific events unfold in front of Keiichi, as he soon learns his close friends may not be all that they seem. Based on the amateur mystery game by 07th Expansion, the story is told in a series of different scenarios.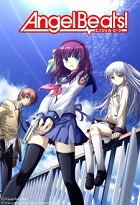 Otonashi awakens only to learn he is dead. A rifle-toting girl named Yuri explains that they are in the afterlife, and Otonashi realizes the only thing he can remember about himself is his name. Yuri tells him that she leads the Shinda Sekai Sensen (Afterlife Battlefront) and wages war against a girl named Tenshi. Unable to believe Yuri's claims that Tenshi is evil, Otonashi attempts to speak with her, but the encounter doesn't go as he intended.
Otonashi decides to join the SSS and battle Tenshi, but he finds himself oddly drawn to her. While trying to regain his memories and understand Tenshi, he gradually unravels the mysteries of the afterlife.[Written by MAL Rewrite]
References: MyAnimeList, Wiki, ANN