8 Anime Like Gochuumon wa Usagi Desu ka? [Is the order a rabbit?]
Here are my favorite picks for anime like Gochumon! Keep in mind the list is in no particular order. Enjoy!
The story begins with Oomiya Shinobu, a 15-year-old, seemingly pure Japanese girl who actually did a homestay in Great Britain. Even after coming back to Japan, she still misses her time overseas. One day, an airmail letter arrives from Alice, the girl in Shinobu's host family in Great Britain. The letter reads: Shinobu, I'm coming to Japan! The Japanese/British girls' mixed comedy follows the lives of Shinobu, Alice, and other girls from both Japan and Great Britain.
It's Yui Hirasawa's first year in high school, and she's eagerly searching for a club to join. At the same time, Ritsu Tainaka, a drummer, and her friend Mio Akiyama, a bassist, are desperately trying to save the school's light music club, which is about to be disbanded due to lack of members. They manage to recruit Tsumugi Kotobuki to play the keyboard, meaning they only need one more member to get the club running again. Yui joins, thinking it will be an easy experience for her to play the castanets, the only instrument she knows. However, the other members think their new addition is actually a guitar prodigy…
Asahioka Branch School, a combined elementary and middle school in an isolated village, has only five students total, four girls and one boy. The girls are best friends, and pass the season with traditional activities like harvesting mountain herbs and fishing.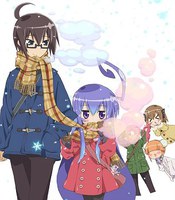 The serious-minded Tsumiki and the pure-hearted Io feel they never want to be parted, and yet they haven't fallen in love yet. More than friends but not lovers, they develop an awkward quasi-romance.
After a year in grade school without her childhood friends, first year student Akari Akaza is finally reunited with second years Yui Funami and Kyouko Toshinou at their all-girls' middle school. During the duo's first year, Yui and Kyouko formed the "Amusement Club" which occupies the now nonexistent Tea Club's room.
Shortly after Akari joins, one of her fellow classmates, Chinatsu Yoshikawa, pays the trio a visit under the impression that they are the Tea Club; it is only once the three girls explain that the Tea Club has been disbanded that they can convince Chinatsu to join the Amusement Club—a group with no purpose other than to provide entertainment for its members.
For her first year of high school, Fu Sawatari moves to Takehara, a scenic old town near Hiroshima, on the Inland Sea. Her father, who has passed away, grew up in Takehara. She loves taking photographs with her father's old film camera, a Rollei 35S. The story follows her and the friends who gather around her as she comes to love her new home. Episode 1 is a prequel to the OAV, and tells of the events between the death of Fu's father and their move to Takehara (which is where the OAV starts). Episode 2 begins with a very brief synopsis of the events told in the OAV, then continues where the OAV left off.
The story centers on Kana Nakamichi, a middle-school girl who had already lost her parents and just recently lost her only remaining relative, her grandmother. As a result, she ends up living and working at a newspaper delivery office. Everyone else living at the office are all charming, self-assertive bishōjo.
Wakaba Kohashi is a "a slightly out-of-tune super" daughter of a well-to-do family. She looks like an elegant rich daughter, but admires the trendy "gyaru" fashion subculture. Her friends are the pure, innocent, fairy-tale-like Moeko, the capricious Mao, and Nao who used to be an athletic type of girl, but now loves the boys-love genre.
References: MyAnimeList, ANN, Wiki