7 Anime Like Isuca [Recommendations]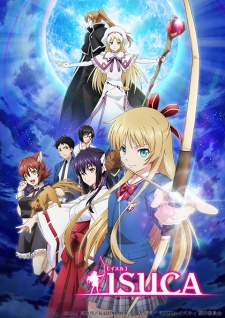 Here are my favorite picks for anime like Isuca. Keep in mind the list is in no particular order. Enjoy the recommendations!
The world has become a slaughtering ground for the Crimson Denizens, mysterious beings from a parallel universe who thrive on the life energy of humans. These merciless murderers only leave behind scant remainders of souls called "Torches," which are mere residues that will eventually be destroyed, along with the very fact of the victims' existence from the minds of the living. In an ambitious endeavor to put an end to this invisible, hungry massacre, warriors called Flame Hazes relentlessly fight these monsters.
One fateful day, Yuuji Sakai ceases to be a regular high schooler—he becomes trapped in a crevice of time and is suddenly attacked by a Denizen. Coming to his rescue just in the nick of time is a nameless hunter who seems no different from an ordinary young girl except for her blazing eyes and burning crimson hair. However, before Yuuji can learn anything more about his situation, he discovers that he has already been reduced to a Torch—merely a scrap of memory waiting to be extinguished. [Written by MAL Rewrite]
"Hey, you said you wanted a little sister, right?" First-year high school student, Toujo Basara, was suddenly asked by his father and fell into a state of panic. On top of that, the eccentric father told him he will be getting remarried.
He then departed overseas after bringing Basara two beautiful step-sisters. But Mio and Maria's true forms are actually the newbie Demon Lord and a succubus!? (Source: MU)
Yuuto is your average, high school boy just turned 16. His childhood friend, Rin has taken care of him ever since his parents died when he was younger. All of a sudden, a girl named Himari walks into his life. Himari is a cat-girl samurai who is sworn to protect Yuuto. There's only one small problem: Yuuto is allergic to cats!  (Source: Manga-Heaven)
Issei Hyodo is your average perverted high school student whose one wish in life is to have his own harem, but he's got to be one of the unluckiest guys around. He goes on his first date with a girl only to get brutally attacked and killed when it turns out the girl is really a vicious fallen angel. To top it all off, he's later reincarnated as a devil by his gorgeous senpai who tells him that she is also a devil and now his master! One thing's for sure, his peaceful days are over. In a battle between devils and angels, who will win?  (Source: FUNimation)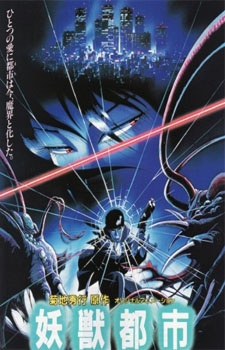 There is Earth, our familiar world, and then there is the Black World, a parallel dimension that very few people are aware of. For centuries, a pact between the two worlds has been observed to maintain peace, and terms must be negotiated and renewed soon to continue relative harmony.
This time around, there is a militant faction that will stop at nothing to prevent the signing of a new treaty for inter-dimensional peace. Two agents of the elite organization known as the Black guards—defenders of the balance between the two worlds—are charged with insuring the success of the treaty.
Director Yoshiaki Kawajiri (Ninja Scroll) blends stylish eroticism, graphic horror and pulse-pounding action as these two race to consummate the peace treaty in time. (Source: AniDB)
NEVER make a deal with a wet goddess you've only just met. That's a lesson Ryosuke Kaga learns the hard way when he foolishly agrees to let Lisara Restole use some of his "essence" to stay in this world. Because despite her smoking hot appearance, Lisara's actually a Shinigami, a Goddess of Death. However, she DOESN'T steal years off his life like any decent Shinigami would do. Oh no, instead she sucks him dry of something much more perverse by leeching off his lecherous spirit and draining his ability to enjoy… er… the things that teenage boys normally spend most of their time thinking about! And now that he's been de-debased and de-debauched by her un-dirty trick, the poor regenerated degenerate's only hope of getting his licentiousness renewed is to join the queen of mental-clean on her quest, since when she leaves our mortal plane he regains his normal immorality! But the termination of the probation of his reprobation isn't guaranteed, because Goddesses of Death can be really harsh mistresses and it's going to be anything but easy to go back to being sleazy!  (Source: Sentai Filmworks)
The dark fantasy follows a high school sophomore named Akihito Kanbara. Although the boy appears human, he is half youmu and invulnerable to wounds because he can heal quickly. One day, Akihito meets freshman Mirai Kuriyama when it seems she is about to jump from the school rooftop. Mirai is isolated because of her ability to manipulate blood, which is unique even among members of the spirit world. Disturbing events begin to unfold after Akihito saves Mirai. (Source: ANN)
References: MyAnimeList, ANN, Wiki