9 Anime Like Itazura na Kiss [Recommendations]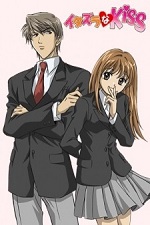 This anime really reminds me of Lovely Complex, which is the one I recommend you watch first. I will also share with you my favorite picks of anime like Itazura na Kiss. Enjoy!
Risa Koizumi, taller than the average girl, and Atsushi Ootani, shorter than the average guy—their constant bickering and comical love-hate relationship is well-known throughout the school. They act similarly and love the same music, and their friendship is full of laughing, shouting at each other, and of course, lots of jokes about one another's height. But when Risa notices her feelings for Ootani growing, she's worried.
She doesn't know if he can ever see her as more than a friend. With her friends rooting for her, she struggles to make him see how she feels about him, and that a romantic relationship between a tall girl and a short guy can work. Oblivious Ootani doesn't make things easy for her, but she stubbornly perseveres in her own unconventional way, determined for her feelings to get through to him, and finally be returned. If only she could do it without driving herself and everyone else crazy in the process…
Hikari Hanazono, the main character, has always been second to Kei Takishima. While Hikari considers Kei a rival and somewhat of a friend, Kei loves Hikari. Everyone knows this, but she is too dense to notice. Their wrestling loving fathers first introduced them to one another when they were 6 years old. Assuming that she was the best in wrestling, young Hikari challenged Kei to a wrestling match only to be thoroughly defeated by him.
Ever since that fateful incident, Hikari swore to beat Kei in school grades, a sporting event – anything. To do this she has enrolled in the same school as Kei since elementary. Now she attends Hakusenkan, an ultra elite school, that costs her carpenter father a lot of money. Hikari and Kei are the top two students in the school, with Kei holding firmly to that number one position.
At a top music academy in Japan, Shinichi Chiaki's arrogance is matched only by his top-notch piano playing. But when Chiaki and the teacher get into a fight, he's demoted to the reject class. Chiaki is left to pursue his dream of being a conductor while surrounded by a bunch of loser musicians and one annoying girl, Noda, who has proclaimed herself Chiaki's girlfriend. It doesn't help that Noda, who insists on being called Nodame, lives right next door to him.
Yukino Miyazawa is really, really vain, and loves to hear people praise her. She's always been the best at everything, and always tries to look perfect. But when Yukino goes to high school, she's finally upstaged–by Souichiro Arima, who scores better on the entrance exams and instantly snatches the attention of the class. By accident, Arima finds out that Yukino is just pretending, and this starts off a series of events that lead to Yukino and Arima falling in love. They then have to cope with a lot of obstacles in their relationship.
Miki Koishikawa lived a normal life – until her parents tell her they'll get divorced.. She doesn't agree, until she meets Yuu Matsuura… the handsome son of another couple, with whom her parents are switching spouses. They all live together now in an enormous house, and Miki and Yuu find themselves falling in love. They'll have to struggle with their own feelings, other people who want to be with them, and whatever Lady Luck and Fate throws in their ways…
Erika talks to her friends about boyfriends and romance, but in all her sixteen years she's never actually dated anyone. She thought her lies had reached a limit until one day she takes a surreptitious video of a good looking guy she saw in town. She brags that he's her boyfriend, but it turns out that his name's Kyōya Sata and he's just transferred to her school. She tells him what's going on and offers to admit to her lie, but it turns out that under his sweet exterior, he's actually a malicious sadist. Seizing on Erika's weakness, he orders her to be his dog.
Yamato Akitsuki travels to Tokyo alone to study in one of the high schools located within the area. He lives in with his aunt who operates a public bath solely for the ladies in the local district and begins his normal high-school life. One day, he chances upon a girl in school and is immediately mesmerised by her beauty. He is shocked when he realise later that the girl, Suzuka, is actually living next door to him. From then on, Yamato's ordinary life begins to change little by little.
Kyoko followed her true love and childhood friend Sho to Tokyo so she could help him reach his dream of becoming an idol. She cleans, cooks, works three jobs and does nothing for herself because she loves him so much, but gets nothing in return. Still, she remains by his side.
But then one day she goes unannounced to his agency with a delivery, and overhears him talking about her; he reveals to his manager that he only took her with him as a maid, and that he doesn't care for her at all. Upon hearing this, Kyoko doesn't just sit around and cry. She cuts and dyes her hair, changes her clothes and attitude and thus begins her journey to join showbiz and have her revenge against Sho.
Makino Tsukushi: a girl who comes from a poor family just wants to get through her 2 last years at Eitoku Gakuen, quietly. But once she makes herself known by standing up for her friend to the F4, the 4 most popular, powerful and rich boys at the school. She gets the red card: F4's way of a "Declaration of War". But when she doesnt let herself be beaten by them and is starting to fall for one of the F4; Hanazawa Rui. She starts to see that there is more than meets the eye…
References: ANN, MyAnimeList, Wiki