9 Anime Like Ixion Saga DT [Recommendations]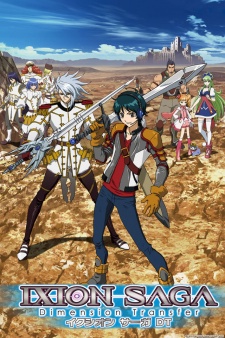 Here are my favorite picks for anime like Ixion Saga DT. Keep in mind the list is in no particular order. Enjoy the recommendations!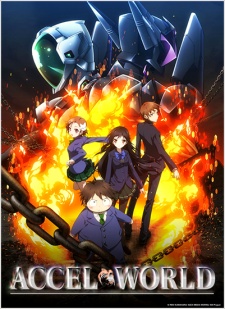 The year is 2046. Haruyuki Arita is a young boy who finds himself on the lowest social rungs of his school. Ashamed of his miserable life, Haruyuki can only cope by indulging in virtual games. But that all changes when Kuroyukihime, the most popular girl in school, introduces him to a mysterious program called Brain Burst and a virtual reality called the Accel World. (Source: VIZ Media)
In the year 2022, virtual reality has progressed by leaps and bounds, and a massive online role-playing game called Sword Art Online (SAO) is launched. With the aid of "NerveGear" technology, players can control their avatars within the game using nothing but their own thoughts.
Kazuto Kirigaya, nicknamed "Kirito," is among the lucky few enthusiasts who get their hands on the first shipment of the game. He logs in to find himself, with ten-thousand others, in the scenic and elaborate world of Aincrad, one full of fantastic medieval weapons and gruesome monsters. However, in a cruel turn of events, the players soon realize they cannot log out; the game's creator has trapped them in his new world until they complete all one hundred levels of the game.
In order to escape Aincrad, Kirito will now have to interact and cooperate with his fellow players. Some are allies, while others are foes, like Asuna Yuuki, who commands the leading group attempting to escape from the ruthless game. To make matters worse, Sword Art Online is not all fun and games: if they die in Aincrad, they die in real life. Kirito must adapt to his new reality, fight for his survival, and hopefully break free from his virtual hell. [Written by MAL Rewrite]
Having a light novel author father and an eroge illustrator mother, Kanou Shinichi is a thoroughbred otaku. However he does not have any special power except for his broad knowledge, sharp insight, and impeccable instinct about "MOE" and its products, from manga to anime to games to light novel to figures. One day he found himself transported to a fantasy world where elves live and dragons fly. And he is given a task—not to fight monster or embark on a quest, but to enhance cultural exchange by becoming a "moe missionary" in this fantasy world! He meets a palace guard who has a bit of fujoshi taste, a half-elf maid, and the empress who is a little girl. He comes up with the idea of building a school. At first it runs as a comedy but later there are serious matters that Shinichi needs to face: ethnic discrimination, social problems, conflict with neighboring countries, sabotage by opposition elements including Japanese government, etc. Can he overcome the obstacles, successfully bring "moe" culture to the fantasy world, and help the people there as well? (Source: ANN)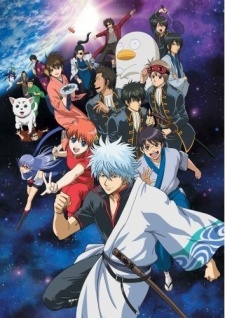 The Amanto, aliens from outer space, have invaded Earth and taken over feudal Japan. As a result, a prohibition on swords has been established, and the samurai of Japan are treated with disregard as a consequence.
However one man, Gintoki Sakata, still possesses the heart of the samurai, although from his love of sweets and work as a yorozuya, one might not expect it. Accompanying him in his jack-of-all-trades line of work are Shinpachi Shimura, a boy with glasses and a strong heart, Kagura with her umbrella and seemingly bottomless stomach, as well as Sadaharu, their oversized pet dog. Of course, these odd jobs are not always simple, as they frequently have run-ins with the police, ragtag rebels, and assassins, oftentimes leading to humorous but unfortunate consequences.
Who said life as an errand boy was easy? [Written by MAL Rewrite]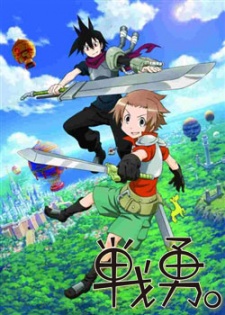 Long ago, there lived an evil being who reigned over the world through fear, called Satan Rchimedes. He invaded the human world with his many demon underlings, spreading madness and chaos everywhere. One thousand years ago, this menace was sealed by the hero Creation, and peace returned to the world.
Then, one day, a great hole suddenly appeared on the surface of the world, and a vast number of demons appeared. The king discerned that the menace Satan had returned after being sealed away for a thousand years, and decided to send the hero's descendants to battle him. He found 75 men. As one thousand years had passed, you see, it was difficult to tell who the hero's descendants were.
So the king declared that he would grant the title of "true hero" and great fortune to the one who defeated Satan, and ordered the new hero, Alba, and his warrior attendant, Ross, on a quest to bring down the evil Satan.
Though he struggles with lesser monsters and is even nearly killed by his partner Ross, Alba's quest to polish his fighting skills leads him to new places and new meetings that he had never expected. Battles, laughter, and emotional moments enhance this adventure tale of an incompetent hero and a sadistic warrior! (Source: Crunchyroll)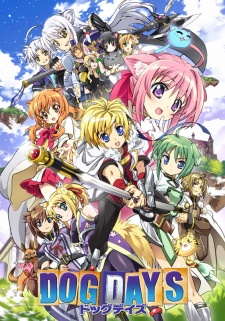 Republic of Biscotti faces a predicament by the invasion of Galette Leo Knights. In order to save the country, Princess Milchore summons a "hero" from the outer world. Cinque, a junior high school boy living on the Earth, is chosen as the hero. (Source: ANN)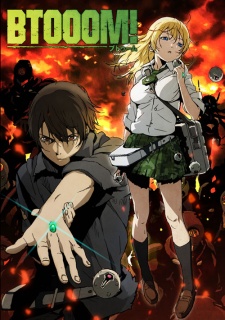 In the blink of the mind's eye, Ryouta Sakamoto suddenly finds himself transported from playing the hit Btooom! video game to being stranded on a mysterious island, equipped with a day's worth of provisions, a bag of bombs, a strange crystal embedded in his left hand and a huge gaping hole in his memory. But it doesn't take long to figure out what's going on, especially after the first person Ryouta meets tries to kill him. Someone is attempting to recreate the ultra-violent Btooom! game in real life, and the island has been filled with an army of other unwilling players, each armed with one of the multiple variants of explosive weapons called BIM. Fortunately, Ryouta's an ace Btooom! player, but this insane version of the game has no reset switch or second lives, and there's only one way off the island: kill seven other people before they can kill you! Can Ryouta repurpose his game based skills fast enough to survive? (Source: MyAnimeList)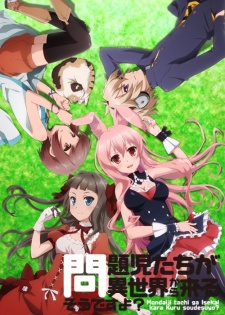 Izayoi Sakamaki, Asuka Kudou, and You Kasukabe have tremendous psychic powers and are bored with the regular world. An envelope arrives for each person, and when each opens their envelope, they are stunned to see the scenery around them change to a world they had never encountered before. They've been summoned by the Black Rabbit to help the community "No Name" to overthrow the Devil King. (Source: Crunchyroll)
Fuu Kasumi is a young and clumsy waitress who spends her days peacefully working in a small teahouse. That is, until she accidentally spills a drink all over one of her customers! With a group of samurai now incessantly harassing her, Fuu desperately calls upon another samurai in the shop, Mugen, who quickly defeats them with his wild fighting technique, utilizing movements reminiscent to that of breakdancing. Unfortunately, Mugen decides to pick a fight with the unwilling ronin Jin, who wields a more precise and traditional style of swordfighting, and the latter proves to be a formidable opponent. The only problem is, they end up destroying the entire shop as well as accidentally killing the local magistrate's son.
For their crime, the two samurai are captured and set to be executed. However, they are rescued by Fuu, who hires the duo as her bodyguards. Though she no longer has a place to return to, the former waitress wishes to find a certain samurai who smells of sunflowers and enlists the help of the now exonerated pair to do so. Despite initially disapproving of this idea, the two eventually agree to assist the girl in her quest; thus, the trio embark upon an adventure to find this mysterious warrior—that is, if Fuu can keep Mugen and Jin from killing each other.
Set in an alternate Edo Period of Japan, Samurai Champloo follows the journey of these three eccentric individuals in an epic quest full of action, comedy, and dynamic sword fighting, all set to the beat of a unique hip-hop infused soundtrack. [Written by MAL Rewrite]
References: MyAnimeList, Wiki, ANN