7 Anime Like Maria the Virgin Witch [Recommendations]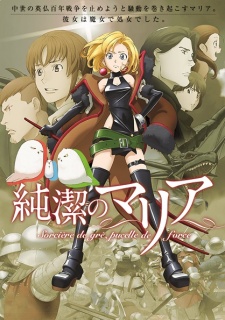 Here are my favorite picks for anime like Maria the Virgin Witch [Junketsu no Maria]. Keep in mind the list is in no particular order. Enjoy the recommendations!
After a long and treacherous journey, our Hero finally arrives at the Dark Lady's castle only to find himself being asked for help. The Hero explains how the war that the demons have brought upon the humans have killed thousands and put more in misery. The queen of demons however argues that this war has made the human society band together as one and showed empirical evidence how it has increased population, increased production, boosted economy and improved society overall. Furthermore, she explains to the Hero that ending this war will result in a civil war that will produce more bloodshed than there ever was. The Hero, convinced that the only way to bring peace, relatively speaking, is to join forces with the Dark Lady, agrees to help with her plans! (Source: MU)
Holo is a powerful wolf deity who is celebrated and revered in the small town of Pasloe for blessing the annual harvest. Yet as years go by and the villagers become more self-sufficient, Holo, who stylizes herself as the "Wise Wolf of Yoitsu," has been reduced to a mere folk tale. When a traveling merchant named Kraft Lawrence stops at Pasloe, Holo offers to become his business partner if he eventually takes her to her northern home of Yoitsu. The savvy trader recognizes Holo's unusual ability to evaluate a person's character and accepts her proposition. Now in the possession of both sharp business skills and a charismatic negotiator, Lawrence inches closer to his goal of opening his own shop. However, as Lawrence travels the countryside with Holo in search of economic opportunities, he begins to realize that his aspirations are slowly morphing into something unexpected.
Based on the popular light novel of the same name, Ookami to Koushinryou, also known as Spice and Wolf, fuses the two polar genres of economics and romance to create an enthralling story abundant with elaborate schemes, sharp humor, and witty dialogue. Ookami to Koushinryou is more than just a story of bartering; it turns into a journey of searching for a lost identity in an ever-changing world. [Written by MAL Rewrite]
Himura Kenshin is a vagabond with a dark past and sunny disposition. Not a ronin but a rurouni, he was never a samurai, but an assassin of utmost skill in the Meiji restoration, who in the turning point of the war simply walked away. His travels lead him to Tokyo in the 11th year of the Meiji era, where he befriends a female Kendo master, a former thief, a brawler and a doctor all with their own secrets. Together they fight off the enemies surfacing from the dark past that Kenshin cannot escape.  (Source: ANN)
"Hey, you said you wanted a little sister, right?" First-year high school student, Toujo Basara, was suddenly asked by his father and fell into a state of panic. On top of that, the eccentric father told him he will be getting remarried.
He then departed overseas after bringing Basara two beautiful step-sisters. But Mio and Maria's true forms are actually the newbie Demon Lord and a succubus!? (Source: MU)
In a world similar to the European Middle Ages, the feared yet revered Holy Knights of Britannia use immensely powerful magic to protect the region of Britannia and its kingdoms. However, a small subset of the Knights supposedly betrayed their homeland and turned their blades against their comrades in an attempt to overthrow the ruler of Liones. They were defeated by the Holy Knights, but rumors continued to persist that these legendary knights, called the "Seven Deadly Sins," were still alive. Ten years later, the Holy Knights themselves staged a coup d'état, and thus became the new, tyrannical rulers of the Kingdom of Liones.
Based on the best-selling manga series of the same name, Nanatsu no Taizai follows the adventures of Elizabeth, the third princess of the Kingdom of Liones, and her search for the Seven Deadly Sins. With their help, she endeavors to not only take back her kingdom from the Holy Knights, but to also seek justice in an unjust world. [Written by MAL Rewrite]
The story takes place in Tokyo in 2018, where normal humans and those who can use magic coexist. As a result, there are laws against using magic, and a "magic courtroom" exists to preside over lawsuits regarding magic use. In these cases, "Benmashi" or wizard barristers defend those who use magic. The anime follows Cecil, the youngest Benmashi in history, and her associates as they defend clients in these cases. (Source: ANN)
Takamiya Honoka is a regular student whose only problem seems to be that he sits next to Kagari Ayaka, the school's #1 beauty. They have never spoken to each other before and any small interaction between them immediately results in her fanclub beating him. Yet when a falling part of the school's building is about to send him to the afterlife, it's Kagari that comes to his rescue. Only… she's dressed as a witch, carrying him in her arms and floating on a broom?! Kagari tells him it is her mission to protect him and that now she can finally protect him openly rather than undercover. (Source: MU)
References: MyAnimeList, ANN, Wiki