9 Anime Like K: Return of Kings [Recommendations]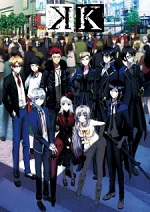 With K: Return of Kings going on right now, I thought you would be looking to find anime like K: Missing Kings. The list is in no particular order. Enjoy!
Nai searches for someone important to him, with only an abandoned bracelet as a clue. Gareki steals and pick-pockets to get by from day to day. The two meet in a strange mansion where they are set-up, and soon become wanted criminals by military security operatives. When Nai and Gareki find themselves desperate in a hopeless predicament, they encounter none other than the country's most powerful defense organization, "Circus".
The Circus is a Defense organization that works for the government. They perform raids to capture criminals and solve crimes that the Security force otherwise cannot handle. After their raids, they put on shows as an apology for scaring the citizens. Their group consists of the strongest, most capable fighters that use a special type of bracelet, known as Circus I.D., to fight.
Shu's entire world was shattered after a meteorite crashed into Japan, unleashing the lethal Apocalypse Virus. The chaos and anarchy born of the outbreak cost Shu his family and reduced him to a timid, fearful shell of the boy he'd once been. His life took another unexpected turn after a chance encounter with the stunning pop star, Inori.
This mysterious beauty introduced Shu to the King's Right Hand: a genetic mutation that allows him to reach into hearts of mortals and turn them into weapons.Shu finds himself caught in the crossfire between those who desperately seek his newfound strength. On one side lurks a clandestine government agency, and on the other, Inori and the spirited band of rebels known as Funeral Parlour. The choice is Shu's to make – and the world is his to change.
Ryūgamine Mikado is a boy who longs for the exciting life of the big city. At the invitation of his childhood friend Masaomi, he transfers to a school in Ikebukuro. Masaomi has warned him about people he doesn't want to cross in the city: a champion fighter, an informant, and a mysterious gang called "Dollars." Nervous from Masaomi's stories, Mikado witnesses an urban legend on his first day in the city, the Headless Rider astride a black motorcycle. From then on, the existence of supernatural cases and a gang called the Yellow Scarves will rise to the surface, and Ikebukuro will pushed to the breaking point.
Riding the bus one day, Sakurakouji Sakura looks out the window to see people being burned alive with a blue fire as a boy her age remains unharmed and stands over the people. When she goes back to the site the next day, there are no corpses or evidence of any kind of murder, just a small fire. When Sakura goes to class, she discovers the new transfer student is the same boy she saw the day before. Sakura soon learns that he is Ogami Rei, the sixth "Code: Breaker," a special type of assassin with a strange ability and also a member of a secret organization that serves the government.
Ganta Igarashi has been convicted of a crime that he hasn't committed, and sent to a new, privately owned and operated prison, where the inmates are the main attraction in a modern day twist to the gladiatorial coliseums of ancient times. Throw in a healthy dose of weird little girl, some new-found super powers, and a little conspiracy theory, and you have Deadman Wonderland.
The players of a virtual reality MMORPG, Sword Art Online, are trapped and fighting for their very lives. After it is announced that the only way to leave the game is by beating it, Kirito—a very powerful swordsman—and his friends take on a quest to free all the minds trapped in Aincrad.
One day, New York City as we know it vanished overnight into a mysterious fog. Now known as Hellsalem's Lot, it has become a place where another world beyond imagining is connected to our reality. The balance within this new world is protected by a secret society known as Libra. Leo, a journalist and photographer who arrives in the city, is unexpectedly recruited to join their ranks.
On November 22, 2010 ten missiles strike Japan. However, this unprecedented terrorist act, later to be called as "Careless Monday," does not result in any apparent victims, and is soon forgotten by almost everyone. Then, 3 months later… Saki Morimi is a young woman currently in the United States of America on her graduation trip.
But just when she is in front of the White House, Washington DC, she gets into trouble, and only the unexpected intervention of one of her fellow countrymen saves her. However, this man, who introduces himself as Akira Takizawa, is a complete mystery. He appears to have lost his memory. and he is stark naked, except for the gun he holds in one hand, and the mobile phone he's holding with the other hand. A phone that is charged with 8,200,000,000 yen in digital cash.
The heroine wakes up on the morning of August 1 and discovers she has absolutely no memories of the past. A boy appears before her, and he introduces himself as a "spirit" named Orion. The heroine struggles to regain her memories under the guidance of Orion. She then gets a phone call, but she does not recognize the name on her mobile phone screen. She meets her apparent "boyfriend," despite not knowing his face.
References: MyAnimeList, ANN, Wiki