7 Anime Like Fleet Girls Collection KanColle [Recommendations]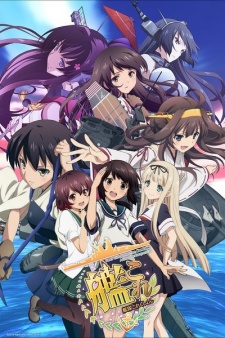 Here are my favorite picks for anime like Fleet Girls Collection KanColle. Keep in mind the list is in no particular order. Enjoy the recommendations!
By 2039, global warming had caused sea levels to rise and large amount of territory to be lost. As though in response, a mysterious group of warships clad in mist, "the Fleet of Mist," appeared in every corner of the ocean, and began attacking human ships. In spite of humanity mustering all their strength, they were utterly defeated by the Mist's overwhelming force. All of humanity's trade routes were blockaded by the Fleet of Mist, their political economy was destroyed, and the human race was steadily beaten down. Seven years later, the Fleet of Mist's submarine I-401 appears before cadet Gunzo Chihaya. The humanoid life form that pilots the sub, who should be their enemy, is instead offering her services to mankind. (Source: ANN)
The year is 1944 and the world lives in fear of unidentified flying objects called Neuroi. With the old-boy old guard unable to thwart this deadly menace, humanity turns its desperate eyes to an aerial attack force with much nicer legs. Meet the girls of the 501st Joint Fighter Wing, better known as the Strike Witches. These darlings of the great blue yonder may not have standard issue uniforms, but they do have all the right stuff. Where the average flyboy falters, these dolls blast aliens to bits in the bat of an eyelash. With a little magic and a whole lot of leg, the girls of the 501st are winning the war on pants, and aliens! (Source: Rightstuf)
You may have heard of kung fu, but the girls at Oarai High School practice gun-fu—really, really BIG 75mm gun-fu, in fact. It's called Sensha-do, and it's the martial art of operating armored tanks! They take it seriously too, and since winning the national Sensha-do championship is such a huge deal at Oarai, they sometimes go to extreme ends in order to get the best students from Panzer class to sign up. Which is how Miho Nishizumi, who HATES operating tanks, gets drafted to join doomsday-driven driver Mako, even-triggered gunner Hana, highly receptive radio operator Saori and combustible tank-fangirl and loader Yukari as the incomparable Anko Team. They may not be on the half-track to fame and fortune, and maybe a few of them would rather shop for tank tops than become tops in tanks, but once their focus is locked and loaded, they're absolutely driven. (Source: Sentai Filmworks)
Illyasviel von Einzbern is a normal schoolgirl in Japan. She lives with her overachieving nice guy older brother Shirou Emiya and her two maids, her parents are perpetually out of the country, and she has fanciful dreams of using magic to make her dreams of love with Shirou come true. Enter fierce rivals Rin Tohsaka and Luviagelita Edelfelt, two Magi who have been sent to Japan by Zelretch the Wizard Marshall, Master of Parallel Worlds, with the powerful sentient Kaleidosticks to collect the mysterious Class Cards and clean up their mess. After getting fed up with their constant infighting, one Kaleidostick, Magical Ruby, senses Illya's fleeting dream of magic and leaves Rin for her, tricking her into becoming a magical girl. Now Illya is being forced by Rin to collect the dangerous Class Cards in her place. But perhaps more dangerous still are Illya's own mysteries that may have unknowingly attracted Ruby to her. (Source: ANN)
Soul Eater NOT! is a side-story to the main series, focusing on a freshman halberd named Tsugumi Harudori, who befriends two other meisters, Meme Tatane and Anya Hepburn. All three take part in the NOT (Normally Overcome Target) class at DWMA and learn to control their powers in order to overcome their difficulties to have a normal life, as opposed to the battle-oriented EAT (Especially Advanced Talent) class taken by Maka, Soul, and their companions. (Source: Wikipedia)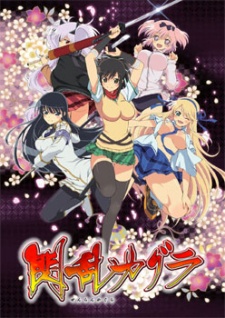 There was a time when there were ninja serving the powerful, hired for intelligence missions, destruction, or assassination. While the times have changed, the need for ninja has not vanished. In a particular school, there are girls who are secretly in training to become ninja. Ninjas-in-training, Asuka, Katsuragi, Hibari, Ikaruga, and Yagyuu each have a secret technique scroll that they protect at all times. This features their tumultuous school life as they pursue the path of the ninja! (Source: AniDB)
Friendship is the key to protecting the world. That is everyone's wish. Here in a world where science has solved all questions.
This story is set in Oshima. The happy, carefree 14 year old Akane Isshiki lived a poor, but well loved life together with her reliable little sister, Momo, who does all the housework, and her grandfather, Kenjirou, a genius inventor who only created useless devices. When the weather is clear, they can see the artificial island, Blue Island, across the sea. In the center of that island rises the revolutionary Manifestation Engine, a discovery that solved the world's energy problems. It is a peaceful future, just like everyone dreamed of. One where everyone can smile and be happy… But suddenly, the world is visited by danger. An unknown enemy, the Alone, appear, targeting the Manifestation Engine. As none of their weapons worked and they fell into despair, a lone girl takes a stand wearing a red "Palette Suit" which wields a great, hidden power. Before long, allies gather around her to fight. And their friendship becomes the only hope for saving the world!
References: MyAnimeList, ANN, Wiki