8 Anime Like Kuroko no Basket [Recommendations]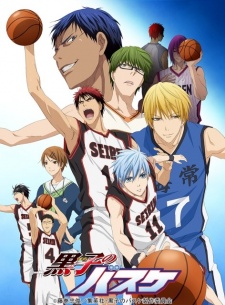 Here are my favorite picks for anime like Kuroko no Basket. I personally enjoy the 2nd season the most. Season 1 and 3 are good as well. Keep in mind the list is in no particular order. Enjoy the recommendations!
Hanamichi Sakuragi, an entering Shohoku high school freshman, holds a record for being rejected by 50 girls during middle school. His nearly 2 meters height and bright red hair causes most students to write him off as a delinquent.
One day, a girl named Haruko Akagi approaches Hanamichi without any fear. When she asks Hanamichi "do you like basketball?" Hanamichi falls head over heels for the girl of his dreams. Without missing a beat, Hanamichi tells her he loves basketball, and the two head to the gymnasium where Hanamichi learns about the slam dunk. He also learns of Rukawa, one of the country's top basketball prospects, also a freshman at Shohoku.  (Source: Funimation)
Note: This one has no super powers but it is a very funny and enjoyable series despite being a 90s anime.
Inspired after watching a volleyball ace nicknamed "Little Giant" in action, small-statured Shouyou Hinata revives the volleyball club at his middle school. The newly-formed team even makes it to a tournament; however, their first match turns out to be their last when they are brutally squashed by the "King of the Court," Tobio Kageyama. Hinata vows to surpass Kageyama, and so after graduating from middle school, he joins Karasuno High School's volleyball team—only to find that his sworn rival, Kageyama, is now his teammate.
Thanks to his short height, Hinata struggles to find his role on the team, even with his superior jumping power. Surprisingly, Kageyama has his own problems that only Hinata can help with, and learning to work together appears to be the only way for the team to be successful. Based on Haruichi Furudate's popular shounen manga of the same name, Haikyuu!! is an exhilarating and emotional sports comedy following two determined athletes as they attempt to patch a heated rivalry in order to make their high school volleyball team the best in Japan.  [Written by MAL Rewrite]
The story revolves around Haruka Nanase, a boy who has always loved to be immersed in water, and to swim in it. Before graduating from elementary school, he participated in a swimming tournament along with his fellow swimming club members, Makoto Tachibana, Nagisa Hazuki, and Rin Matsuoka. After achieving victory, each of the boys went their separate ways.
Time passed, and in the middle of their uneventful high school lives Rin appears and challenges Haruka to a match, showing Haruka his overwhelming power. Not wanting it to end like this, Haruka, gathers together Makoto and Nagisa once again and brings a new member named Rei Ryugazaki to create the Iwatobi High School Swimming Club in order to defeat Rin. (Source: ANN)
Echizen Ryoma is a young tennis prodigy who has won 4 consecutive tennis championships but who constantly lies in the shadow of his father, a former pro tennis player. He joins the Seishun Gakuen junior highschool, one of the best tennis schools in Japan, and there along with his teamates he learns to find his own type of tennis in an attempt to defeat his biggest obstacle of all: his father as well as himself.
Otaku Sakamichi Onoda has just entered high school and plans to join the anime club. In middle school, Onoda didn't have any friends with whom he could talk about anime, games, Akihabara and other otaku things, and he is hoping he can make such friends in the anime club, but he finds out it's been disbanded. In order to reestablish the club he tries to find 4 other people who would like to join.
Since he was a little boy, Onoda has ridden his mamachari—a bulky bicycle with a step-through frame mainly used for short rides, such as for casual fun or to pick up groceries—to go to Akihabara every week to check out or buy otaku things. Fellow freshman Shunsuke Imaizumi and bicyclist, while training, notices a boy (Onoda) riding his mamchari up a steep road.
Freshman and road racing cyclist, Shokichi Naruko visits Akihabara to get some Gundam plastic models for his younger brothers and meets Onoda who catches his attention because of the his cycling skill on the mamachari and later find out they go to the same school. Later on, both Naruko and Imaizumi try to convince him to join the bicycle racing club, but will he?
The story follows Eijun Sawamura, a pitcher who joins an elite school with a brilliant catcher named Kazuya Miyuki. Together with the rest of the team, they strive for Japan's storied Koushien championships through hard work and determination.
Aikawa Kazuhiko was the captain of Tendoji high school prestigious basketball team. He moves into a new town to attend Mizuho high school and joins its basketball team. However, Mizuho high's basketball team is far from being prestigious, in fact, it's now defunct. Nevertheless to say, Kazuhiko's persistence, passion and basketball skills inspired other team members of the dysfunctional basketball team to gear up and start practicing again.
The goal is to play in the national tournaments where all young basketball players meet their opponents to compete with them. The tale of youth of the five protagonists: Fujiwara Takumi, Ishii Tsutomu, Dobashi Kenji, Miura Ranmaru and Aikawa Kazuhiko have just began along with the live of Mizuho high school basketball team.  (Source: AnimeNfo)
After a falling out with his middle school team, Mihashi enters Nishiura high school with no social skill, a warped opinion of himself, and every intention to quit baseball. The newly formed Nishiura baseball team, however, needs a pitcher, and they welcome him. Most enthusiastic is Abe, a domineering catcher with his own game issues. And so a battery every bit as complementary as it is dysfunctional is formed. If they can figure out how to work together, they might be the answers to each other's problems-and the team might be able to win.
References: ANN, MyAnimeList, Wiki