11 Anime Like Black Butler [Kuroshitsuji]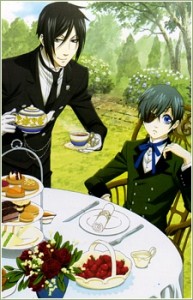 Here are my favorite picks for anime that are quite similar to Black Butler. Keep in mind the list is in no particular order. I also included mostly supernatural and mystery type anime.
Oz Vessalius, heir to one of the duke houses, has just turned fifteen. His life is rich and carefree, darkened only by the constant absence of his father. At his coming-of-age ceremony, however, everything changes. For no reason that he can discern, he's cast into the prison known as the "Abyss", only to be saved by a "chain" known as Alice, the bloodstained black rabbit. It is unknown why was he cast into Abyss, how does Alice factor into it all, and what does the organization known as "Pandora" want with him.
Hellsing follows the antiheroic vampire, Alucard, and a police girl-turned-vampire, Seras Victoria, two vampires employed by the vampire-extermination group of England, the Hellsing Organization. Slowly but surely, through their active duty, they find a new breed of vampires beginning to arise.
Yako's father was murdered in a locked room. She then meets a man named Neuro Nougami who is a demon from Hell who eats "riddles." He forces Yako to act as a detective so he can solve mysteries. Neuro longs to eat the ultimate mystery.
GOSICK takes place in 1924 in a small, made-up European country of Sauville. The story centers on Kazuya Kujo, the third son of a Japanese Imperial soldier, who is a transfer student to St. Marguerite Academy, where urban legends and horror stories are all the rage. There he meets Victorique, a mysterious yet beautiful and brilliant girl who never comes to class and spends her days reading the entire content of the library or solving mysteries that even detectives can't solve.
The story is set in 19th century England and centers on a "fairy doctor" named Lydia. Her life takes a 180-degrees turn when she meets a legendary blue knight count named Edgar and his crew. He hires her as an adviser during his quest to obtain a treasured sword that was supposed to be handed down to him by his family.
Protected by the highest security, the Maison de Ayakashi is rumored to be haunted, where only eccentrics could live. In reality, it is a place for humans with non-human ancestors to live. The socially-inept Ririchiyo has come here to improve herself. She meets secret service bodyguard Soushi, who is assigned to protect residents. He has a request of her: "Please make me your dog."
Yagami Light is an ace student with great prospects, who's bored out of his mind. One day he finds the "Death Note": a notebook from the realm of the Death Gods, with the power to kill people in any way he desires. With the Death Note in hand, Light decides to create his perfect world, without crime or criminals. However, when criminals start dropping dead one by one, the authorites send the legendary detective L to track down the killer, and a battle of wits, deception and logic ensues…
The Empire of Britannia has invaded Japan using giant robot weapons called Knightmare Frames. Japan is now referred to as Area 11, and its people the 11's. A Britannian who was living in Japan at the time, Lelouch, vowed to his Japanese friend Suzaku that he'd destroy Britannia. Years later, Lelouch is in high school, but regularly skips out of school to go play chess and gamble on himself.
One day, he stumbles on terrorists 11's who've stolen a military secret and is caught by a member of the Britannian task force sent after them, who is Suzaku. As the rest of the squad arrives, Suzaku is shot for disobeying orders, while the military secret, a young girl, gives Lelouch the power of Geass, which makes anyone obey any order. While Suzaku is secretly made the pilot of Britannia's brand new prototype Knightmare, Lancelot, Lelouch becomes the masked Zero to lead the rebellion to destroy Britannia once and for all.
Twelve-year old Aoyagi Ritsuka is left with his insane mother as his only family when his brother, Seimei, is killed suddenly. After moving to a new school, he meets Agatsuma Soubi, who claims to have known his brother. Ritsuka eventually discovers that Soubi and Seimei used to be a fighting pair, whereby Soubi was the "Fighter" and Seimei was the "Sacrifice". Now that Seimei is gone, Ritsuka has inherited Soubi, who will become his "Fighter". After learning that Seimei was killed by an organisation known as the "Seven Moons", Ritsuka decides to investigate into his brother's death, with the sometimes useless help of Soubi, along the way.
After his uncle's business fails, William Twining, an intelligent young noble, finds himself in a dire financial situation. With no funds for his school tuition, he searches his house until he comes upon the basement. There, he accidentally summons Dantalion, who recognizes William as a descendant of Solomon, and the Elector—the individual that will choose a substitute ruler for when the Emperor of Hell, Lucifer, rests. From that moment on, William's life is irrevocably interwoven with the supernatural world as other demonic candidates for substitute king vie for his nomination and Heaven attempts to retrieve his soul.
Rokujou Miharu is a boy who has a hijutsu (hidden technique) living inside of him. This hijutsu is the power of creation. Many ninja clans are seeking it as the one who possesses it becomes the ruler of the ninja world. Rokujou's classmate Kouichi started a nindou ("Way of the Ninja") club at school with Kumohira, his English teacher. Both Kouichi and Kumohira are secretly ninjas. They tried to persuade Rokujou to join the ninjutsu club. At first, he was reluctant, but after being attacked by group of ninjas trying to get his hijutsu, he joins. He must become the Ruler of Nabari in order to survive.
References: ANN, MyAnimeList, Wiki