8 Anime Like Love, Election & Chocolate [Koi to Senkyo to Chocolate] [Recommendations]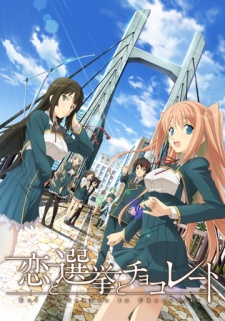 Here are my favorite picks for anime like Love, Election & Chocolate. Keep in mind the list is in no particular order. Enjoy the recommendations!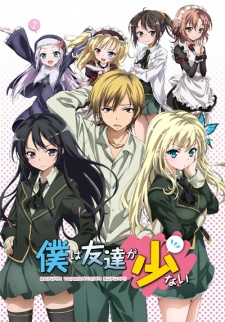 Every teenager has undergone the awkwardness of high school. Making new friends and trying to fit in. It's hard enough doing so under normal circumstances. Try doing so with blonde hair and a bad boy face… in Japan. After transferring to a new school, Kodaka Hasegawa was instantaneously labelled a "delinquent" due to his eccentric appearance. Having classmates shiver in your presence is not a good way to start the school year.
One day, Kodaka has a surprise encounter with a female classmate, Yozora, who just might be more of an outcast than him – she has both a bad temper and an imaginary friend. However, even outcasts desire companionship. The two decide to form the "Neighbors' Club," specifically designed for people who don't have many friends. Kodaka, a lone wolf in the wild terrains of high school, had finally found his pack. But will this dysfunctional bunch be able to form normal relationships with each other? Or will their unique personalities collide? (Source: MyAnimeList)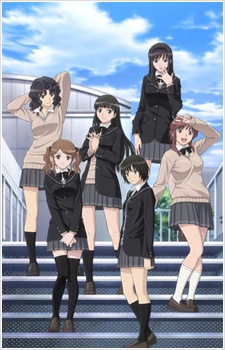 Two years ago, Tachibana Junichi got his heart broken by a girl who didn't show up for a date on Christmas Eve. Now a second year student in high school, Junichi spends his days inside his closet planetarium, going to school and hanging out with his friends Tanamachi Kaoru and Umehara Masayoshi.
After a chance encounter with one of the most beautiful girls in school, the third year student Morishima Haruka, Junichi finds himself spending time with her, carrying books for her or having her unexpectedly jump on his back and act as she's a jockey and he's her horse. Soon enough, Junichi becomes romantically interested in Haruka which leads to…
Amagami SS is based on a PS2 dating game featuring six different girls. The story of the anime will be arranged in an omnibus format, with each heroine getting her own version of the story animated. Each heroine will sing her own version of the ending theme song. (Source: MyAnimeList)
The members of the student council of Hekiyou Gakuen are chosen by a popularity vote. As a result, all the members are cute girls except for Ken Sugisaki, who studied hard to enter the council. The story features the endless chattering of the members full of parodies ofSuzumiya Haruhi no Yuuutsu, Dragon Ball, Death Note, etc. (Source: MyAnimeList)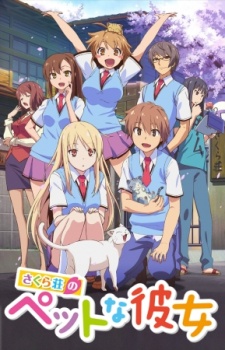 When abandoned kittens and his good conscience force second year Sorata Kanda to move into Suimei High School's infamous Sakura Hall, the satellite dorm and its eccentric, misfit residents turn his life upside down. The decidedly average Sorata finds it difficult to fit in with the bizarre collection of dorm residents like Misaki, an energetic animator; Jin, a playwright playboy; Ryuunosuke, a reclusive programmer; and Chihiro, the dorm manager, art teacher, and party girl.
Sorata's friend Nanami, a second year student and aspiring voice actress, pushes him to find new owners for the many cats so that he can quickly move back into the regular dorms. However, his desire to escape Sakura Hall wavers when the pet-like and infantile second year Mashiro Shiina, a world-class artistic savant looking to become a mangaka, transfers in during the spring trimester and quickly latches onto him. [Written by MAL Rewrite]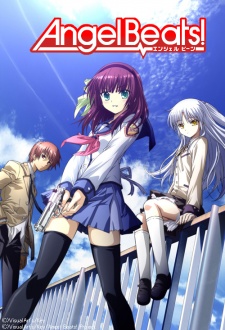 Otonashi awakens only to learn he is dead. A rifle-toting girl named Yuri explains that they are in the afterlife, and Otonashi realizes the only thing he can remember about himself is his name. Yuri tells him that she leads the Shinda Sekai Sensen (Afterlife Battlefront) and wages war against a girl named Tenshi. Unable to believe Yuri's claims that Tenshi is evil, Otonashi attempts to speak with her, but the encounter doesn't go as he intended.
Otonashi decides to join the SSS and battle Tenshi, but he finds himself oddly drawn to her. While trying to regain his memories and understand Tenshi, he gradually unravels the mysteries of the afterlife. [Written by MAL Rewrite]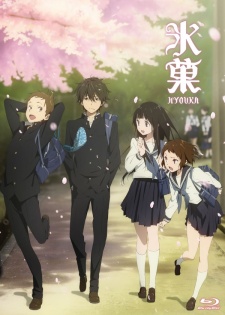 Energy-conservative high school student Houtarou Oreki ends up with more than he bargained for when he signs up for the Classics Club at his sister's behest—especially when he realizes how deep-rooted the club's history really is. Begrudgingly, Oreki is dragged into an investigation concerning the 45-year-old mystery that surrounds the club room.
Accompanied by his fellow club members, the knowledgeable Satoshi Fukube, the stern but benign Mayaka Ibara, and the ever-curious Eru Chitanda, Oreki must combat deadlines and lack of information with resourcefulness and hidden talent, in order to not only find the truth buried beneath the dust of works created years before them, but of other small side cases as well. [Written by MAL Rewrite]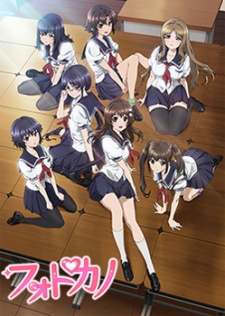 Kazuya, a mild-mannered high school sophomore coming to the end of a very average summer break, receives a digital single lens reflex camera as a gift. His nerdy fascination with its design soon turns to wonder when he realizes this little gadget could really give his social life a shot in the arm! (Source: TBS)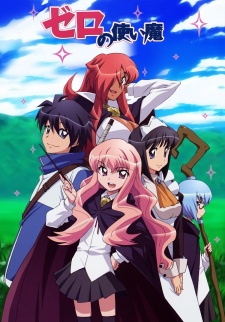 Louise is a magician at the Tristein Academy, dubbed with the nickname "Zero Louise" due to her inability to effectively use her magic properly, resulting in zero successes. An upcoming test at her academy requires her to summon a familiar, a servant and partner to support her as a magician. Despite desiring a familiar that would be superior to her constantly mocking classmates, Louise ends up summoning Hiraga Saito, your average Japanese boy. Even with Louise and Saito both unwilling to accept each other, they have no choice. Louise cannot attempt another summoning and Saito cannot return to Japan, and so their life together begins. Based on the novel by Noboru Yamaguchi.
References: MyAnimeList, Wiki, ANN