6 Anime Like Love Stage!! [Recommendations]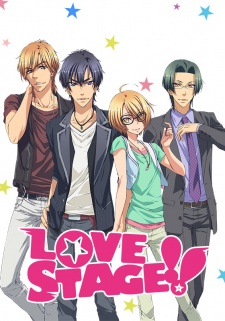 Here are my top picks for anime like Love Stage!! Keep in mind the list is in no particular order. Enjoy!
Onodera Ritsu has just transferred from his father's publishing company to Marukawa Shoten. Assigned to the shoujo manga division, he crosses path with the person he'd least expected to meet. Takano Masamune is the editor-in-chief of the division Ritsu's been assigned to, and the two seem get off on the wrong foot right from the very start when Takano unexpectedly kisses him. However, there is more to than what meets the eye: Takano is actually Saga, Ritsu's senpai and high school love, whom Ritsu had thought to have played him for a fool by taking his affections for granted when he confessed and summarily dumped him.
Three very different couples caught up in a storm of pure romance!
Romantica: Misaki is struggling to prepare for his college entrance exams, so his brother arranges for a private tutor. But Misaki's nightmare is just beginning when his tutor, Usami, comes on to him! How will Misaki ever manage to pass his exam? And why does he feel so mysteriously drawn to Usami?
Egoist: Just when Kamijou's life is at its lowest, he has a chance meeting with a man who never lets anything hold him back: Nowaki. His name means "typhoon," and he's about to take Kamijou on a whirlwind ride that will turn everything upside-down.
Terrorist: Miyagi always seems to shrug off the cares of the world with a joke and a smile, but even he has problems, although he doesn't let them show. Foremost is Shinobu, a relentless young man who's adamant that they're destined to be together.  (Source: RightStuf)
The story revolves around a young girl named Kyouko who went with her childhood friend, Shou, to Tokyo to pursue his dream of becoming an idol. Despite her supporting him, she overhears him dismissing her as a boring wallflower. Furious, Kyouko vows to get her revenge by defeating him in the entertainment world.
All Shuichi ever dreamed about was following in the footsteps of his pop idol, Ryuichi Sakuma and the band Nittle Grasper. Together with his best friend Hiro, Shuichi's formed a band called Bad Luck and they've even managed to get signed to a major recording label! Unfortunately, the studio deadlines are looming and Shuichi still hasn't finished the lyrics for any of the songs. What he needs is a little inspiration… but he's been running a little low in that department lately. While Hiro recommends finding a girlfriend, fate has other things in store for him…
Walking through the park late one night, Shuichi's latest lyrics flutter away and land at the feet of a stunning stranger that takes his breath away. Unfortunately, that mysterious stranger happens to be the famous novelist Eiri Yuki, who completely crushes the young singer by telling him he has "zero talent". Now, Shuichi's so annoyed that he's managed to finish his song just so he can find and confront Yuki once again. But, are his actions really motivated by anger, or has he actually fallen in love?  (Source: RightStuf)
Munakata Mira is in love with his father, the famous Hollywood actor Munakata Kyousuke. Unknown to the public, both of them are father and son as well as lovers. When Mira turns 15 and enters high school, he faces trouble with his childhood friend falling in love with him. Also, finding out he is adopted only distresses him further. Then there's the problem of Kyousuke probably marrying a famous actress, whose son seems to have an interest in Mira.
On planet Amoi, a great society has developed, creating a computerized city called Tanagura, ruled by supercomputer Jupiter. The populace is almost entirely male and is based on hair color; silver and/or blonds are the elitist, ending with dark/black haired as the bottom of society, often known as "mongrels". Blondies keep "pets", young boys kept for a few years, especially made for performing sexual actions for the Blondie's voyeurism entertainment. Blondies aren't suppose to keep pets for long or interact sexually with pets, but one blondie named Iason Mink has kept a pet named Riki, for years and is rumored to sleep with him. Iason refuses to let go of Riki, even with Jupiter's disapproval. Riki fights with his emotions and society problems, unable to decide what to do about his old friend/lover Gai (Guy) and their gang. Iason is obsessed with keeping Riki, and Riki doesn't know what to do; fight against him or surrender to him.
References: ANN, MyAnimeList, Wiki