8 Anime Like Luck and Logic
Luck & Logic
This is a list of anime recommendations of anime similar to Luck and Logic. Bear in mind that this list is in no particular order.
World Trigger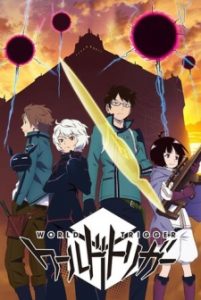 When a gate to another world suddenly opens on Earth, Mikado City is invaded by strange creatures known as "Neighbors," malicious beings impervious to traditional weaponry. In response to their arrival, an organization called the Border Defense Agency has been established to combat the Neighbor menace through special weapons called "Triggers." Even though several years have passed after the gate first opened, Neighbors are still a threat and members of Border remain on guard to ensure the safety of the planet.
Elemental Gelade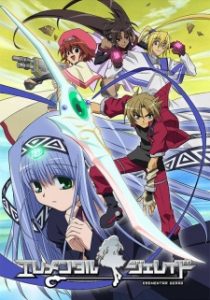 fter a routine raid, the rookie sky pirate Coud finds a most unusual cargo in his mates' cargo hold: Ren, an "Edel Reid", a race prized by humans for granting special combat power to their partners through "Reacting". He quickly discovers, however, that Ren is even more prized than he expected. The pirate ship is visited by three members of the Edel Reid Complete Protection Agency "Arc Aire", who try to purchase her. When Coud refuses, the ship is suddenly attacked by a mysterious force, and Coud's captain charges him with Ren's protection.
Valkyrie Drive: Mermaid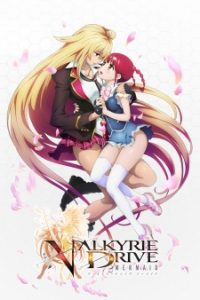 Naïve 16-year-old Mamori Tokonome is accustomed to being teased at school for having an unfortunate surname that can also be read as "virgin." However, young Mamori will soon have to get used to being teased in other ways… Kidnapped during gym class, Mamori wakes up only to find herself stranded and under attack on the exotic island of Mermaid. Luckily, enigmatic fellow castaway Mirei Shikishima knows exactly how to take the lead—through a passionate kiss, Mirei unleashes Mamori's Exter transformation abilities, turning the innocent red-head into a battle-ready cutlass through the power of arousal.
Myriad Colors Phantom World
Phantoms: supernatural entities such as ghosts or youkai that, until recently, were thought to be superstition. However, when a virus that infects the brain spreads throughout society, people's perception of the world changes as the mythical beings are revealed to have been living alongside humanity the entire time. This virus has also affected those of the next generation significantly, allowing them to develop special abilities that they can use to fight against dangerous phantoms.
Anti-Magic Academy: The 35th Test Platoon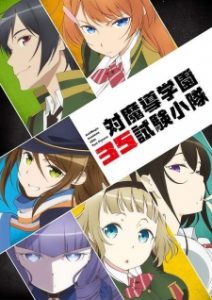 The Antimagic Academy is a special school that specializes in educating future witch hunters whose primary job is to find and stop magical threats and dangers. They are also called Inquisitors, whose aim is to stop and confiscate, not kill or destroy. The Academy is divided into several squads, but the most infamous one is the 35th Test Platoon, also nicknamed the "Small Fry Platoon" due to its low ranking among the other squads and its incompetent members.
Gatchaman Crowds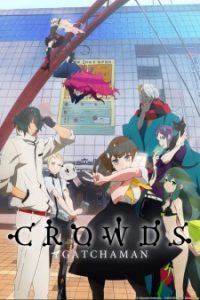 Hajime Ichinose's ordinary life is in for a change when a transcendent being named J.J Robinson hands her a small book called NOTE—a device which transforms her into one of the Gatchaman, the legendary protectors of Tachikawa City. Stressing that the existence of their group must remain a secret, fellow Gatchaman Sugane Tachibana takes Hajime to their base of operations, where Paiman, the panda-like alien leader of the Gatchaman, reveals their purpose: to eliminate aliens that pose a danger to humanity. These existential threats, called MESS, are becoming increasingly dangerous, destroying everything they touch. Now it's up to the Gatchaman and their new recruit to stop them before the world is engulfed in chaos.
Ange Vierge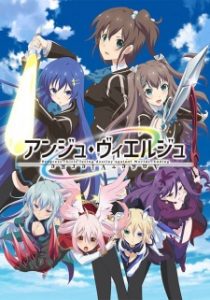 The story of the card game follows what happens when "Hairou" portals suddenly open, fusing five different worlds together. As a result, various mysterious "Exceed" powers are awakened in teenaged girls. An academy for these so-called "Progress" girls is built on the isolated Seiran Island in the Pacific.
Z/X: Ignition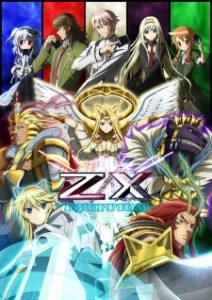 The story is set in the not-so-distant future. Five "Black Points" suddenly appeared around the world as portals to parallel worlds. Immediately after, strange creatures began their invasion from these portals. These creatures are the inhabitants of five worlds—the same worlds in different timeframes. In order to ensure their own future timeframe survives, each of the five invasion forces battle to wipe the other future timeframes out. The key is one card-shaped device.
References: Myanimelist