8 Anime Like Mashiroiro Symphony [Recommendations]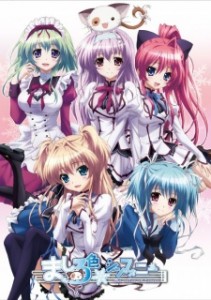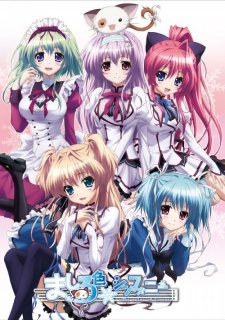 Here are my favorite picks for anime like Mashiroiro Symphony. Keep in mind the list is in no particular order. Enjoy the recommendations!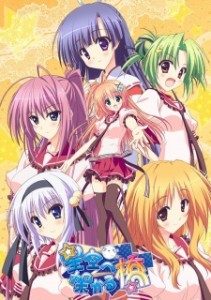 Kazuma has moved to a small town in the country. On his first day at school, he meets Ui when he is lost his way. They go to school together, but Kazuma accidentally slips and kisses Ui…. To make matters worse, Ibuki, Ui's close friend, sees it…. Well, what will happen to his new school life…? (Source: ErogeShop)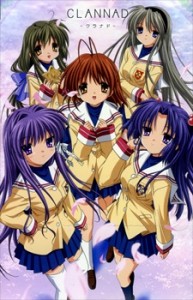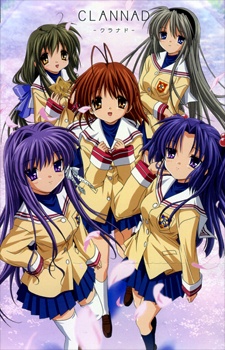 Tomoya Okazaki is a delinquent who finds life dull and believes he'll never amount to anything. Along with his friend Sunohara, he skips school and plans to waste his high school days away.
One day while walking to school, Tomoya passes a young girl muttering quietly to herself. Without warning she exclaims "Anpan!" (a popular Japanese food) which catches Tomoya's attention. He soon discovers the girl's name is Nagisa Furukawa and that she exclaims things she likes in order to motivate herself. Nagisa claims they are now friends, but Tomoya walks away passing the encounter off as nothing.
However, Tomoya finds he is noticing Nagisa more and more around school. Eventually he concedes and befriends her. Tomoya learns Nagisa has been held back a year due to a severe illness and that her dream is to revive the school's drama club. Claiming he has nothing better to do, he decides to help her achieve this goal along with the help of four other girls.
As Tomoya spends more time with the girls, he learns more about them and their problems. As he attempts to help each girl overcome her respective obstacle, he begins to realize life isn't as dull as he once thought. [Written by MAL Rewrite]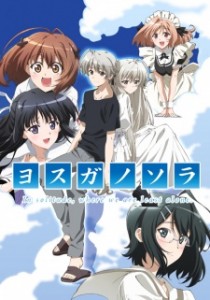 Haruka and Sora Kasugano are coming home, to a place filled with memories.
Having lost their parents in a tragic car accident, the twins resolve to return to the countryside and start life anew at their grandfather's house, the haunt a constant reminder of moments from their past. Greeting them are childhood friends Nao Yorihime and Akira Amatsume, and newcomer Kazuha Migiwa. It is a warm welcome, symbolic of the days that should come.
Their peace is merely ephemeral, however, as suppressed emotions, born from vows both newfound and forgotten, start exerting their influence on the twins' new lives. And deep down, a dark secret, only known to them, begins to unshackle.
Based on the visual novel by Sphere, Yosuga no Sora not only explores the power of lost memories and true love when the bonds of many become intertwined, but also raises the questions of morality and social acceptance. [Written by MAL Rewrite]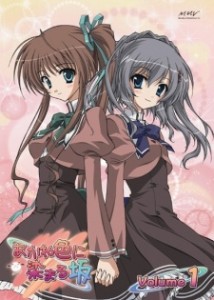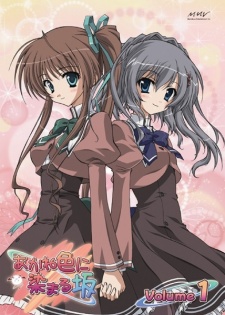 On his way to school, Junichi Nagase saves a girl from danger. Later, due to a misunderstanding, he kisses her. Shocked and disgusted, and without understanding what just happened or why, she screams at him and tells him to "just die!" As it turns out, the girl, Yuuhi Katagiri, is a new transfer student and, much to the surprise of Junichi and his younger sister Minato, their father arranged for Yuuhi to be Junichi's future wife! Of course, getting married to "that perverted idiot" is the absolute last thing Yuuhi wants! Junichi's crazy school life with his tsundere bride-apparent has begun! (Source: Animesuki, edited)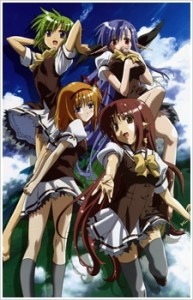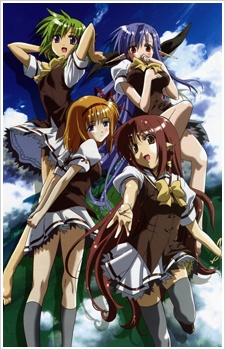 In present times, Gods and Demons coexist together with Humans after the door between each of these worlds had opened. Tsuchimi Rin is a normal young high school student attending Verbena Academy, spending his days living peacefully with his childhood friend Kaede. Unexpectedly, one day the King of Gods, the King of Demons and their families move into be Rin's next door neighbors. Apparently the daughter of the Gods, Sia, and the daughter of the demons, Nerine, are both deeply in love with Rin after having met him in the past. Along with his playful friendship with upperclassmen Asa and his encounter with the silent but cute Primula, Rin has much on his hands dealing with the affections of each of these girls. Based on the eroge by Navel. (Source: MyAnimeList)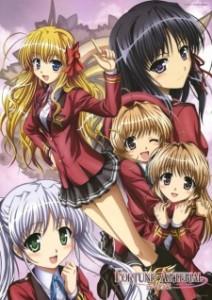 Fortune Arterial's story revolves around the male protagonist Kohei Hasekura, who transfers into a prestigious public school in the style of an English six-year school encompassing junior-high and high school students. The school is on an island named Tamatsu Island off-shore from mainland Japan, and the only way to get there is by boat. Soon after transferring, he discovers that one of the student in the class next door to his, Sendo Erika, is in fact a type of vampire. (Source: Wikipedia)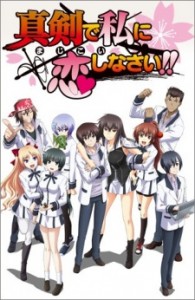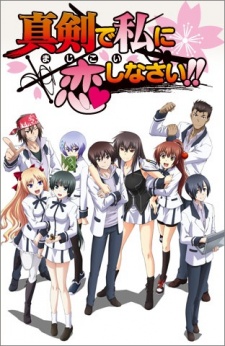 It's one thing to honor your ancestors and keep old traditions alive, but there IS such a thing as taking it to a ridiculous extreme. In Kawakami City, having a samurai ancestor and enormous 'fighting spirit' isn't just an interesting fact, it's a huge part of how you end up being ranked on the social totem pole. That, in turn, rolls over into the school curriculum. Fortunately, that's something the local kids like Yamato Naoe have learned to deal with by forming into small 'bands,' (that's the samurai type, NOT music). However, while the delicate sexual balance of Yamato's group seemed fine when there were three girls and four boys, the sudden addition of two MORE girls starts to send everything spinning out of control! (Source: Sentai Filmworks)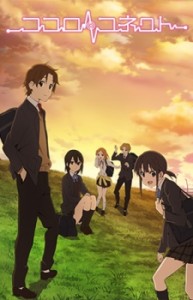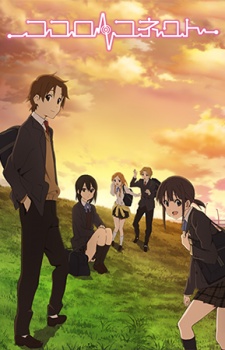 The five members of the Cultural Research Club—Taichi Yaegashi, Iori Nagase, Himeko Inaba, Yui Kiriyama, and Yoshifumi Aoki—encounter a bizarre phenomenon one day when Aoki and Yui switch bodies without warning. The same begins to happen to the other club members, throwing their daily lives into disarray.
At first the five students find some amusement amidst the confusion, but this unwarranted connection also exposes the painful scars hidden within their hearts. As their calm lives are shattered, the relationships between the five students also begin to change… (Source: Crunchyroll, edited)
References: MyAnimeList, Wiki, ANN