7 Anime Like Mayo Chiki! [Recommendations]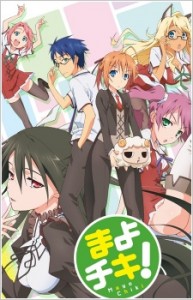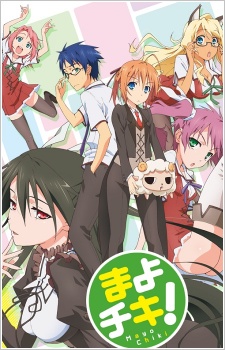 Here are my favorite picks for anime like Mayo Chiki! Keep in mind the list is in no particular order. Enjoy the recommendations!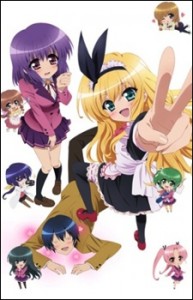 There are twisted tales and twisted tales, but few are as twisted as poor Sado's, who's just realized that he actually likes being made miserable. Of course, knowing that only makes him more miserable, which in turn… well, you get the idea. Desperate to break the circle, Sado volunteers for a special club where he hopes he can work through his issues only to discover that the other members have equally… complex… issues to deal with.
For example, the hyper-aggressive club president Isurugi not only has a violent fear of cats, but also believes herself to be a god! Then there's Yuno, who's terrified of men; the Nurse, who forces other people to perform cosplay; and Hayama, Sado's best friend and a compulsive cross-dresser, who's also the girl that Sado is infatuated with. (Source: Sentai Filmworks)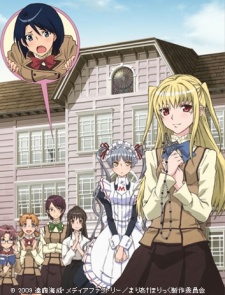 It's not easy to find the perfect girl, even when you're the same sex! Kanako thought attending an all-girls school would be the perfect way to meet the girl of her dreams, but after her hot new roommate turns out to be a guy in drag, and catching the eye of the most popular girl in school only brings down the wrath of all the OTHER similarly obsessed girls, she's not so sure! Complicate things with a cat-eared dorm leader, her roommate's rude-mannered maid, an identical twin sister (who attends an all-boys school of course) and WAY too many attractive girls of questionable persuasions and the question becomes whether Kanako will die from frustrated nosebleeds! (Life would be SO much easier if guys didn't literally give her the hives!) Will Kanako ever find a non-polar opposite of a compatible non-opposing polarity? Let's just say that the quest for true love will not run straight in Maria Holic. (Source: Sentai Filmworks)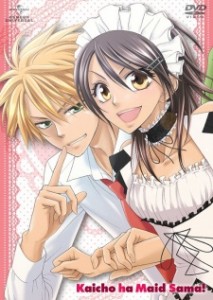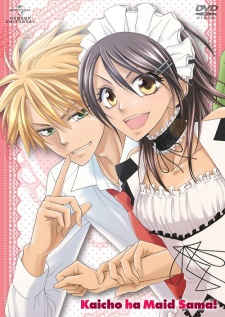 Being the first female student council president isn't easy, especially when your school just transitioned from an all boys high school to a co-ed one. Aptly nicknamed "Demon President" by the boys for her strict disciplinary style, Misaki Ayuzawa is not afraid to use her mastery of Aikido techniques to cast judgment onto the hordes of misbehaving boys and defend the girls at Seika High School.
Yet even the perfect Ayuzawa has an embarrassing secret—she works part-time as a maid at a maid café to help her struggling family pay the bills. She has managed to keep her job hidden from her fellow students and maintained her flawless image as a stellar student until one day, Takumi Usui, the most popular boy in school, walks into the maid café. He could destroy her reputation with her secret… or he could twist the student council president around his little finger and use her secret as an opportunity to get closer to her. [Written by MAL Rewrite]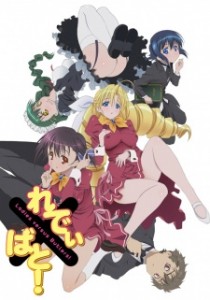 Hino Akiharu lost his parents when he was small and was adopted into his uncle's family. He didn't want to be a burden on his uncle's family and decides to enter a free boarding school as a butler, Hakureiryou high school. However, his delinquent boy-like appearance frightens the girls, who make up the majority of the students. Unable to get along with the classmates, Akiharu meets his childhood crush Saikyou Tomomi. (Source: MyAnimeList)
Due to his love for small, cute things, Souta Takanashi cannot turn childlike Popura Taneshima down when she recruits him to work for Wagnaria, a family restaurant located in Hokkaido. Takanashi takes particular joy in doting on the older Popura, which only fuels her complex over how young she looks. He also quickly learns he must stay on his toes once he meets the rest of his colleagues, including the katana-wielding floor chief Yachiyo Todoroki, the intimidating head chef Jun Satou, the dangerously well-informed and subtly sadistic sous chef Hiroomi Souma, the adamantly lazy manager Kyouko Shirafuji, and the waitress Mahiru Inami who has a "painful" fear of men.
Powered by an eccentric cast, Working!! is a unique workplace comedy that follows the never-dull happenings within the walls of Wagnaria as Takanashi and his co-workers' quirky personalities combine to create non-stop antics, shenanigans, and hilarity. [Written by MAL Rewrite]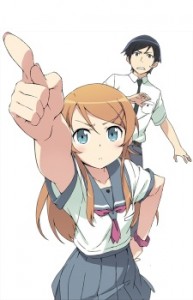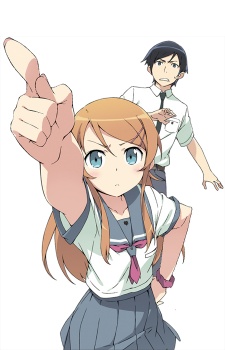 Kyousuke Kousaka, a normal seventeen-year-old high school student, hasn't gotten along with his younger sister, Kirino, in years. For longer than he can remember, Kirino has ignored his comings and goings and looked at him with spurning eyes. It seemed as if the relationship between Kyousuke and his sister, now fourteen, would continue this way forever.
One day, however, Kyousuke finds a DVD case of a magical girl anime entitled Hoshikuzu Witch Meruru (Stardust Witch Meruru), which had fallen into the entranceway of his house. To Kyousuke's surprise, inside the case is a hidden adult video game titled Imouto to Koishiyo! (Love with Little Sister!). Kyousuke attempts to fish out the culprit who dropped the case by bringing up the topic of magical girl anime at the family dinner table. All that comes out is a strong negative reaction from his parents, especially his anti-otaku policeman father.
That night, Kirino bursts into Kyousuke's room and, in perhaps the first conversation she has initiated with him in years, says they "have things to talk about." Kirino brings Kyousuke to her room and shows him an extensive collection of moe anime and lolicon bishoujo games she has been collecting in secret. (Source: Wikipedia)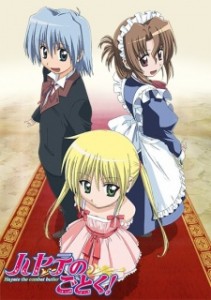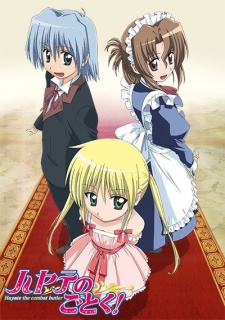 16-year-old Hayate is really down on his luck. Because his unemployed parents are good-for-nothings who waste what money they have on gambling, Hayate had to start working at a young age to help out his family. Although such experience has made him inhumanly fast and tough and skilled at things boys aren't normally skilled at, it has also left him in an awkward position, as his parents have racked up such a huge gambling debt that they have sold Hayate to the yakuza for the value of his organs. In a desperate attempt to avoid that fate, Hayate decides to become a "bad guy" and kidnap someone to be held for ransom, but his efforts to do so are mistaken as a confession of love by the girl he targets. When he helps save the (as it turns out) ultra-wealthy 13-year-old Nagi from real kidnappers, she takes him in and gives him a job as her new personal butler (and love interest) until he can pay off his debt. But Hayate is more attracted to Nagi's beautiful teenage maid Maria, and head butler Klaus is initially disapproving of a boy with such a poor look. And then there's Nagi's pet Tama, who is also a force to be reckoned with. (Source: MyAnimeList)
References: MyAnimeList, Wiki, ANN