8 Anime Like Mikagura School Suite [Mikagura Gakuen Kumikyoku]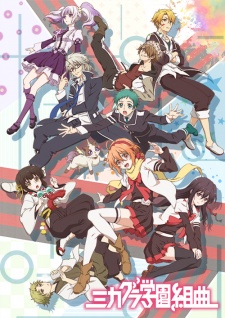 Here are my top picks for anime like Mikagura Gakuen Kumikyoku. Keep in mind the list is in no particular order. Enjoy the recommendations!
The everyday lives of the nine super-powered siblings of the royal family are monitored by more than 200 surveillance cameras and broadcast nationwide. The people of the nation who are watching the broadcast will have the ability to elect the next monarch. Akane is the third-oldest sister who can manipulate gravity. She is shy and desperately does not want to be caught on camera.
The incidents which occurred on August 14th and 15th bring a group of young boys and girls together… They are members of a group they call themselves the "Mekakushi Dan" (Blindfold Organization) and each member possesses a strange power involving their eyes.
The story centers around Akihisa Yoshii, the "baka" of the title. His academy rigidly divides up the student body into classes based on the results of tests. The prodigies are in the A class with reclining seats complete with air conditioning, but Akihisa is in F class, the lowest rung of the school ladder which is furnished only with low, decrepit tables and worn-out straw tatami mats. A girl named Mizuki Himeji is actually one of the smartest girls in Akihisa's sophomore year, but she had a fever on test day and was pigeonholed into the F class. Besides Mizuki (who Akihisa secretly adores), the F class also has Yuuji Sakamoto, the class president who has been Akihisa's friend and partner-in-crime since the freshman year.
The school happens to have developed experiments to summon fantasy creatures, and Akihisa decides to rally F class to take on the higher-tiered classes and seize their perks. The F class uses the summoned creatures in an all-out battle for school supremacy.
It's not easy to find the perfect girl, even when you're the same sex! Kanako thought attending an all-girls school would be the perfect way to meet the girl of her dreams, but after her hot new roommate turns out to be a guy in drag, and catching the eye of the most popular girl in school only brings down the wrath of all the OTHER similarly obsessed girls, she's not so sure! Complicate things with a cat-eared dorm leader, her roommate's rude-mannered maid, an identical twin sister (who attends an all-boys school of course) and WAY too many attractive girls of questionable persuasions and the question becomes whether Kanako will die from frustrated nosebleeds! (Life would be SO much easier if guys didn't literally give her the hives!) Will Kanako ever find a non-polar opposite of a compatible non-opposing polarity? Let's just say that the quest for true love will not run straight in Maria Holic. (Source: Sentai Filmworks)
Sakura Mikan and Imai Hotaru are best friends, and Mikan is shocked to find that Hotaru is transferring to a school in Tokyo for gifted students like her—Alice Academy. Mikan hears rumors that the students are like prisoners there, and worried what would happen to Hotaru, she runs away to head to the school herself. She finds out all the wonderful things about this school. And she heads into a great adventure!!
Half a year ago, the four members of a literature club, as well as the elementary school niece of their faculty adviser, were bestowed with supernatural powers. The boy in the club, Ando Jurai, became able to produce black flames. The girls acquired a variety of powerful abilities: Tomoyo could slow, speed, or stop time, Hatoko could control the five elements (earth, water, fire, wind, light), little Chifuyu could create things, and Sayumi could repair objects or heal living things. However, since they gained these powers, nothing has really changed in their everyday life. Why have they been given these powers in the first place? Will the heroic fantasy life they imagined these powers would bring ever actually arrive? (Source: MangaHelpers)
Kazama Kenji likes to believe he is something of a delinquent. Moreover, others seem to like to agree that he is. Of course, Kenji's gang finds their way to a group of four not-so-normal girls—Chitose, Sakura, Minami and Roka—and all at once, whatever reputation he may have is nothing compared to the outrageous behavior of the girls. Shanghaied into joining their club, what will happen to his everyday life from that point on? (Source: MU)
Ten years after the Great Tokyo War, each prefecture in Japan has split up into independent nations. Each nation is ruled by a prophet called "Mosa" and an army called "Mob" as they start to compete to take over other countries. Four "Mob" girls from the Saitama clan, Nozomi, Yukina, Ai, and Chiaya, are ordered by their "Mosa" to travel around Japan riding their motorcycles to mediate multiple battles between nations and clans as they emerge.
References: ANN, MyAnimeList, Wiki