7 Anime Like Monthly Girls' Nozaki-kun [Gekkan Shoujo]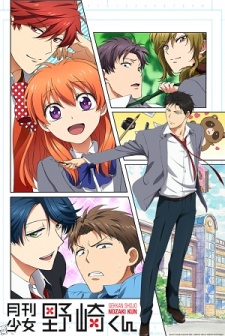 Here are my top picks for anime like Gekkan Shoujo Nozaki-kun. Keep in mind the list is in no particular order. Enjoy the recommendations!
Haruhi Fujioka is a bright scholarship candidate with no rank or title to speak of—a rare species at Ouran High School, an elite academy for students of high pedigree. When she opens the door to Music Room #3 hoping to find a quiet place to study, Haruhi unexpectedly stumbles upon the Host Club. Led by the princely Tamaki, the club—whose other members include the "Shadow King" Kyouya, the mischievous Hitachiin twins, and the childlike Haninozuka "Honey" and his strong protector Mori—is where handsome boys with too much time on their hands entertain the girls in the academy.
In a frantic attempt to remove herself from the hosts, Haruhi ends up breaking a vase worth eight million yen and is forced into becoming the eccentric group's general errand boy to repay her enormous debt. However, thanks to her convincingly masculine appearance, her naturally genial disposition toward girls, and fascinating commoner status, she is soon promoted to full-time male host and plunged headlong into a glitzy whirlwind of elaborate cosplays, rich food, and exciting shenanigans that only the immensely wealthy Ouran Host Club can pull off.
The story depicts the work-life of a perverted mangaka, Aito Yuuki, and his assistant, Ashisu Sahoto. Constantly pressured by his editor and lacking experience with girls, Aito asks Ashisu to act as a reference.
Moritaka Mashiro and Akito Takagi are pretty much foils of each other. Mashiro, an average 9th grade student but talented artist, and Takagi, an overall advanced 9th grader and aspiring writer. After great convincing, Takagi convinces Mashiro to join him in becoming the greatest mangakas Japan has ever seen. Takagi, with his gift of writing, hopes to become a successful mangaka, and Mashiro, with his gift of art, hopes to marry the girl of his dreams, Azuki Miho.
Tadakuni, Hidenori, and Yoshitake are students at the all-boys academy, Sanada North High School. This is a tale about just that—their daily lives as students. Winning the basketball tournament? Finding true love? You won't find any of that here. Whether it's sparking random arguments while hanging out with friends, meeting that one weird co-worker at a part-time job, or even letting imaginations run wild on a windy afternoon, we've all experienced the show's ordinary but true-to-life themes at one point or another.  (Source: NIS America)
Tsukamoto Tenma is an ordinary 2nd year high school student who has fallen in love with one of her classmates, Karasuma Ooji. However, currently she is unable to confess her feelings to him. To make things worse, she found out that Karasuma is transferring to another school in a year. On the other hand, Tenma's other classmate, Harima Kenji (who is a delinquent) is also in love with Tenma. Not being able to confess his feelings, Harima gets depressed day by day.
With his muscular build and tall stature, Takeo Gouda is not exactly your average high school freshman. However, behind his intimidating appearance hides a heart of gold, and he is considered a hero by the boys for his courage and chivalry. Unfortunately, these traits do not help much with his love life. As if his looks are not enough to scare the opposite sex away, Takeo's cool and handsome best friend and constant companion Makoto Sunakawa easily steals the hearts of the female students—including every girl Takeo has ever liked.
When Takeo gallantly saves cute and angelic Rinko Yamato from being molested, he falls in love with her instantly, but suspects that she might be interested in Sunakawa. With his own love for Yamato continuing to bloom, Takeo unselfishly decides to act as her cupid, even as he yearns for his own love story. [Written by MAL Rewrite]
Thanks to his parents' job transfer, high school freshman Kazunari Usa finally gets to enjoy living on his own in the Kawai Complex, a boarding house that provides meals for its residents. Ritsu, the senpai he admires, also lives in Kawai Complex, as do a few other "unique" individuals: his masochistic roommate Shirosaki; beautiful, big-breasted Mayumi who has no luck in finding men; and sly, predatory college woman Sayaka. Surrounded by these people, Usa never finds his daily life boring.
References: ANN, MyAnimeList, Wiki