7 Anime Like Nisekoi: False Love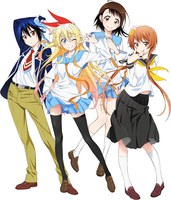 [Image Source: ANN]
Here are my top picks for animes like Nisekoi. The list takes into consideration of the genres of comedy, romance and school life.
A young boy called Eita enters high school aiming for the National University School of Medicine. Because of his parents' divorce and his goal, he shuns anything to do with romance or love. One day Masuzu, the school beauty with the silver hair, who's just returned to the country, enters his life in a most unexpected way. Chiwa, his childhood friend since elementary school, will not let this go without a fight.
The story is about Yuuki Rito, a high-school boy who cannot confess to the girl of his dreams, Sairenji Haruna. One day when coming home and sulking in the bath-tub a mysterious, nude girl, appears out of nowhere. Her name is Lala and she comes from the planet Deviluke, where she is the heir to the throne. Her father wants her to return to her home planet so she can marry one of the husband candidates, but she decides that she wants to marry Rito in order to stay on Earth.
Although there are still traces of the brief period he became a vampire, third-year high school student Koyomi Araragi is human again. He happens upon others with their own supernatural problems and finds that he can empathize. Koyomi becomes involved in their lives, seeking to help them and occasionally asking for advice from Meme Oshino, the homeless man who helped him become human again.
Banri finds himself completely lost after the opening ceremony and tries to find his way to the freshman orientation. Along the way, he runs into another lost freshman from the same school, Mitsuo Yanagisawa, and they immediately hit it off. Somehow arriving at their intended goal just in time, there appears in front of them a beautiful girl holding a bouquet of roses, who congratulates Mitsuo on getting into the school then hits him across the face with them before tossing the bouquet into his lap and leaving.
This stylish, well dressed, and obsessive woman is his childhood friend, Kōko Kaga. As children, they had promised to marry each other one day, something she has taken to heart this entire time. Mitsuo had gone out secretly and taken the examination for this private college in order to escape from her, but she used her connections to find out about it, took the law school entrance examination, and enrolled in the college herself in order to be with him.
Keitaro Urashima is determined to be accepted into Tokyo University, the hardest Japanese University of all to get into, because of a promise he made to a girl when he was young… a girl whose name he can't even remember. After failing to get into Tokyo U twice, he is kicked out by his parents and goes to live with his Grandmother at her hotel, but it seems it has been turned into an all girls boarding house. What's more, much to his surprise and to the tenants disgust, Keitaro is made manager of the boarding house.
Kodaka Hasegawa is a recent transfer student to St. Chronica's Academy, a Catholic high school. As with every other school he has ever attended, he finds it difficult to make friends there because of his naturally-blond hair and fierce-looking eyes, which make him look like a dangerous "yankee" to his prejudiced schoolmates.
One day, Kodaka accidentally comes across the equally solitary and very abrasive Yozora Mikazuki while she converses with her imaginary friend Tomo. Realizing that neither of them have any social lives, they decide that the best way to improve their situation is to form a club: the Neighbor's Club precisely intended to make friends and learn social skills.
Despite Ryuji Takasu's gentle personality, his eyes make him look like an intimidating delinquent. Class rearrangements on his second high school year put him together with his best friend, Yusaku Kitamura, and his hidden crush, Minori Kushieda. Along with these two comes Kushieda's best friend, Taiga Aisaka. Her delicate appearance contrasts with her brutal personality. Secretly in love with Kitamura, Taiga agrees to help Ryuji with his love interest as long as he helps her get closer to hers.
References: ANN, MyAnimeList, Wiki