7 Anime Like Nobunaga the Fool [Recommendations]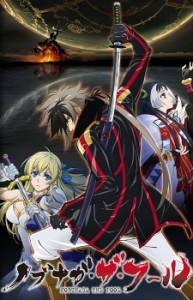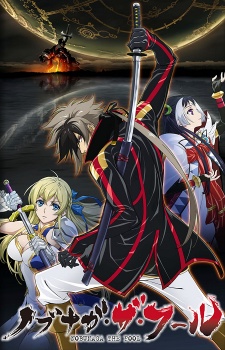 Here are my favorite picks for anime like Nobunaga the Fool. Keep in my the list is in no particular order. Enjoy the recommendations!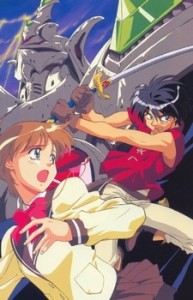 High school student Hitomi is transported from Earth to the magical world of Gaea, where she meets boy prince Van Fanel, and is caught up in his quest to unite the countries of Gaea against the ominous Zaibach empire. On the way, she discovers a hidden ability and strives to unravel layers of mystery surrounding Van, his past, and the giant machine known as Escaflowne. (Source: ANN, edited)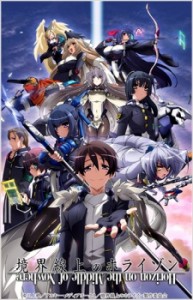 In the far future, humans abandon a devastated Earth and traveled to outer space. However, due to unknown phenomenon that prevents them from traveling into space, humanity returns to Earth only to find it inhospitable except for Japan.
To accommodate the entire human population, pocket dimensions are created around Japan to house in the populace. In order to find a way to return to outer space, the humans began reenacting human history according to the Holy book Testament. But in the year 1413 of the Testament Era, the nations of the pocket dimensions invade and conquer Japan, dividing the territory into feudal fiefdoms and forcing the original inhabitants of Japan to leave.
It is now the year 1648 of the Testament Era, the refugees of Japan now live in the city ship Musashi, where it constantly travels around Japan while being watched by the Testament Union, the authority that runs the re-enactment of history. However, rumors of an apocalypse and war begin to spread when the Testament stops revealing what happens next after 1648.
Taking advantage of this situation, Toori Aoi, head of Musashi Ariadust Academy's Supreme Federation and President of the student council, leads his fellow classmates to use this opportunity to regain their homeland. (Source: Wikipedia)
On August 10th of the year 2010 the Holy Empire of Britannia began a campaign of conquest, its sights set on Japan. Operations were completed in one month thanks to Britannia's deployment of new mobile humanoid armor vehicles dubbed Knightmare Frames. Japan's rights and identity were stripped away, the once proud nation now referred to as Area 11. Its citizens, Elevens, are forced to scratch out a living while the Britannian aristocracy lives comfortably within their settlements. Pockets of resistance appear throughout Area 11, working towards independence for Japan.
Lelouch, an exiled Imperial Prince of Britannia posing as a student, finds himself in the heart of the ongoing conflict for the island nation. Through a chance meeting with a mysterious girl named C.C., Lelouch gains his Geass, the power of the king. Now endowed with absolute dominance over any person, Lelouch may finally realize his goal of bringing down Britannia from within! (Source: Bandai Entertainment)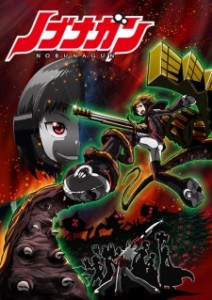 Shio Ogura is a Japanese high school student, who is visiting Taiwan on a school trip when she is suddenly attacked by monsters. Agents known as "E-Gene Holders" from the government agency DOGOO also arrive, who wield weapons infused with the spirits of historical figures. Shio is revealed to also be an E-Gene Holder when the soul of Oda Nobunaga awakens after she tries to rescue a friend. (Source: Wikipedia)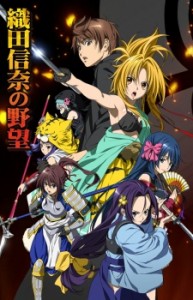 The historical romantic comedy follows 17-year-old high schooler Sagara Yoshiharu who one day time-travels to the Sengoku period, where all the major Samurai lords are cute girls. Yoshiharu meets Oda Nobuna, the female counterpart of Oda Nobunaga, and begins to serve her as a substitute of Kinoshita Tokichiro, who was killed.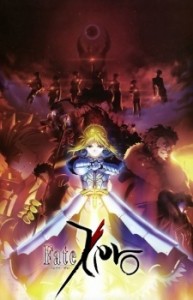 Fate/Zero takes place 10 years prior to the events of Fate/stay night, detailing the events of the 4th Holy Grail War in Fuyuki City. The War of the Holy Grail is a contest in which seven magi summon seven Heroic Spirits to compete to obtain the power of the "Holy Grail," which grants a miracle. After three inconclusive wars for the elusive Holy Grail, the Fourth War commences.
Founded by the Einzbern, Matou, and Toosaka families centuries ago, the Einzbern family is determined to achieve success after three successive failures, no matter the cost. As a result, they have elected to bring the hated magus killer, Kiritsugu Emiya, into their ranks, despite his methods and reputation as a skilled mercenary and a hitman who employs whatever he can use to accomplish his goals. Though Kiritsugu had once wanted to become a hero who could save everyone, he has long since abandoned this ideal upon realizing that saving one person comes at the cost of another's life. For the sake of humanity, he will ruthlessly destroy anything and anyone who threatens the peace of others.
However, Kiritsugu finds himself deeply torn between the love he has found for his new family—his wife Irisviel and their daughter Illya—and what he must do to obtain the Holy Grail. Meanwhile, Kiritsugu's greatest opponent appears in the form of Kirei Kotomine, a priest who cannot find any sense of fulfillment in his life and sets his sights on Kiritsugu as the possible answer to the emptiness he feels. (Source: Wikipedia)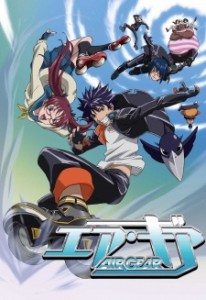 Minami Itsuki never thought about seriously riding Air Treck motorized roller blades, until he got his butt handed to him by a street gang of Storm Riders. That day, he discovered in a locked up room, a pair of AT's and a box of stickers belonging to the Sleeping Forest street gang. One thing leads to another, and Ikki dons the wheels and begins to ride. As his reputation builds in the AT street fighting/racing world, he begins to develop his own gang and participate in more fights, gaining more and more territory.
References: MyAnimeList, Wiki, ANN