8 Anime Like Nyaruko: Crawling With Love! [Haiyore! Nyaruko-san]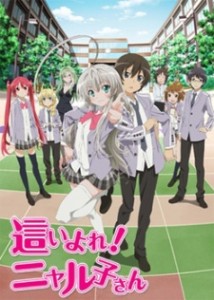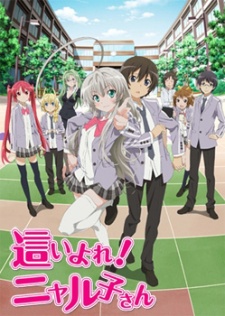 Here are my favorite picks for anime like Haiyore! Nyaruko-san. Keep in my the list is in no particular order. Enjoy the recommendations!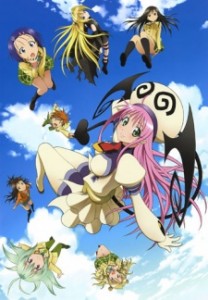 Timid 16-year-old Rito Yuuki has yet to profess his love to Haruna Sairenji—a classmate and object of his infatuation since junior high. Sadly, his situation becomes even more challenging when one night, a mysterious, stark-naked girl crash-lands right on top of a bathing Rito.
To add to the confusion, Rito discovers that the girl, Lala Satalin Deviluke, is the crown princess of an alien empire and has run away from her home. Despite her position as the heiress to the most dominant power in the entire galaxy, Lala is surprisingly more than willing to marry the decidedly average Rito in order to avoid an unwanted political marriage.
To LOVE-Ru depicts Rito's daily struggles with the bizarre chaos that begins upon the arrival of Lala. With an evergrowing legion of swooning beauties that continuously foil his attempted confessions to Haruna, To LOVE-Ru is a romantic comedy full of slapstick humor, sexy girls, and outlandishly lewd moments that defy the laws of physics. [Written by MAL Rewrite]
At the expense of the people and things around her, Sakura has absorbed so much "happiness energy" that she has caused an energy imbalance in the world. In order to return balance to the world, the Poverty God, Momiji, sets out to take away Sakura's ability to absorb this energy. Will Momiji be able to put a stop to Sakura's absorbing abilities, or will the God succumb to her happiness? (Source: FUNimation)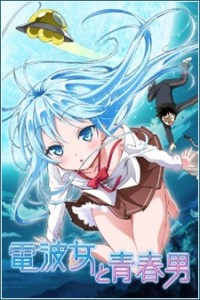 The story revolves around a highschool boy named Niwa Makoto. He lives with his aunt's family since his parents are away on business. It is there where he meets his mysterious cousin of the same age Touwa Erio — who happens to tie a futon mattress around her upper body and is a self-proclaimed alien. Her staple food is pizza. Erio had been missing for half a year and was found floating in the sea. She doesn't remember anything about what happened during that period of time, but she began to think that it was the act of an alien and wanders the neighbourhood wrapped in the futon. (Source: AniDB)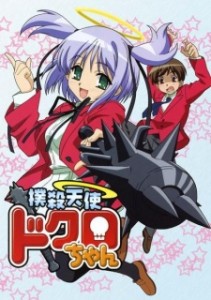 In the future, a junior high student, Kusakabe Sakura, will offend God by inventing immortality so that women will stop aging after they turn twelve. Dokuro-chan is an angel from the future sent to kill him. However, Dokuro-chan thinks that Sakura can be spared, so her idea is to constantly occupy Sakura so that he will never be able to invent the technology. Sometimes the angel will go crazy and kill him with her bat, Excalibolg, but she can revive him easily. "Pi-piru-piru-piru-pi-piru-pi!"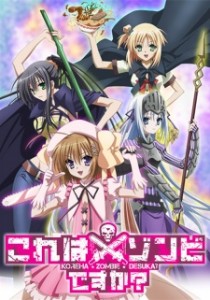 Aikawa Ayumu is a normal high school boy. One day he is killed by a serial killer and revived as a zombie by a necromancer named Eucliwood Hellscythe. He starts to serve Eu as her guard but he happens to deprive the masou-shoujo Haruna of her magic power. Haruna orders Ayumu to fight against the anti-masou-shoujo system "Megalo" in her place.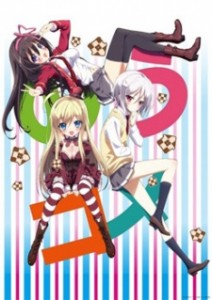 Kanade Amakusa is a high school student who is suffering from a curse called "Absolute Choices." This curse requires him to select an action from a list of two or three options that appear before him at any time, and has no control over what choices appear. Many of them are weird or perverse and as a result, the curse has tainted his reputation with his classmates and other people around him, making his life very difficult. However, one day, a choice he makes on his way home from school causes a mysterious, beautiful young girl to fall from the sky. (Source: Wikipedia)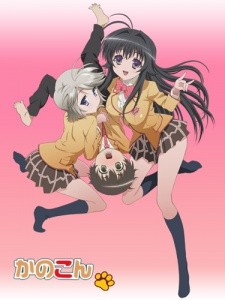 Kouta, a country boy who lives with his grandfather, is now moving to the city to attend high school. Changes come with his new home and new school, but nothing could have prepared the gentle young man for girls, specifically a bombshell fox spirit named Chizuru. As if her aggressive advances weren't enough, he also catches the attention of a frosty wolf spirit named Nozomu.
Kouta is dragged into supernatural events as a result of his contact with the two girls, and his school life only gets more chaotic by the day. But with a girl who gives "foxy" new meaning and another howling after him, things are looking up for his love life. (Source: Media Blasters)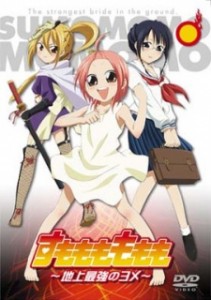 Koushi Inuzuka is a smart high school student who aims to become a public prosecutor. Unfortunately for our good guy, he was born into a martial arts family whose head (ie his father) only knows one language: violence. When Koushi was still a baby, his father made a pact with his biggest rival to marry Koushi to his opponent-turned-friend's daughter. The union of the two blood lines is supposed to bring forth Earth's strongest martial arts clan.
Skip forward: Koushi is in high school, oblivious to the marriage arranged for him at his birth. Enter Momoko Kuzuryuu: sugar bomb, airhead, loli martial arts artist and Koushi's self-proclaimed bride (the strongest on Earth, no less). Her wish for sexual intercourse meets with Koushi's square refusal as he has absolutely no desire to get it on with someone who looks like she could be his little sister, not to mention that he doesn't have the foggiest idea who she actually is.
Meanwhile, a war has broken out between the martial arts families. For Koushi, this means that numerous fighters are out to challenge/assassinate him. As if that weren't bad enough, our protagonist also has a fight phobia due to a traumatic incident that took place in his childhood. Now it's up to Momoko and her superhuman fighting skills to protect her "husband." Will the two sweethearts survive the trials and tribulations ahead of them? More importantly, will Momoko get her way receiving a baby from Koushi? (Source: Kotonoha)
References: MyAnimeList, Wiki, ANN